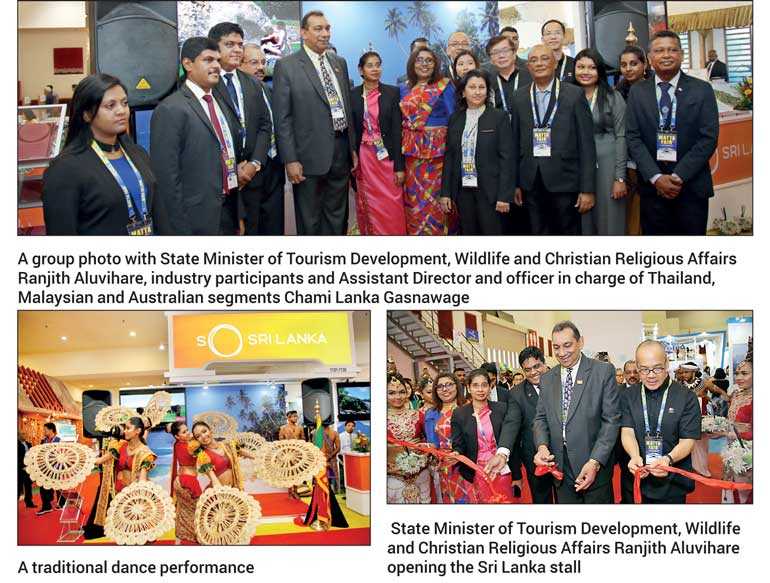 The Sri Lanka Tourism Promotion Bureau (SLTPB) exhibited Sri Lanka as a sustainable and a diverse travel destination at the recently concluded Malaysian Association of Tour and Travel Agents (MATTA) fair in Kuala Lumpur, Malaysia.

MATTA Fair is Malaysia's premier and annual travel fair that is held nationwide to encourage the public to travel more, either around or outside the country. Organised by the 'Malaysian Association of Tour and Travel Agents' (MATTA), the fair, which takes place between March and September every year, offers some of the best deals for anything travel-related, such as tours, hotel stays and flight tickets. Sri Lanka showcased its colourful brilliance this year as well with a focus on eco-tourism, natural wonders, historical trails and sustainable tourism.

The opening ceremony was held under the patronage of the State Minister of Tourism Development, Wildlife and Christian Religious Affairs Ranjith Aluvihare, while Assistant Director and officer in charge of Thailand, Malaysian and Australian segments Chami Lanka Gasnawage represented the Bureau. Diplomatic officials from the Sri Lanka High Commission were also present.

The Sri Lankan team held meetings with the Malaysian Tourism Promotion Bureau officials, particularly its South Asia unit on promoting Sri Lanka. The officials also held meetings with Sri Lanka Malaysia Business Council on enhancing trade relations between the two countries. 13 destination management companies participated at this event, including Aitken Spence travels, Esna Holiday, Camlo Lanka tours, Kamvelta travels and tours, Ceylon trails, red apple travel, Sunway holidays, Serene Vacations Lanka, Lanka Sportreizen, Travel Trend Leisure, Green Holiday Centre, Relax Lanka tours and Hamoos travels.

Malaysia is a country which is serviced by 38 direct flight connecting Colombo to Kuala Lumpur weekly by SriLankan Airlines while Malaysian Airlines, Air Asia and Malindo Airways also contributes to boost Sri Lanka's tourism sector. In 2018, 22,808 tourist arrivals were recorded, while 27,597 arrivals were recorded in 2019.

State Tourism Organisations (STO) such as Johor, Kedah, Perak, Selangor, Negeri Sembilan, Pahang, Terengganu, Sabah, Labuan and Sarawak also participated at the fair.

The Malaysia Travel Agents Association reported that travel consumers were looking for green products and checking hotel credentials and also tours to national parks and beaches to ensure they were sustainable.

"We need to sustain the environment and everything that goes with it for now and for future generations. Every action counts and travellers have a strong duty to play in building a more sustainable and responsible tourism industry," Malaysian Association of Tour and Travel Agents (MATTA) President Datuk Tan Kok Liang told the media at the fair.