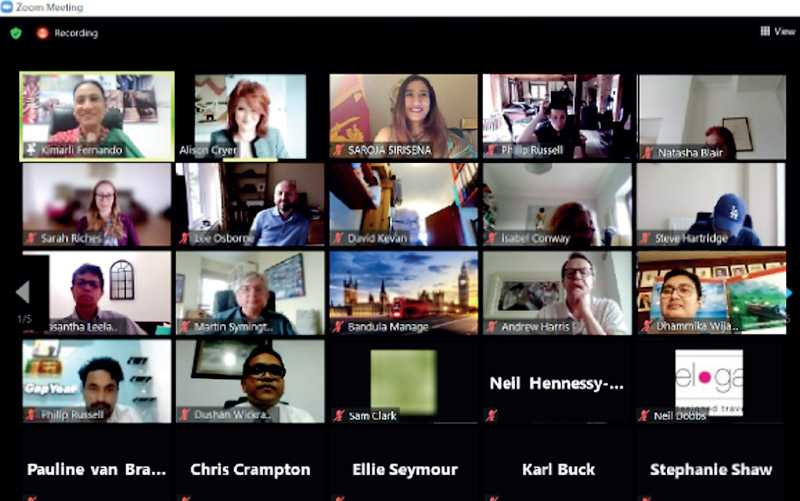 Despite the ongoing pandemic situation, Sri Lanka Tourism is continuing to proceed with its effort to encourage more tourist arrivals to the country, aligning to the health protocols, and ensure that it is a safe and a secure country to travel. Sri Lanka has seen a growing number of tourist arrivals since the tourism reopening in January 2021.

Sri Lanka tourism is also in collaboration with the industry via social media platforms, providing updates about the latest initiatives, projects, rules and regulations taken for the benefit of the industry.

As a result of this effort, Sri Lanka Tourism in collaboration with the Sri Lanka High Commission in the UK, held a webinar for UK based tour operators and media themed as 'Hello Again: Sri Lanka, the next holiday destination for the UK Tourists'.

The webinar was held on 31 March. It focused on post pandemic health protocols/guidelines, tourism updates and other arrangements made by the government of Sri Lanka to welcome tourists. Over 115 participants from UK travel trade and media participated in the webinar.

The webinar was held amongst distinguished members of the industry, with the honorable participation of the Sri Lanka High Commissioner in the UK Saroja Sirisena. She graced the meeting with the opening remarks and emphasised the importance of the UK market, sharing the sentiments of diplomatic relations.

Sri Lanka Tourism Chairperson Kimarli Fernando also participated at this occasion where she elaborated on the implementation of the bio bubble and safety protocols and guidelines, also including Sri Lanka Tourism Development Authority Director General Dhammika Wijayasinghe, Sri Lanka Tourism Promotion Bureau Director Marketing Dushan Wickremasuriya and Representation Plus and Ezy Virtual Events Founder and MD Alison Cryer, who moderated the event. She also highlighted the post-COVID behavior of the UK.

In their respective presentations, Sri Lanka Tourism Development Authority Director General Dhammika Wijayasinghe further elaborated on the government standards, sustainable policy of investments towards tourism and how COVID-19 vaccination process help on tourism, while Director Marketing Dushan Wickramasuriya presented valuable insights and promotional initiatives for the UK market.

The webinar concluded with a Q&A session, which turned out to be an informative and a productive session, with the latest updates on what's currently happening in the industry and the opportunity for participants to further clarify matters related to health protocols and way forward for the UK market.

The UK is one of the top ten markets in Sri Lanka Tourism, which brings a large number of tourists each year. During the pandemic Sri Lanka Tourism Promotion Bureau expects to connect with tourism industry stakeholders in the UK in virtual platform to create great awareness in the destination.