Travel influencers being welcomed by SLTPB officials at Mount Lavinia Hotel in February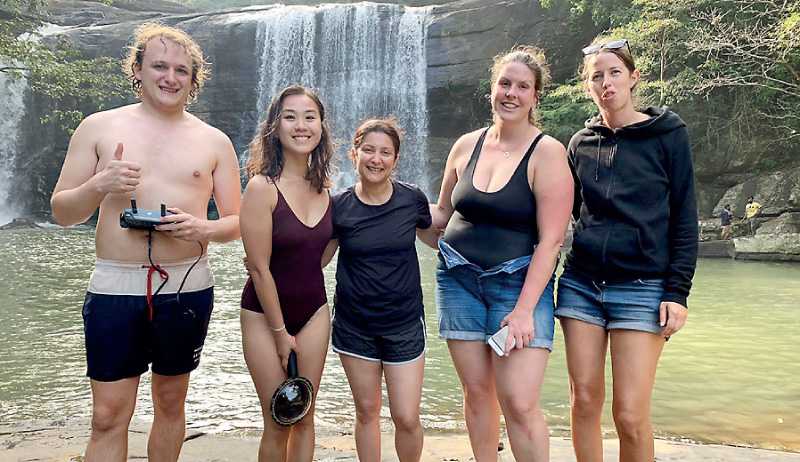 ---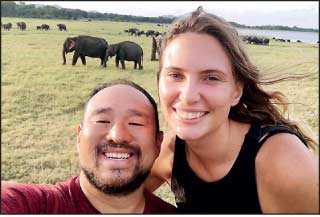 Selfie at the Elephant Gathering - Johnny Jens and Kristina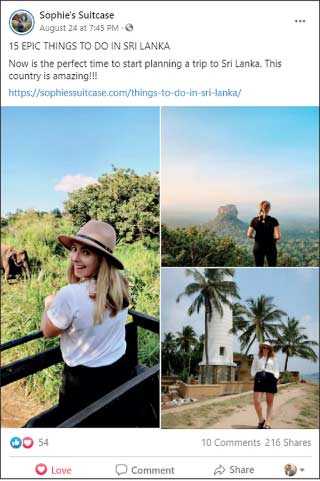 Exploring the spectacular sites of Sri Lanka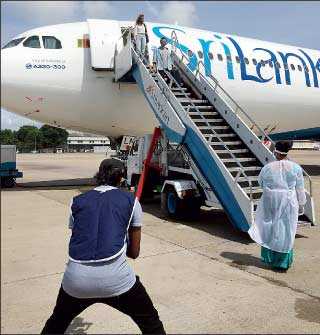 Destination Sri Lanka is held high in the minds of the global traveller community as a 'hotspot' teeming with an unbelievable diversity of attractions far beyond its cute proportions. Literally its comparable to an entire huge continent's worth of resources, all packed in to a tiny landmass with the added advantage of an incredible history, culture and heritage spanning a good 2,500 years.

History tells us that our diminutive island is the planet's most enchanting wonderland that has incessantly drawn explorers, emperors, conquerors and not even resisting calculating merchants trekking the silk route, who suddenly got high on the spice trail. Since then, Sri Lanka has been inundated with travellers at our gate, who are drawn for more reasons than one.

They come here – one of the world's top destinations in Asia – to explore vibrant natural and cultural diversity, picturesque locations and exotic wild life in their natural habitat. Sri Lanka is world renowned for its sunshine through 365 days, golden beaches, picturesque locations, lush greenery, exotic wildlife and compact with all nature's gifts.

All these can be experienced within one day, making it a 365-day destination, providing the best of experiences all year round. With its easy accessibility to reach one destination from another and the vibrant diversity of locations make Sri Lanka one of the most sought after and popular destinations for a flawless travel experience.

With its romantic locations and story book scenery, Sri Lanka is sought after as a preferred destination for wedding ceremonies. Boasting four natural harbours Sri Lanka also offers an unmatched cruise tourism destination.

When the coronavirus pandemic broke in, tourism in Sri Lanka and worldwide came to a grinding halt. The economy and industry stakeholders both big and small faced a major blow. They were inclined to limit their tourism related activities due to frequent lockdowns, travel bans and health restrictions. Tourist arrivals declined, and the entire tourism industry across the world experienced a major challenge like never before.

We feel it strongly that the moment the anguish of coronavirus pandemic dies down and the airports open their floodgates to let the travel community escape, they will bee-line to our destination. It may be a long wait, until the signs of the times come to pass. Sri Lanka Tourism analyses this pandemic calm has its silver-lining opportunities. Sri Lanka Tourism has prudently decided to stay up-beat, turning proactive, making doubly sure the post-COVID tourism prospect safely transpires in Sri Lanka's favour.

During the current global pandemic, social media has most openly been utilised as a tool for tourism industry to maintain contact with potential travellers worldwide, generating wanderlust.

Social media has increased its usage by over 50% in the past five to six months during the global pandemic. Users are now search for things to do, places to visit during post-pandemic, safest destinations to travel and most importantly, they lookout for travel inspiration.

During this crucial period, virtual and User Generated Content (UGC) are projected to create authentic personal experiences of a travel brand, which are heavily relied upon in future travel decision making. Travel influencers have been playing a key role offering more realistic travel inspirational insights and travel information to support decision making.

Validation from international travel influencers offer greater assurance and motivation for travellers when selecting a suitable travel destination to explore with their friends, relatives, family, loved ones or even solo.

Sri Lanka Tourism commissioned travel bloggers, who were on assignment under the Travel Influencer Program with a strong social media following from key source markets worldwide. This campaign expects to eliminate any travel hesitancy and foot-dragging in selecting the island as a preferred, safe travel destination, once the doors open for international tourist arrivals.

Numerous destination promotional press trips have been in progress with international travel influencers covering diverse geographical locations of the island, including Jaffna, Central Highlands, Anuradhapura, lesser known Sabaragamuwa Province (Belihuloya) and suburban Colombo. These programs showcase rich diversity and lesser attributed locations of beauty in Sri Lanka, with warm hospitality.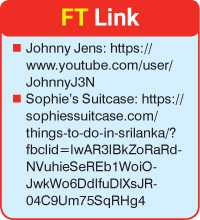 Sri Lanka Tourism hosted USA based Travel YouTuber and Blogger Johnny Jens who runs his channel as @Johnny FD. His channel audiences of considerable numbers are from USA, UK, Australia and Germany and his posts on YouTube and other Social Media platforms have generated quite a number of views from across the world. He maintains a fan base dedicated to view and explore hitherto rare and unheard of attractions of Sri Lanka.

In his video vlog, Johnny has stated: "It's super safe to travel within Sri Lanka and more than that, I have been fortunate to see some of the really cool places that I never expected in Sri Lanka such as grapes vineyards in up north Jaffna to misty mountains in Central Highlands."

SLTPB – Visiting Blogger Program, since its inception, has hosted over 150 travel influencers (also recognised as #slbloggers) and content creators covering all the key inbound source markets. During the lockdown, Sri Lanka Tourism engaged with these travel influencers and encouraged recreating various social media posts on Sri Lanka to maintain destination visibility and popularity as a safe and exciting holiday destination to consider after the pandemic pass over.

In a bid to stay hands-on, Sri Lanka Tourism kick-started an aggressive travel influencer campaign in February, welcoming 27 high-powered international travel bloggers and content creators from seven key source countries including UK, Germany, Australia, Norway, Switzerland, Canada and the USA, who literally set fire to travel interests of their audiences worldwide via social media. Sri Lanka Tourism intends keeping this flame alive through strategic online communications.

The influencer group included the first-ever Family Travel Bloggers hosted under Sri Lanka Tourism's Visiting Blogger Program. Their arrival here proved a valid point in ensuring and endorsing the extent of safety measures Sri Lankan authorities have put in place and follow; good enough to convince virtually thriving family bloggers with millions of following on social media, in bringing along their children to Sri Lanka, to literally vet their aptitudes against the stupendous diversity of traveller attractions and wet their toes in the sandy beaches of Sri Lanka.

This select segment of influencers have been handpicked to generate authentic reasons to influence global travellers by converting their testimonials into an actual holiday experience in tropical Sri Lanka.

Together these combined travel influencers have created over 540 posts on various travel blogs and popular social media platforms during the COVID 19 pandemic lockdown in the global arena. They have to date reached up to six million global audiences. Their estimated overall engagements counted a massive 2,590,000 as of 10 August. The total commercial value of this combined promotion is equivalent to Rs. 30 million.

Realising the strategic importance of maintaining visibility within the select circle of global travel community and having them seriously consider Sri Lanka as a surefire travel option once the state of global travel recovers, Sri Lanka Tourism's Visiting Blogger Program (VBP) continues in initiating various destination promotional campaigns collaborating with them.

As a post-COVID recovery campaign with #SLbloggers (with reference to travel content re-creation) travel influencers from many countries, such as UK, Switzerland, Italy, USA, Canada, India, etc. offered their support by endorsing and recommending destination Sri Lanka to their audiences as a most preferred destination to visit for an exhilarating post-pandemic travel experiences.

Creating awareness on the new normal destination Sri Lanka Tourism designed a social media focused post-COVID destination promotional video to showcase Sri Lanka as a 'Still Fun & Safe' destination targeting the global audiences, and is ready to launch once the country announces the reopening for international tourists. It will be shared among all social media platforms, international travel influencers, digital media and industry stakeholders, sending a clear global message, 'It's Still Fun & Safe to Travel in Sri Lanka'.

Plans are underway to activate a dedicated content driven influencer campaign by Sri Lanka Tourism, targeting key source markets for destination Sri Lanka including UK, Europe and other crucial source markets including Australia, India, USA, etc. Through this short-term campaign, Sri Lanka Tourism expects to gain collective support from leading travel influencers, specifically from those who have visited Sri Lanka in the past and those who are in a position to recreate fresh travel content endorsing Sri Lanka to their millions of global audiences.

Sri Lanka Tourism is committed to ensuring that when the world's post-COVID season arrives, this beautifully bountiful destination stays right on top of the prospective traveller's bucket list of things to do. They are passionate about keeping this traveller's desire on fire, until the pandemic whirlwinds pass over from the planet, sooner than later, safely opening the floodgates to an influx of global travellers escaping from months of lockdown, in their aspired millions to warm-hearted Sri Lanka, the world's safe haven.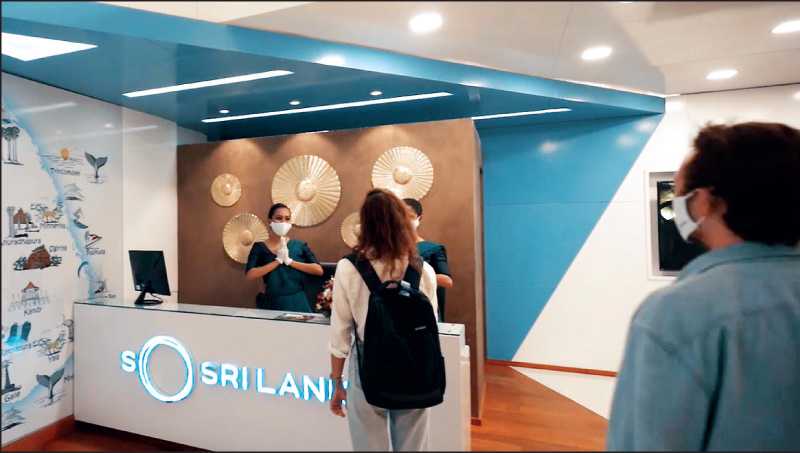 Being welcomed by the Tourism Information Centre on their arrival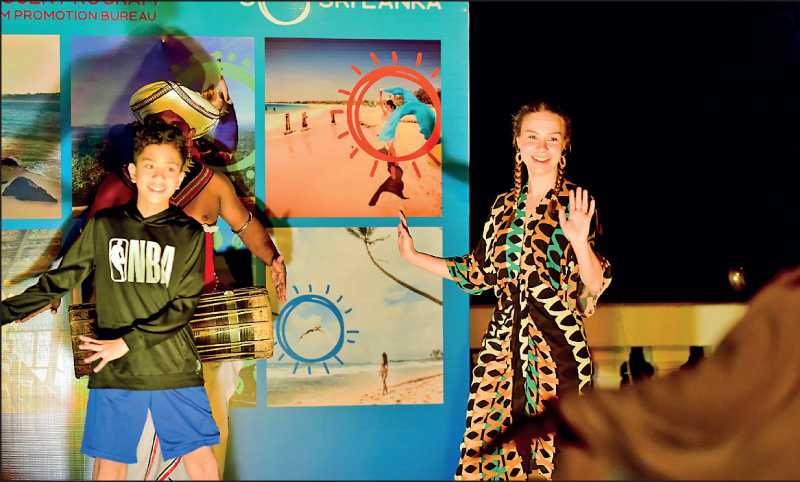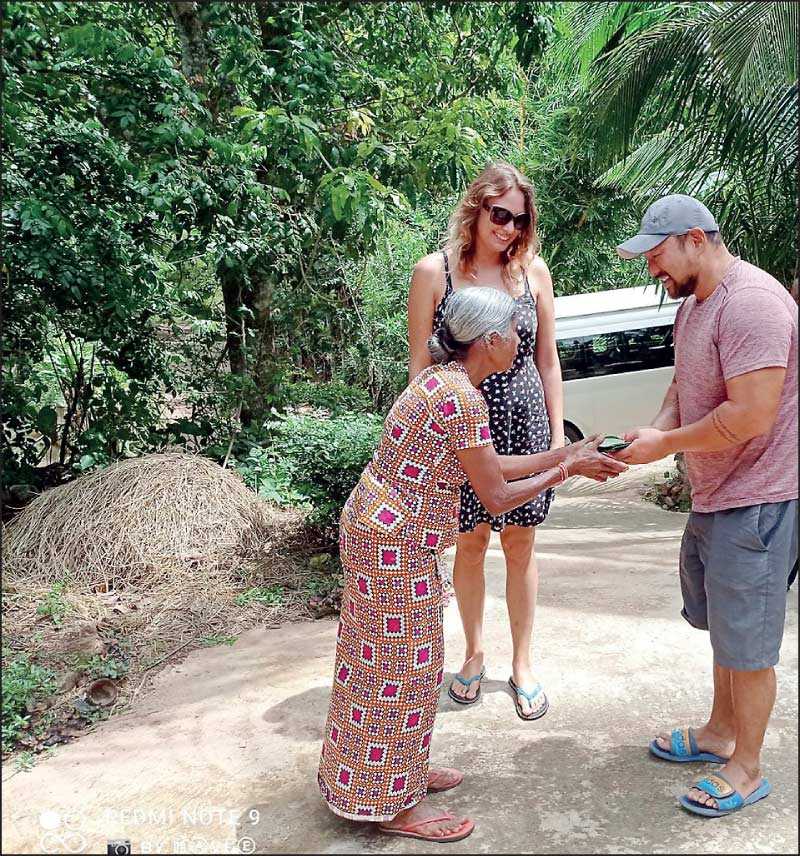 Interacting with the locals
---