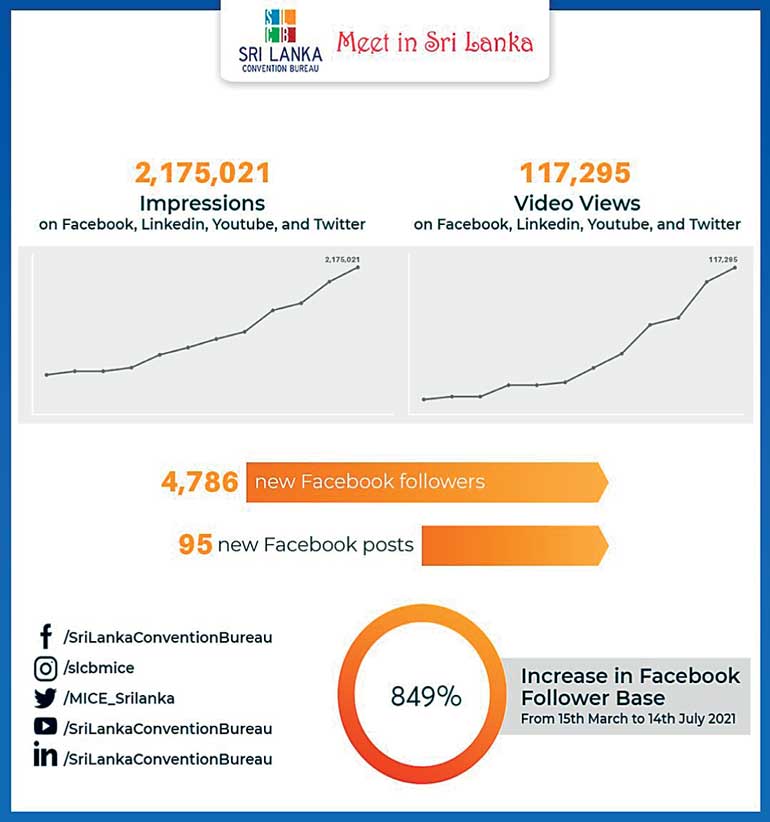 ---
Sri Lanka Convention Bureau (SLCB) recently launched a social media campaign under the tagline of 'MeetInSriLanka'. The campaign started in March 2021 and is the first-ever social media campaign launched by Sri Lanka Convention Bureau on Facebook, LinkedIn, Twitter and YouTube. The campaign was set in motion in line with the SLCB Marketing Plan 2021.

Sri Lanka Convention Bureau (SLCB) functioning under Sri Lanka Tourism is a Government organisation dedicated to the development of MICE/Business Events. As a niche segment to the tourism industry, MICE comprise of four key pillars; Meetings, Incentives, Conferences and Exhibitions/Events. The development of MICE sector in Sri Lanka is necessary for both economic development and to abbreviate the seasonality fluctuations in the tourism industry.

The current pandemic situation has changed the market trends and the conventional and offline marketing practices of MICE Tourism. The human mobility is limited and number of conventional programmes are cancelled or postponed. Technology and innovation have changed the most of the parameters of the industries. Social media has a strong appeal and changed the meetings and events industry significantly to explore the world at one finger tips.

Application of social media campaign reaches the audiences in a comparatively low-cost, impactful, and effective way and have become a crucial marketing strategy for businesses everywhere. The value of such campaigns is crucial specially with the COVID situation. Marketing through social media is the choicest way to reach out to the target audience and disseminate the unique value prepositions (USPs) of the destination.

The campaign launched by SLCB on social media platforms will promote the destination competitiveness and attractiveness internationally as a destination for MICE and leisure. The audience could discover the latest MICE industry news, MICE videos, COVID-19 guidelines including the latest health protocols and tourism posts through the SLCB social media platforms.

Despite being an island – with the sun, sea and sand, Sri Lanka has a lot more to offer as a destination. MICE/Business Event planners and prospective visitors could experience the opportunities that they could explore during their business visit to Sri Lanka through this campaign.

Through this campaign, SLCB expects to re-position the tagline 'MeetinSriLanka' by communicating the destination attractiveness and competitiveness. During the four months from the launch of the campaign, SLCB was able to achieve numbers in terms of followers and viewers as follows:
2,175,021 impressions on Facebook, LinkedIn, YouTube, and Twitter
117,295 video views on Facebook, LinkedIn, YouTube, and Twitter
4,786 new Facebook likes
95 new Facebook posts
849% increase in Facebook Followers from 563 to 5,345.
Homes Pollard Stott Ltd. was appointed as the Digital Media Agency to manage, market and monitor the SLCB social media campaign.