Spectators at the venue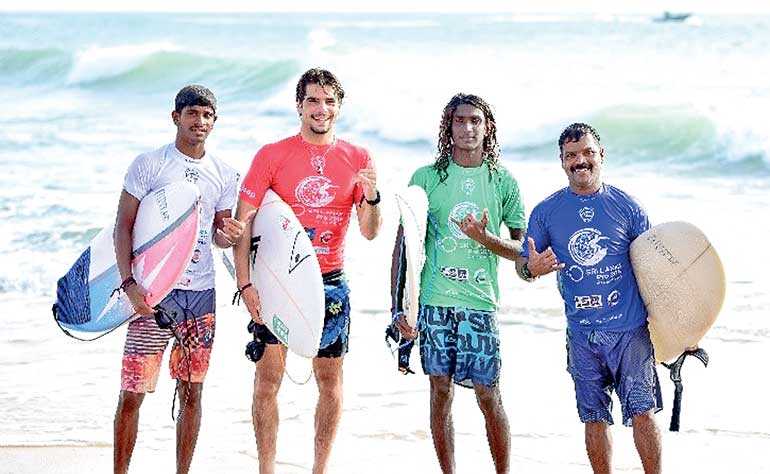 Participants at the event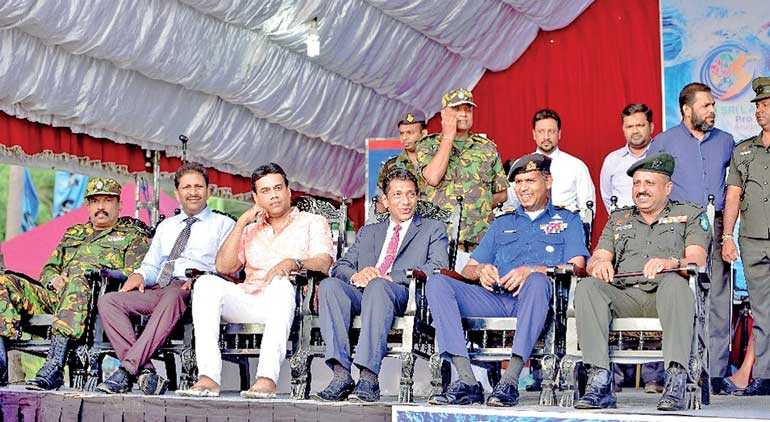 Guests at the venue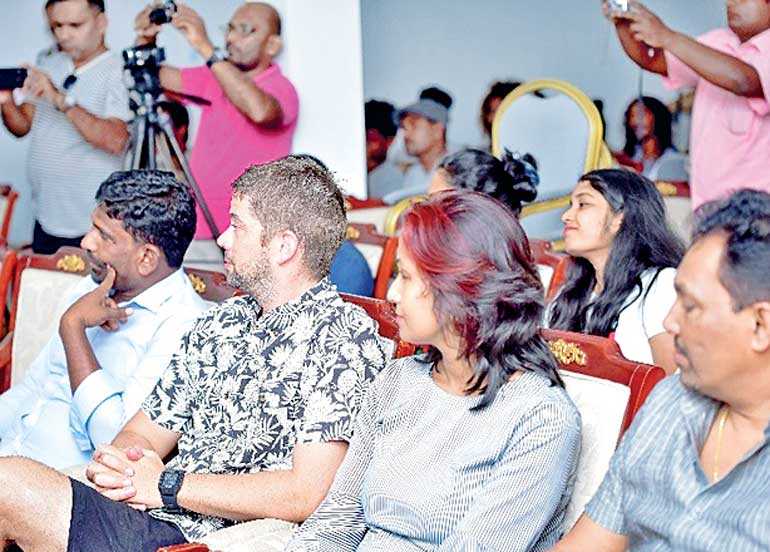 A section of the audience at the press conference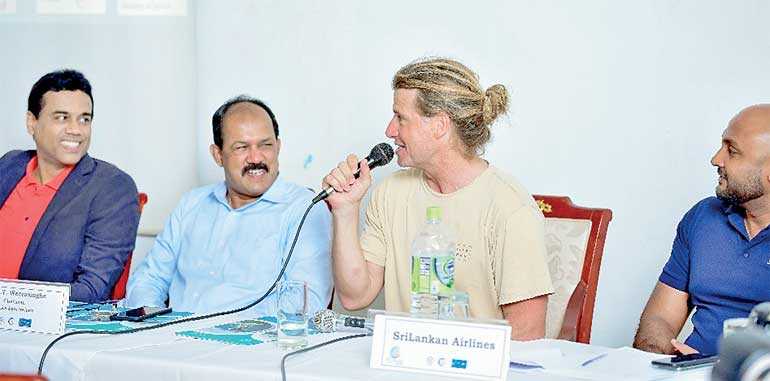 Former world champion Mark Occchilupo speaking at the press conference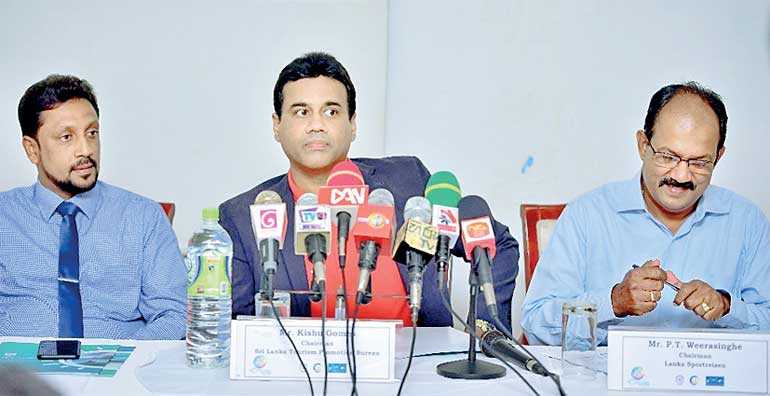 SLTPB Chairman Kishu Gomes (centre) and LSR Chairman Thilak Weerasinghe (right) at the press conference
---
The much awaited world-class surfing event of the year, 'So Sri Lanka Pro 2019' started off on a grand scale on 24 September, along with a press briefing to acknowledge the local media about the event, and also to inform them about the event schedule.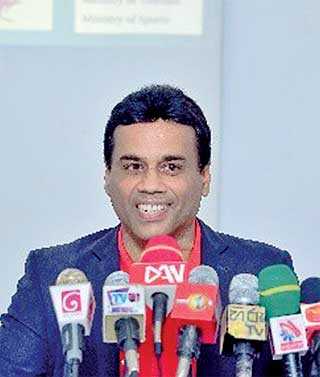 SLTPB Chairman Kishu Gomes addressing the gathering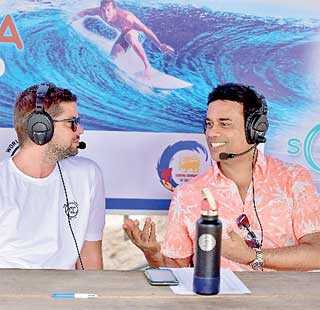 SLTPB Chairman Kishu Gomes in a media interview
The participants at the head table included Sri Lanka Tourism Promotion Bureau (SLTPB) Chairman Kishu Gomes, Lanka Sportreizen (LSR) Chairman Thilak Weerasinghe, Arugam Bay District Secretary, Kasun Welarathne from SriLankan Airlines, and industry stakeholders. SLTPB was the main sponsor of the event, while being in collaboration with the Surfing Federation of Sri Lanka.

The SLTPB chairman addressed the gathering and expressed his gratitude towards the Surfing Federation for collaborating with this event and making it a success. The press conference also featured two international champions, former world champion in surfing Mark 'Occy' Occchilupo. This was his first trip to Sri Lanka, which he said was a privilege and an honour and to participate at this event. Captain of the Sri Lankan Surfing team also expressed his views on the event at the gathering, and Rio Waida, the other champion from Indonesia expressed his eagerness to take part.

Afterwards there was a Q & A session for media to clarify and know more of the event. LSR Chairman Thilak Weerasinghe also spoke at the occasion and recalled his days as a sports enthusiast who was interested in water sports. A large number of local and international media was present at the occasion.

Competitors from South Africa, India, Indonesia, Australia, Malaysia, Sweden, and Portugal and of course Sri Lanka battled in the opening heats of competition with representatives from all countries faring well.
During the second day of the event, the official flagging off ceremony started off and the guests were led to the starting point by a cultural dance procession. SLTPB Chairman Kishu Gomes, Thilak Weerasinghe and several Arugam Bay district government association officials were also present.
WSL Asia Contest Director Steve Robertson expressed his views as thus: "WSL is really excited to be back in Sri Lanka at the beautiful Arugam Bay. This is an amazing location for an event of this size and that has reflected in the overwhelming number of entrants we've had from so many countries around the world – it's truly a testament to what this place offers for travelling surfers."

After the national anthem, the event started amongst a cool and a sunny morning on the Arugam Bay beach with 57 participants. The first three surfers who started the round were respectively from India, Portugal and Sri Lanka. During the next few days there might be more tourists visiting the country and opportunity for all stakeholders, and bringing economy and revenue to Sri Lanka as one of Sri Lanka's profit bringing fields.

Kishu Gomes also had an interview with some international media, to give a brief introduction about the event, and expressed his gratitude towards everyone who contributed and participated at this event. The other sponsors included Sri Lankan Airlines, Jeep, World Surfing League, and LSR. This internationally acclaimed event concluded on 29 September, giving the local audience the opportunity of experiencing some of the international champions in action.

Portugal's Pedro Coelho (PRT) Indonesia's Tipi Jabrik (IDN), Sweden's Kian Martin (SWE), India's Sanjay Selvmani (IND), Malaysia's Muhannad Didaqt Musaddiq (MYS), and Sri Lankan duo Waduge Asanka Sanjeewa, Suranga Pradeep were some of the other names to progress into Round 2.

By hosting this event, Sri Lanka Tourism hopes that it will bring the expected tourism revival and also highlight Sri Lanka's capacity for promoting sports tourism while attracting tourists with its natural and cultural resources, and as a MICE tourism destination. Sri Lanka recently hosted the International Bohra summit which was a tremendous success and drew nearly 25,000 visitors to the destination.

"I was very excited. It's an awesome opportunity for me and my friend to come to this part of the world and experience the culture. And also the waves. The waves speak for themselves," said one participant, expressing his views on being able to participate at the event.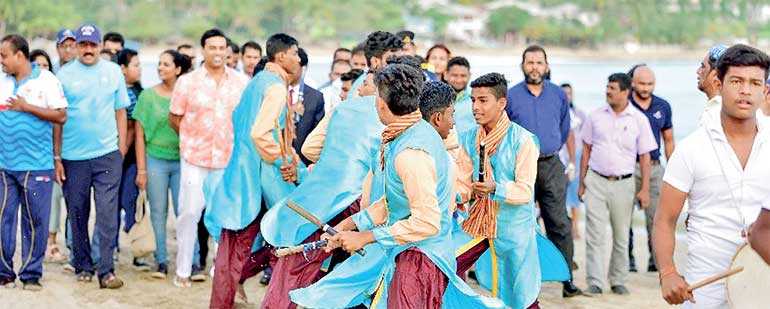 Cultural dance troupe leading the guests to the venue

SLTPB team
---