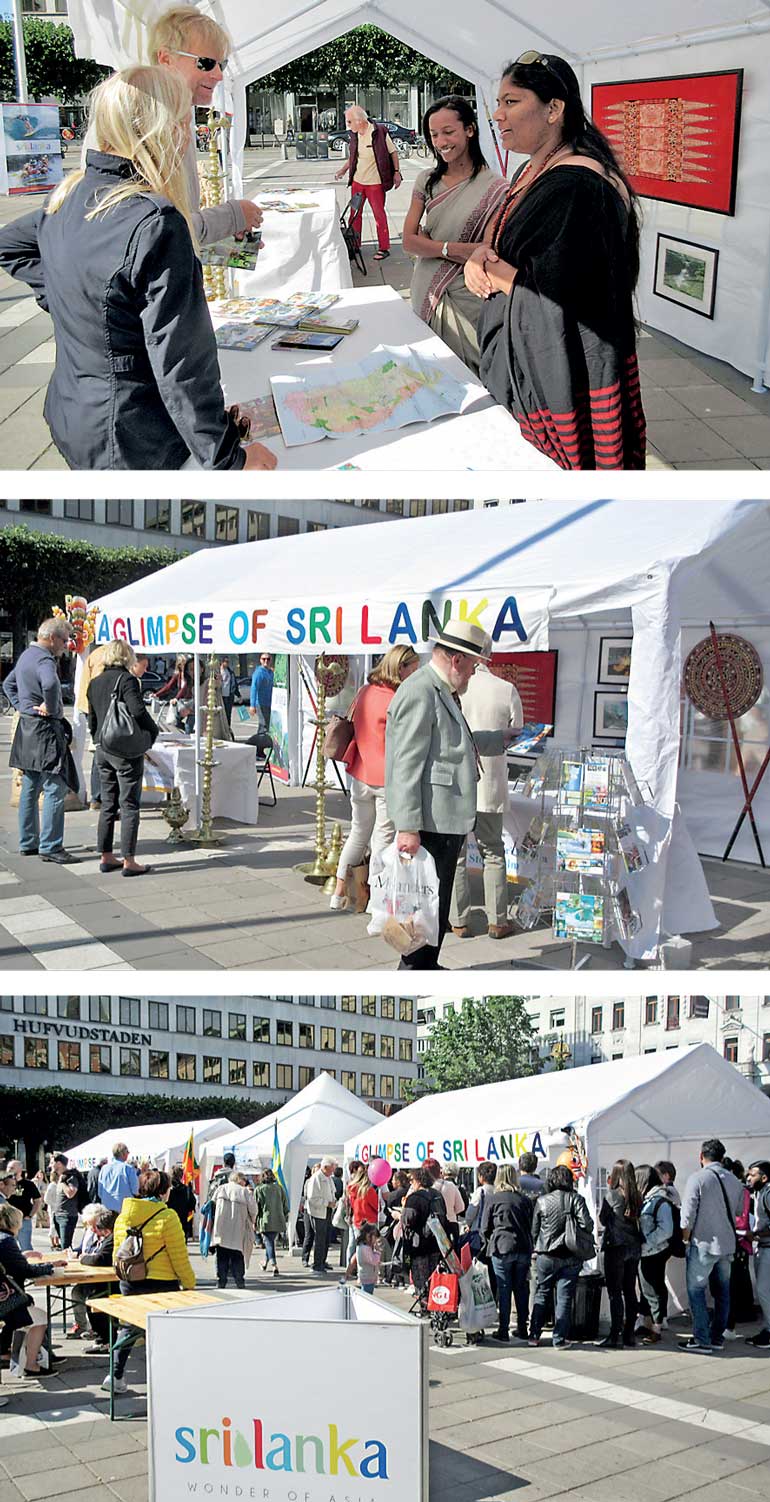 The Embassy of Sri Lanka in Stockholm organised a promotion on tourism and culture, 'A Glimpse of Sri Lanka,' on 26 August at Norrmalmstorg, a venue situated in the heart of the city of Stockholm.

The strategic location and the warm sunshine enduring throughout the day, drew large crowds providing just the right milieu, the setting to conduct the destination promotion.

The event was jointly organised by the Embassy of Sri Lanka in Stockholm and the Sri Lanka Tourism Promotion Bureau and 'A Glimpse of Sri Lanka' was held for the second consecutive year in Stockholm city.

Intriguing aromas of typical Sri Lankan food emanating from the live demonstration of making hoppers, wade and kottu roti presented by the Sri Lankans and the staff of the Embassy contributed to the overall sensory experience of the visitor, enticing them to savour the taste of Sri Lankan cuisine.

The visitors waiting patiently to relish the gastronomic delights of Sri Lanka amply expressed their interest to learn about the food, culture and to know more about the country in general.

Ceylon Tea was understandably a highly-sought-after item by the guests and the array of Ceylon Tea served at the venue was much to their delight.

Embassy officials manning the Information Desk provided information on the essence of the touristic and cultural attractions of Sri Lanka while at the same time addressing the queries relating to travel to Sri Lanka.

Some of the guests recounted their previous visits to Sri Lanka, whereas others pledged to explore possibilities of a voyage to Sri Lanka to cherish the best of the attractions that Sri Lanka offers to the world.