As per the Tourism Act No. 38 of 2005, Sri Lanka Convention Bureau (SLCB) is expected to encourage and promote the development of professional skills among the different categories of persons or
SLCB Chairperson Kimarli Fernando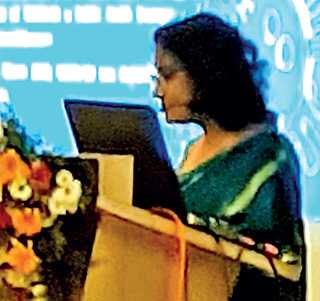 Dr. Lakshmi Somatunga
---
organisations involved in the MICE industry. In line with this, SLCB has been organising regional MICE training programs in the past for the benefit of regional hoteliers and MICE professionals with the assistance of Regional Hoteliers Associations.

With the COVID-19 pandemic situation in Sri Lanka SLCB decided to organise a series of educational seminars on Tourism Operational Guidelines setup by Sri Lanka Tourism Development Authority (SLTDA) catering to MICE hoteliers as well as the MICE tourism industry members. The first educational seminar for the hoteliers in Colombo was conducted on 24 September at Galadari Hotel. Ministry of Health Additional Secretary – Public Health Services Dr. Lakshmi Somatunga was the main speaker at the event.

SLCB Chairperson Kimarli Fernando said, "Sri Lanka is undergoing a post-COVID-19 new normalcy situation in the country, however our tourism industry is eager to demonstrate our state of preparedness and willingness to resume business operations in order to attract more tourists and events to take place in the country. These training programs are organised in order to educate and further encourage the industry in this endeavour. Business events can operate safely under comprehensive guidelines issued by SLTDA. Sri Lanka's business events venues and facilities can offer controlled environments combined with high quality standards to ensure the health and safety of people. This includes contract tracing of all event attendees and strict compliance with Government guidelines on hygiene and physical distancing."

She further mentioned, "Event venues are economic engines for Sri Lanka, creating significant tax and travel revenues as well as jobs. The guidelines prepared by SLTDA demonstrate focus on ensuring the safety of our employees, clients, suppliers and attendees. New procedures will include the use of personal protective equipment (PPE), food safety measures, air quality control, surface cleaning, and physical and social distancing."

Business event venues will also be required to implement a variety of other measures including temperature checks, hand sanitisers, reduced touchpoints, contactless transactions and daily monitoring systems.