A well-known personality in the hospitality industry, Rohan Fernandopulle is a celebrated chef with nearly four decades of experience, both locally and internationally. He has won several prestigious awards for his culinary expertise, as well as F&B initiatives that have helped to showcase contemporary Sri Lanka with a modern twist.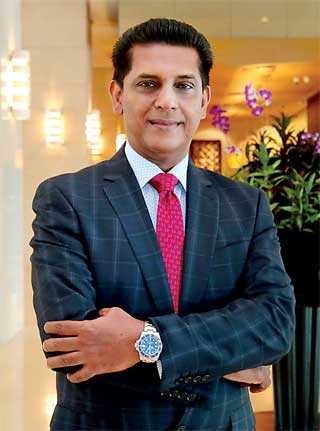 Cinnamon Lakeside's new General Manager Rohan Fernandopulle
Fernandopulle, in his new role, takes the helm of Cinnamon Lakeside Colombo, the premier five-star urban resort. He is also Vice President, John Keells Holdings, and overlooks F&B initiatives for Cinnamon Hotels and Resorts.

Upon completion of his professional qualifications, Fernandopulle opted to specialise in the culinary arts, given his passion for cookery. Having won a scholarship from the Hilton chain to study in Austria, Fernandopulle's love for cooking gave him the opportunity to travel the world, including to Europe, the Middle East, Asia, and ultimately back home, where he held the distinction of being appointed the first Asian Executive Chef at Hilton Colombo – a role he played for a decade and a record he says he still holds as the only Sri Lankan.

After nearly three decades serving the Hilton chain, he took up the position of General Manager at Water's Edge, where his key achievements included tripling revenue within a span of four years, and introducing unique F&B concepts such as the popular 'Thuna Paha' restaurant.

He also conceptualised a restaurant to bring in the rural face of Sri Lanka in a very contemporary setting, serving food with flair, with a story unfolding on each plate served. Sustainability and community are subjects close to his heart and he incorporated knowledge enhancement and life skill development among the community youth. He incorporated these concepts into the new restaurants with organic ingredients, service staff sourced from the community and intensive hospitality training to enhance their knowledge and livelihoods.

His accolades include gold and silver medals at the Culinary Olympics, Bocuse d'Or, and the distinction of being placed second in the world at the 'Black Box' competition in Japan. Fernandopulle is also a President's Award winner for the Best Chef award.

He says that Cinnamon Lakeside is a beautiful property that has been maintained well by his predecessor, and he hopes to introduce a range of culinary options to enhance the Hotel's and city's dining scape. He believes Cinnamon Lakeside's scenic location and skilled staff are the perfect ingredients to creating novel dining concepts, which he is keen to pursue within the coming months.

"Given the country's current situation, it is vital that we think out of the box and develop concepts that enable diners to enjoy an eclectic range of food experiences, get into different markets. I look forward to working with the talented team at Cinnamon Lakeside and taking the property to greater heights."

Fernandopulle says he is looking at both casual and sophisticated dining concepts for the property in keeping with its resort feels that can appeal to both local and foreign guests alike.

Stints at Waters Edge and Galle Face Hotel have further helped him understand and master the mechanics of managing diverse properties.

Fernandopulle is the President of Bocuse d'Or. He is also the only Sri Lankan member of the prestigious 'Club Des Chefs Des Chefs' and is a member of the famous club, Chain des Rotisseurs as Chef de Rotisseur. His specialty is trans-ethnic cuisine which he pioneered in Sri Lanka.

He is the proud father of a son in the finance industry and a daughter following in his footsteps, studying in one of France's most prestigious culinary institutes.