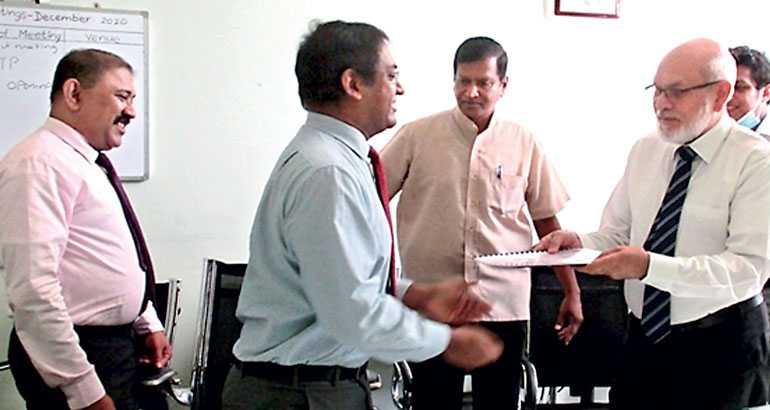 TISC Chairman T.M.F. Packeer (right) presents the signed agreement to PwC Sri Lanka Head of Strategy Consulting Lasanga Abeysuriya. Others (from left): TVEC Acting Director Public Liaison Manjula Vidanapathirana, TISC Administration Manager Dilip De Silva and PwC Sri Lanka Manager Strategy Consulting Omar Hassen
The Tourism Industry Skills Council (TISC) has taken the initiative to conduct a rapid survey of the COVID-19 impact on the tourism sector human resources and the devastating impact on tourism and hospitality students who have been studying with private and public sector institutes.

According to Tertiary and Vocational Education Commission (TVEC), a large number of students from the Vocational Training Authority (VTA) and National Apprenticeship Industrial Training Authority (NAITA) have been displaced from their 'On the Job' assignments in the industry.

TVEC Acting Director Public Liaison Manjula Vidanapathirana said: "Skills gap analysis is an important task of all sector councils and I congratulate Tourism Industry Skills Council for taking the initiative to do the survey at this critical juncture with the support from the government. I am certain we will be able to get quality inputs from PwC Sri Lanka in order to respond to the skills gap identified by the survey."

Following a competitive selection process, PwC Sri Lanka was awarded the contract to undertake the rapid assessment based on the firm's extensive experience in the tourism industry and its proven credentials in carrying out actionable market research and studies.

PwC Sri Lanka Head of Strategy Consulting Lasanga Abeysuriya said: "Ensuring the supply and adequacy of skills in the tourism industry workforce will be critical to be prepared for the increased competition Sri Lanka will face in attracting travellers once world opens up for more international travel."

"The current circumstances and on-going developments with the COVID-19 pandemic does pose a challenge to how we planned to conduct the tasks ahead," he added. However, he believes the necessary outcomes can be achieved within the planned timelines. Tourism Industry Skills Council Chairman T.M.F. Packeer said TISC will endeavour to support the industry organisations and training institutes within its capacity to mitigate the impact caused by the COVID-19 pandemic.

He went on say that the tourism council is planning to coordinate language training courses especially Chinese, Japanese and Korean during the lull period so that once the tourism sector gets back to normal the hotel staff will be better prepared to deal with international guests.

Packeer also mentioned that the TISC recently collaborated with the Sri Lanka Tourism Development Authority (SLTDA) and the Tourist Hotels Association of Sri Lanka to sensitise the COVID-19 guidelines with the hotel operators.