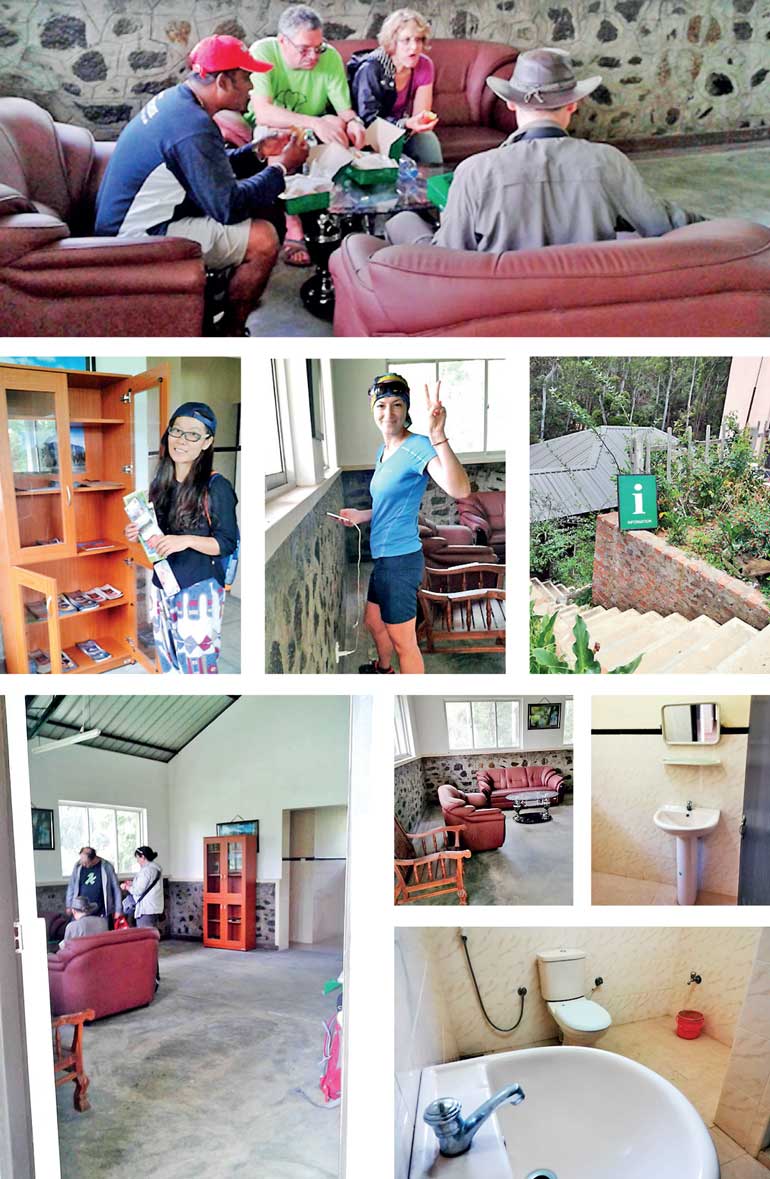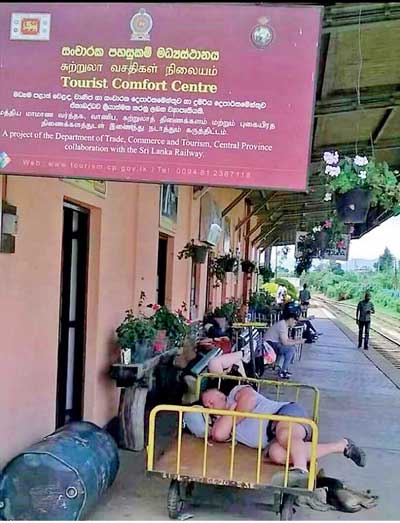 By Charumini de Silva

Confusion was the order of the day after a photo of a tourist sleeping on a trolley at Pattipola Railway Station went viral, with the Tourism Development and Transport Ministries unable to confirm who was responsible for operating the tourist comfort centres.

Tourism Development Minister John Amaratunga yesterday denied that these Tourist Comfort Centres came under the purview of his Ministry, while the signage stated it was a project of the Department of Trade, Commerce and Tourism, Central Province in collaboration with Sri Lanka Railway.

"With the increased influx of tourists to the country and them lamenting about the poor facilities provided at the railway and bus stations despite the high ticket prices, we suggested the Government should allocate funds from the 2018 Budget to setup Tourist Comfort Centres in some of the key railway stations that are often patronised by foreign travellers. Although it is a tourist who slept on a trolley outside this comfort zone, the matter comes under the purview of the Transport Ministry," he told Daily FT.

Amaratunga however assured that since it was about tourists, he would personally look into the matter as the subject minister.

"We are looking into the matter. As the Tourism Development Ministry we are concerned about the safety and facilities provided to visitors coming to Sri Lanka," he added.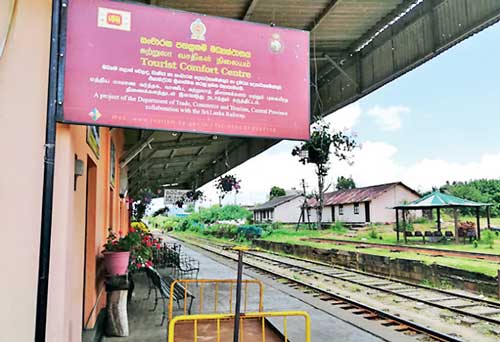 Despite many efforts to contact Transport Minister Nimal Siripala de Silva, he was not available for comment.

Nevertheless, when contacted the Minister's Media Secretary Wiraj Abeysinghe said that there were no funds allocated from the Treasury to setup Tourist Comfort Centres and these centres were mostly built with the support of the corporate sector sponsors.

"There are no funds allocated to build Tourist Comfort Centres at railway stations, but allocations were made by the Treasury to lengthen the platforms at the stations. In fact, these centres have been built with the support of many corporate sector sponsors as Corporate Social Responsibility (CSR) projects in their respective companies," he pointed out.

Noting that he personally spoke to the Pattipola Station Master Suranga Senadheera to find out the actual situation in the Tourist Comfort Centre, he assured that it was a well-arranged and comfortable facility for tourists to have a break before their next journey.

"The Station Master assured that the centre is well equipped with comfortable facilities to provide a high quality service to tourists travelling in long-distance trains," Abeysinghe stressed.

He justified that some of the tourists that come to the Pattipola Station mainly after a tiring trip to Horton Plains or World's End prefer the fresh air outside rather than relaxing in the centre as many of the travellers are very simple and humble.

(Pix courtesy Transport Ministry)