The new niche tourism categories shortly after they were unveiled by USAID Mission Director Gabrial Grau (3rd from left) and Ministry of Tourism and Lands Director General Suranga Vithanage (4th from left). Others (from left): Reneera Paul (USAID), USAID-IPOP Project Chief of Party Glenn Mackenzie-Frazer, SLTDA Deputy Director-General Upali Rathnayake, SLCB General Manager Krishantha Fernando, and USAID-IPOP Project Director Dr. Michelle Pinkowski
---
USAID and SLTDA launch new sustainable niche strategy to boost tourism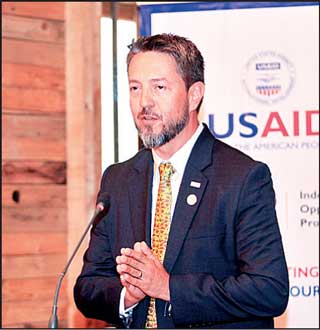 USAID Mission Director Gabrial Grau addressing the audience
"The new sustainable niche tourism strategy will be a catalyst to help further boost Sri Lanka's tourism sector and bolster the country's economic recovery," said USAID Mission Director to Sri Lanka and Maldives Gabriel Grau, at a special event to launch the new strategy.

The United States Agency for International Development (USAID) and Sri Lanka Tourism Development Authority (SLTDA) recently launched a new strategy to reenergise the critical tourism sector by promoting a dozen new sustainable niche tourism categories. From adventure tourism and cultural experiences to hosted/curated experiences and wellness and healing, these categories are set to enhance Sri Lanka's tourism offerings and attract more global travelers.

Tourism is critical to Sri Lanka's economy as it exits the pandemic and deals with its internal economic crisis. Pre-pandemic tourism represented 12% of the country's GDP, generating $ 4.3 billion in revenue in 2018. Already popular as a tourism destination for its natural beauty and cultural heritage, Sri Lanka will benefit from the new strategy by offering differentiated experiences for travellers seeking an immersive holiday.

Sri Lanka arrivals rose 30% in the first quarter over the same period a year ago, however, the segment is highly competitive. Successful implementation of the new strategy will allow Sri Lanka to better establish its brand identity, increase its appeal and market share, create jobs and opportunities across the tourism sector, and generate much-needed foreign exchange. The launch of this strategy is a strong step forward in USAID's Indo-Pacific Opportunity Project (IPOP), and it will further support SLTDA to bring niche tourism businesses into the formal sector and help define outreach efforts going forward.

"The increase in tourist arrivals this year in Sri Lanka is noteworthy," said USAID Mission Director to Sri Lanka and Maldives Gabriel Grau at a special launch event held on Friday 9 June at The Barnhouse in Panadura. MD Grau added, "It shows that Sri Lanka is again ready to realise its full potential as a global tourist destination, following years of downturn due to COVID and the economic crisis. The new sustainable niche tourism strategy will be a catalyst to help further boost these numbers and help Sri Lanka's tourism sector get back on track and bolster the country's economic recovery. I am particularly pleased that USAID is engaged in this important sector and that we are supporting Sri Lanka's return to economic stability. With the United States having worked side-by-side with Sri Lanka for 75 years, this is what a strong partnership looks like."

"Today is a special day for Sri Lankan tourism as we launch a new sustainable niche tourism strategy in Sri Lanka. It marks a new paradigm for positioning Sri Lanka's tourism offering to highlight, support, and promote these niche products, which will help Sri Lanka fully exploit its potential to be a high-yielding, experience-driven destination. We thank USAID and the IPOP team for their encouragement and steadfast support," said SLTDA Deputy Director General Upali Rathnayake.

USAID launched the tourism activity under IPOP in July 2022 to support economic reforms and promote foreign direct investment in Sri Lanka. The two-year project is assisting SLTDA to streamline and implement new policies and procedures to enable fast-tracking and attraction of foreign direct investment in the tourism sector.