By Charumini de Silva

Marking 38 years of excellence in travel trade, leading travel agency NKAR Travels has stepped up its game by unveiling an online booking platform to cater to the future travellers from all around the world.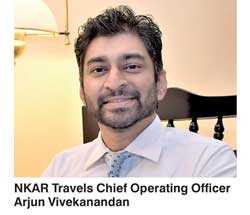 In a world where technology is the name of the game, Nkar Travels has upgraded its website to an ultra-modern online travel agency (OTA); a three-step, highly user friendly booking platform to address the needs of travellers.

"The latest release of our OTA by our brand 'NKAR Booking' – www.nkarbooking.com opens door to a whole new world of overseas travel," NKAR Travels Chief Operating Officer Arjun Vivekanandan told the Daily FT.

He said that during the process of its growth trajectory, the company has confidently moved forward developing and adding more to its brand keeping up with the market trends, which are changing rapidly.

"We have also gained the prestige of representing Flight Centre Management as FCM Sri Lanka in the recent past. FCM Sri Lanka has the access to a wide range of innovative global products and fares around the world, especially sector tickets and reverse air fares that are made available at our one stop travel shop," he added.

Describing the new online booking platform as a 'supermarket for air tickets and overseas travelling', he expressed confidence to garner a substantial response from travellers as inbound tourism peaks from next month onwards.

"The most visited and reserved via OTA are the millennials, from the far eastern countries to explore countries mainly in Europe and Australia. The website is extreme user-friendliness and its simple process of a three-step booking procedure: search – book – pay makes it very convenient for anyone to access," he stated.

According to him, through the new OTA 60% of customers has reserved air tickets, 20% has booked hotel accommodation, while other inquiries and reservations were for holiday packages and cruise reservations.

"Now you can book your favourite airline tickets with even multiple cities, hotel accommodation around the globe, daily deals and packages to any exciting destinations, information on visa regulations and for the very first time for any OTA in Sri Lanka, you can now purchase your cruise packages too. All this in real time purchasing online," he stressed.

The website's technology and its state of the art look and feel is very much amongst the top international parallels. "Our bots and the expert staff behind the scene make our OTA a hybrid system where the human interference is also available for those who seek the personal touch," he pointed out.

In addition to the existing PSA status of Star Cruise, MSC and Norwegian Cruises; NKAR has also gained the PSA status for Exodus Holidays. He highlighted that the purpose is to open up to the world with the flexibility and value gain to their customers.

Despite the very little awareness on the OTA, Vivekanandan said that they received a decent response from various demographics, while insisting that they expect to launch an aggressive marketing campaign covering all platforms including digital and traditional.

Noting that Sri Lankan travellers are still getting familiar with the new platform, he noted that they anticipate a growth of 30% to 40% in revenue generated through air tickets, while adding that the firm already posted around 15% growth during the first three months after unveiling the OTA.

He also stated that Nkar Travels has partnered with several banks to offer easy payment scheme for enthusiast customers, to encourage people to explore more destinations and aspire their dreams.

"We are also proud to announce that Nkar is now available on mobile application to book or purchase your overseas travel at your fingertips anytime, anywhere. No hidden cost and it is simple. What you see is what you pay," Vivekanandan added.