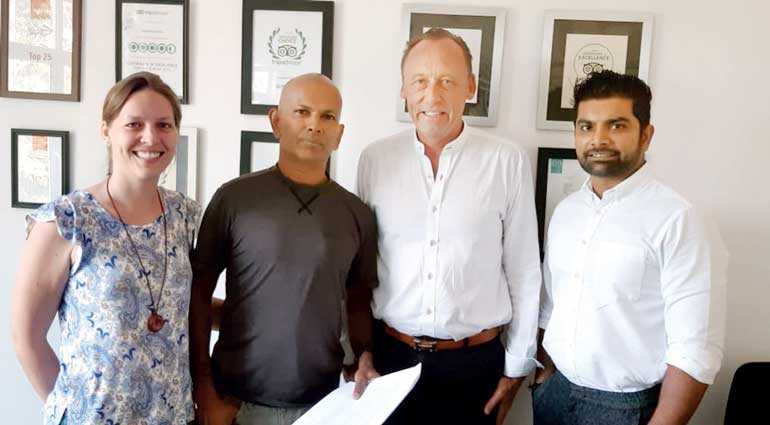 From left: Noel Rodrigo Leopard Safaris Director Cecile Rodrigo, Noel Rodrigo Leopard Safaris Founder/Director Noel Rodrigo, KK Collection Founder/Director George Cooper and KK Collection Director Mario Stubbs
Cooper Enterprises Ltd. – the holding company for KK Collection of properties – Kahanda Kanda and KK Beach, recently entered into an agreement with Noel Rodrigo Leopard Safaris (NRLS) – an award-winning company offering eco lodging and wildlife glamping experiences in Yala and Wilpattu National Parks.

KK Collection currently consists of two elegant, luxury, boutique hotels in Galle – Kahanda Kanda and KK Beach. The additional two properties which offer classical, luxury tented accommodation will be rebranded as 'Leopard Safaris by KK Collection', becoming a part of the KK Collection boutique properties. The offering will be marketed as luxury tents for families, honeymooners, and individuals.

KK Collection owner George Cooper peaking on the partnership said, "With this exciting new partnership, we will be greatly enhancing the experience for guests staying in both camps. Offering modernised and upgraded tents, an embellished range of menus and a wider range of experiences – including new all-day safaris."

Commenting on the partnership, Director Cecile Rodrigo noted, "We are thrilled and proud to become members of the KK Collection as we have come to understand our shared personal beliefs, and professional steeped in our company values. For both companies customer satisfaction and quality is key and individually we have achieved great ratings and accolades in the past. Each of us brings a unique set of skills to the table and we are confident that this union will help us to perfect the ultimate guest experience, making our joint-venture a resounding success!"

Cooper is expected to oversee the design and furnishing of the new tents and campsites, as well as in menu engineering. KK Collection Director Mario Stubbs will oversee the marketing and promotions of the upcoming properties. The joint effort from both companies with regards to the hotel experiences is expected to make it a truly memorable visit for the guests.

Concluding on the addition of the properties, Cooper noted, "At Yala, the campsite borders the National Park near Kataragama and is just minutes away from the entrance to Zone 5, a mere 10 minute drive into the wild, abundant with leopards, elephants, deer, and various species of rare birds. It is exceptionally exclusive experiences such as this that we intend to provide the KK Collection's clientele."

KK Collection consists of two award-winning luxury boutique hotels in Galle and a boutique property in the Galle Fort. Designed to offer luxury travellers a decadent, stylish and serenity-focused experience, KK Collection offers the perfect contrast between the island's palm-framed beach and lush interiors.