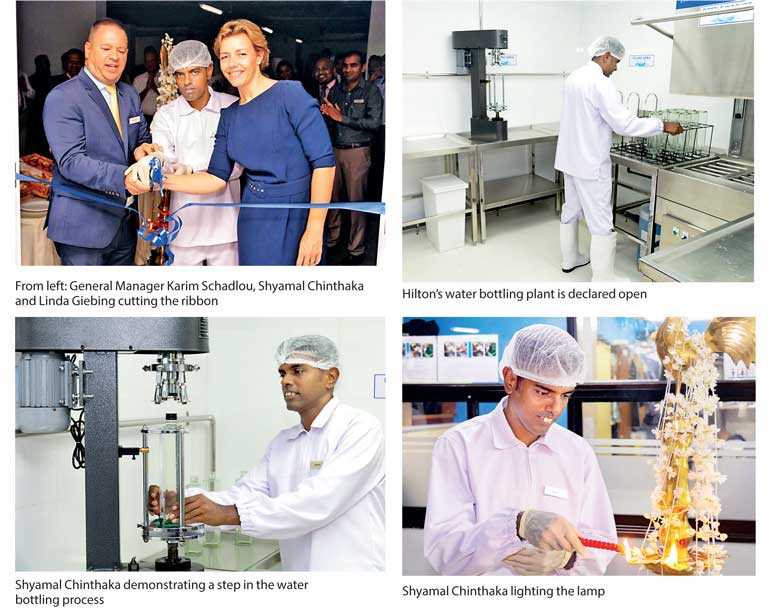 Second in-house water bottling plant to open in Hiltons in South East Asia
Hilton Colombo Residences announced the launch of its in-house water bottling plant that will contribute to its continuous efforts towards sustainability.

The bottling plant that is housed within the hotel premises has the capacity to sanitise bottles, distil, and seal 400 bottles of water a day catering to the requirements of its guests.

In its efforts to reduce the usage of plastic, the hotel replaced its plastic guestroom water bottles to reusable glass bottles. In the past, the hotel would discard up to 10,000 water bottles per month; with the water bottling plant, this has been eliminated.

The plant was officially declared open by the outgoing General Manager Karim Schadlou and incoming General Manager Linda Giebing in August.

Further, the hotel also recruited its first differently-abled team member who is vocally and hearing impaired to operate the water bottling plant; 37-year-old Shyamal Chinthaka who hails from Borelesgamuwa has completed his G.C.E Ordinary Level at The School for the Deaf – Ratmalana. The recruitment of Shyamal is a testament to the brand's commitment to its communities with the global program of Diversity and Inclusion.