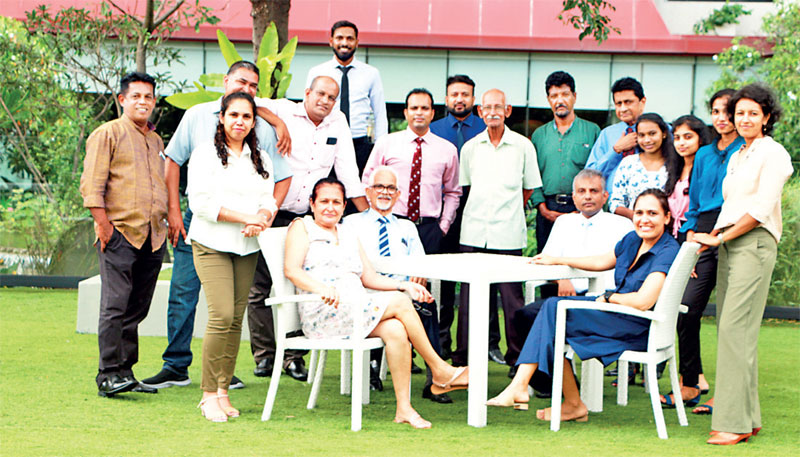 Heritage Expediciones celebrates its 20th anniversary this year, a milestone that symbolises two decades of their unwavering commitment to excellence and ground-breaking achievements in the travel industry.

Heritage Expediciones was established on 01 July 2003 and initially embarked on a journey to provide unique and immersive travel experiences to tourists. The company's vision was to showcase the rich cultural heritage and natural wonders of Sri Lanka, offering travellers an opportunity to explore the island in a truly authentic way.

The founder of Heritage Expediciones, George David began his journey with 30 years of experience in the travel industry and a small team of passionate individuals. Their dedication and commitment to excellence soon gained recognition, and the company rapidly expanded its operations.

What started as a small venture with a handful of employees has now grown into a formidable organisation with a global footprint. From its humble beginnings, the company has consistently pursued excellence and set new standards for quality, reliability, and customer satisfaction.

Today, Heritage Expediciones boasts a high number of employees which has helped establish itself as a prominent player in the inbound tourism sector.

As the calendar flips to July, the significance of this month becomes even more apparent for Heritage Expediciones. The 20th anniversary is not only a celebration of their success but also a testament to the trust and loyalty bestowed upon them by their overseas partners.

After a tumultuous period of the pandemic and the economic crisis, Heritage Expediciones Ltd has returned to the travel industry by overcoming numerous challenges and adapting to the new normal. Heritage Expediciones is ready to embark on a new chapter of success and growth with its 20th anniversary this year.

"We are extremely proud to celebrate our 20th anniversary. This milestone is a testament to the effort, dedication, and passion of our talented team and the unwavering support of our valued customers and partners," said Heritage Expediciones CEO George David.

"Over the past two decades, we have embraced the challenges, embraced the change, and consistently strived to push boundaries and set new benchmarks. This anniversary is a reflection of our commitment to excellence and our drive to continue providing tailor-made experiences for the next 20 years and beyond."

As one of the leading tour operators in Sri Lanka, Heritage Expediciones acknowledges the value of its employees, who have been the driving force behind the company's success.

In an era where corporate social responsibility (CSR) has become increasingly important, Heritage Expediciones is dedicated to making a positive impact on society. Going above and beyond their role, Heritage Expediciones has taken significant strides in addressing crucial issues such as healthcare, education, and poverty alleviation.

The efforts of Heritage Expediciones have not gone unnoticed. The company has received numerous accolades and recognition for their outstanding initiatives and performance. Their commitment to social responsibility has garnered the admiration of customers and industry peers alike, positioning Heritage Expediciones as a leader in responsible tourism.

As the demand for socially conscious businesses continues to grow, Heritage Expediciones serves as an inspiration for other companies to step up and make a difference in the communities they operate in. By prioritising CSR initiatives, Heritage Expediciones is proving that profit and purpose can go hand in hand, highlighting the company's journey and future aspirations, and setting a new standard for the tourism industry.

Looking ahead, Heritage Expediciones remains dedicated to staying at the forefront of the industry, embracing new challenges, and leading the way to sustain Sri Lanka's economy.

It reflects on the past with pride and embraces the future with confidence. The company remains committed to its core values of integrity, ensuring that it will continue to be a trusted partner and a driving force in the tour industry for many years to come.

As Heritage Expediciones reaches this remarkable milestone, they invite travellers from around the world to embark on a journey of discovery with them. Experience the magic of Sri Lanka through the lens of a company that has dedicated two decades to perfecting the art of travel. Join them on this momentous occasion as they celebrate 20 years of excellence and set their sights on a future filled with new horizons, endless possibilities, and unforgettable adventures.