---
Grand Udawalawe Director Operations and Finance Chandana Pathmakumara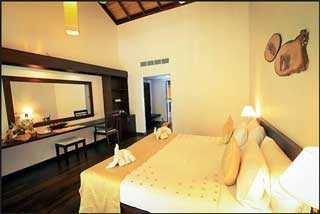 The first four star resort hotel in Sabaragamuwa Province, Grand Udawalawe Safari Resort is upbeat on the tourism sector recovery and plans to invest a further Rs. 400 million to add 22 suites and a
banquet hall to its property. The management Rosan Lanka Ltd. managed by six directors will also launch their own destination management company in 2021.

"The property has 79 rooms which consists of 24 Deluxe, 29 Super Deluxe Rooms and four Suites and 22 Grand Suites. Since the management saw an emerging demand for upmarket tourists to visit Udawalawe and sports and business activities picking up in the region decided to make this investment," said Grand Udawalawe Safari Resort Director Operations and Finance Chandana Pathmakumara.

"We had already started building Suites and invested around Rs. 150 million but it was put on hold during the C-19 pandemic period. We will soon restart it investing Rs. 250 million and it will be ready at the end of the year. Since our conference and wedding market is picking up we will further invest Rs. 150 million for another banquet hall this year to cater to 400 additional guests."

He said that due to the C-19 pandemic the hotel was forced to complexly shut down in some months but never resorted to retrenching staff and even paid the full salary. The revival has now started and it was spearheaded by the T20 cricket tournament at Suriyawawa and the opening up of Mattala Airport and also extension of the highway to Mattala.

The hotel initially with 53 rooms inclusive of four suites with an investment of Rs.750 million was opened in 2012 and it was trend setter towards opening of other hotels in the area. "When we opened there were only 30 rooms (less than two star standards) and today there are over 350 keys in the area."

Pathmakumara counts over 30 years' experience in the industry having started as an accountant from Banyan tree in Polonnaruwa and ending up as the Manager in it and subsequently working in the Maldives before joining the Grand Udawalawe Safari Resort. He said that the best attraction for the hotel is the Udawalawe National Park and the Elephant Transit Home and up until the Easter Sunday attacks they maintained over 90% occupancy with over 85% foreign guests and locals heavily patronising the hotel.

The resort is equipped with all the modern facilities, including, cable TV, wifi, tea/coffee making facilities, free Wi-Fi, gym with modern facilities, a bar to international standard, additional pool bar, an open air restaurant 'Wala' with 400 seating capacity and one of the most significant feature of the Resort is its' picturesque swimming pool.

The hotel also has Sri Lanka's only underground theatre which could accommodate 40 guests under new normal health regulations. The hotel also has one of the largest wedding reception halls in the province to accommodate 400 guests and a separate conference hall with a seating capacity of 200 with modern facilities.