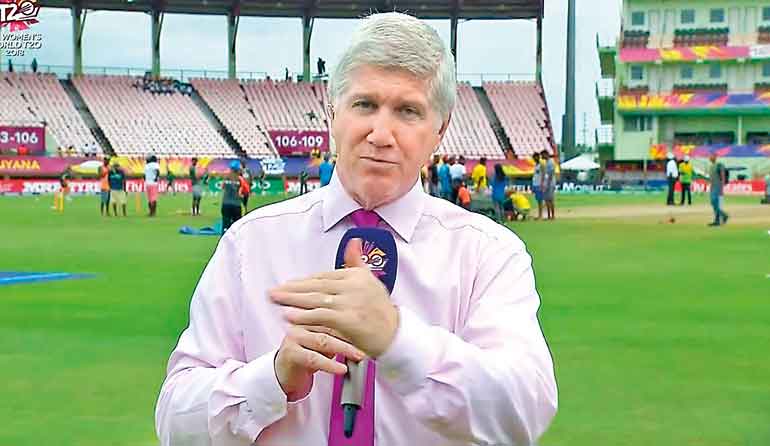 Alan Wilkins
---
Popular Welsh cricket commentator says "First time here in Galle and I am loving every moment of it"
---
Alan Wilkins, a Welsh cricket commentator and former English County cricketer who played for Glamorgan and Gloucestershire, has been doing radio and television commentaries for nearly four decades. He has been equally proficient behind the microphone whether commentating on cricket or any other sport. He is one of the most respected and recognisable voices in sports broadcasting across the world. However, it is as a cricket commentator that "Wilko" as he is affectionately referred to, has become quite a popular figure.

Wilkins, 69 is currently in Sri Lanka doing commentary on the ongoing Test series between Sri Lanka and Ireland at Galle. The Daily FT caught up with him and asked him to share some of his thoughts on Sri Lanka as a tourist destination. Following are excerpts:
---
By Sa'adi Thawfeeq
---
Q: You've been to so many countries around the world; your impressions about Sri Lanka?

I've been here many times but it's been a long time since I was last here. I have a feeling that I had a hiatus for about 10 years. I am not sure why that has happened. To come back here and to work on this Test series is just a wonderful thing for me. It's a wonderful occasion for Test cricket here for Ireland in Galle. Cricket in Galle is special. It happens to be my first time to Galle. I've been to Colombo and Pallekele and also to Hambantota. First time here in Galle and I am loving every moment of it. It's brutally hot and humid but I don't worry about being in an air-conditioned commentary box so that's okay. I went back to Colombo in between the two Tests for a couple of days and had friends to visit there. During the first Test we went around the Fort area to have a look and will do the same again when play finishes for the day. A chance to explore, I tend to do that in whichever country I go to. I like to get a local feel to where I am.
Q: Where do you put Sri Lanka in your list of countries that you have visited?

I've always been received well here. I do keep diaries every year of my cricket ventures. I have to look back. I think it is easy to make friends here, the welcome is a warm and genuine one. I must pay accolades to my good friend Tony Greig with whom I had a good friendship. Played against Tony for a number of years in England and also working with him in Sri Lanka you knew the impact, the pull and the influence he had. The people of Sri Lanka and cricketers loved Tony Greig. Having been under his wing like in the commentary box he introduced me to so many people and took me to so many places. I remember a car drive from Kandy to Colombo. He drove it and it was the most frightening drive of my life on that torturous road. It gave me an indication of how you can be received if you reciprocate the welcome. That's true with most countries. But I think it's special in Sri Lanka because there is a genuine smile on the face of virtually everyone you meet.
Q: If you were to promote Sri Lanka as a country for tourism, how do you get about doing that?

The first thing is the television pictures that are going globally. We have drone cameras and when it takes the aerial shot of the Fort, the ocean, the waves, it is almost like a video postcard with 200 countries watching this. I have people in England, Wales where I come from, and Ireland who are saying "Is it that beautiful', and I say "Yes, it is." I know people who've been here for holiday and for cricket they combine both. Look at those grassy banks, it's not like the SCG or the MCG, it is different. It is intimate. I think that is pertinent to the way that Sri Lanka is in the country as well. Our television pictures can tell the story, we almost don't have to add words. But then when I return home to the UK people will ask me, "What's it like in Galle?" and I would say "It's one of the most beautiful places in the world." If you want to go for a cricket holiday or a holiday, then go. It's wonderful to see after all the problems that affected Sri Lanka and the world due to COVID, things coming back, the hotels, the occupancies increasing. You could sit here with one eye on the cricket and one eye on the ocean and the whole vista speaks for itself.
Q: When you arrive in Sri Lanka what actually catches your first impressions?

The first impression is the way you are received, even at the airport it's so warm. I have made friends here from 15 years ago and also the cricketers I've met and become friends with Kumar Sangakkara, Mahela Jayawardene, Russell Arnold who is with me in the commentary box. I've covered cricket in Pallekele which is a very special part of this country. We stayed in Lake Victoria and you've got to change gear and concentrate that we are here to do a job. The country offers so much in terms of its vista, the picturesque nature of the countryside. Everywhere you look there is something to look at. It's a place where you can be easily lured by the sheer beauty of what this country offers.
Q: When you come to a country like Sri Lanka what is it that you take back most as a memory?

Certainly, from Galle I am staring at the Fort. It's almost like an indelible image. Cricket played on the grounds with all the fortifications of a 16th Century, developed a century later by the Dutch, the way we get around in tuk-tuks, we walk, the smell of the place, the feel of the place, the heat. I like to go out and feel the heat and know how testing it can be. That also gives you an idea of what the cricketers from Ireland have to endure. Colombo too is a fascinating place, all the twining little roads. You've got to have a driver to know where you are going. Cuisine can be a bit testing, be a bit spicy; that again is something which you take back as your experience.
Q: Countries that are playing cricket in the subcontinent like Sri Lanka, India, Pakistan and Bangladesh, if you were to promote tourism which one would you recommend?

Each country offers a different perspective. India with its extraordinary hotels and its hospitality and the vastness of the country. I've seen India change over the years from when the domestic airports were not that good but are now much better. Bangladesh, such a dense population. From 2001 when I went there for the first time to the Bangabandhu Stadium, the beautiful stadium in Mirpur. Bangladesh has a different way of luring tourists. I enjoyed Sylhet, the tea area, and Chattogram, formerly Chittagong. In recent years I was fortunate to go to Pakistan. I want to see more of it. At the moment it is the cities of Lahore, Islamabad and Karachi which is a huge place with numbers like Mumbai and New Delhi. In terms of hills and the mountains central here in Sri Lanka, the coastal regions. To rate the countries, it is difficult to put a 1, 2, 3, 4 because each country is different.
Q: If someone wanted you to recommend a subcontinent country to visit, which one would you tell them to go to?

I would recommend any of the countries but I think Sri Lanka has something special. I am from Wales, we have our mountains, rivers and our forests. In that respect we have something similar, something in common. I would say to the people to come to Sri Lanka. It's extremely special to be in Sri Lanka. If you go to the MCG, SCG the big stadiums, the Gaddafi Stadium in Lahore you are at the cricket ground at that's it. But here in Galle your mind wanders. I am staring at the Fort and history and historical facts on my phone or on my computer. The one place I've not gone and I really want to go is Nuwara Eliya. One day I plan to come back here, not cricket related, bring my wife and have a good holiday. Coming to Galle to Colombo to Pallekele and to Nuwara Eliya in two weeks you'll have a very good holiday. Sri Lanka's got everything.