Ambassador Prof. Saj U. Mendis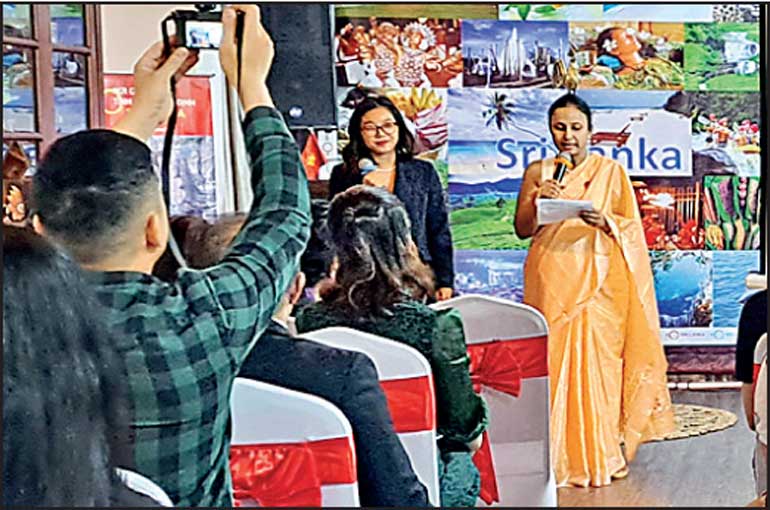 Minister Counsellor Commercial Kishani Wickramasinghe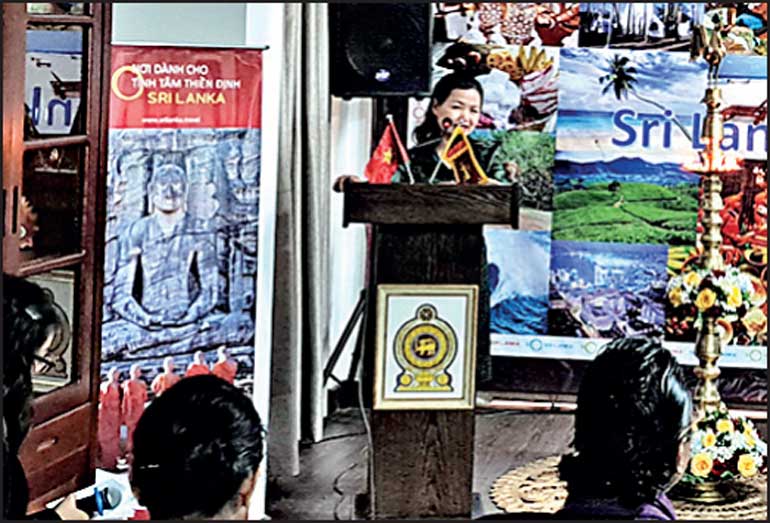 Vietnam Society of Travel Agents (VISTA) General Secretary

Giang Bien
---
The Embassy of Sri Lanka in Hanoi in close coordination with the Sri Lankan Tourism conducted a comprehensive seminar to promote tourism from Vietnam to Sri Lanka.

The seminar was attended by over 50 travel agents, media personnel, tourism promotional institutions and senior officials of International Cooperation Department of National Administration of Tourism, amongst others. The seminar lasted over two hours and a number of promotional videos, presentations and Q&A sessions as well as authentic Sri Lanka cuisine was served to the invitees/guests, thus convincing most of them of the hidden and unexplored touristic attributes and attractions that Sri Lanka poses to potential Vietnamese tourists and travellers.

The formal event, which was held at the Chancery of the Embassy, commenced with the lighting of the traditional oil lamp by Ambassador – Designate, Prof. A. Saj U. Mendis, along with International Cooperation Department of Vietnam Director Tran Thi Phuong Nhung, Vietnam Travel Agents (known as VISTA) Vice President and General Secretary, Giang Bien and Media Club of Hanoi President Nguyen Duc Xuyen as well as senior officials of the Embassy.

The opening remarks of the seminar were delivered by Prof Mendis, along with translation to Vietnamese, and profiled over 60-powerpoint slides in order to make the guests and invitees from the travel agencies and tourism promotional institutions to comprehend and persuade the intrinsic touristic attributes that Sri Lanka offers as no other country. Most of the travel agents and tourism promotional institutes were not much aware of the natural beauty, endowments and unique and iconic tourist attractions of Sri Lanka.

The seminar was coordinated by the Minister Counsellor (Commercial) Kishani Wickramasinghe, with Sri Lanka Tourism (SLT) and the SLT Promotional Bureau (SLTPB) Chairman Chalaka Gajabahu, Sri Lanka Association of Inbound Tour Operators (SLAITO) President Nishad Wijetunga and Tourist Hotels Association of Sri Lanka (THASL) President Shanthikumar, as well as International Cooperation Department of Vietnam Director, and Vietnam Society of Travel Agents General Secretary addressed the seminar.

The recorded addresses from SLTPB Chairman, SLAITO President and THASL President conveyed highly persuasive and compelling messages to the Vietnamese travel agents and tourism promotional institutions, as well as the media personnel.

The speakers emphasised that Sri Lanka has been chosen as one of the most favoured destinations by a number of noted and reputed organisations including but not limited to "Lonely Planet", 'CNN' , "BBC Good Food", and "National Geographic".

The recorded messages were subtitled in Vietnamese language and major tourist attractions of Sri Lanka were profiled such as Esala Perahera (Pagent) in Kandy, train rides, religious tourism, breath-taking beaches and tea gardens and unique UNESCO sites as well as adventure tourism and Sri Lankan cuisine, amongst others. A couple of FAM tour participants to Sri Lanka, sponsored by SLTPB, also spoke of their unforgettable and memorable experiences in Sri Lanka. Since the COVID pandemic has disrupted tourism industry on a global basis, Prof Mendis and SLTPB Chairman as well as others stated that Sri Lanka is now fully open to welcome tourists and travellers, particularly from Vietnam since the tourism from Vietnam to Sri Lanka is basically minimal.

In 2022, approximately 10 million Vietnamese travelled out of the country, mostly to ASEAN countries, Japan, China, and South Korea.

Prof Mendis and Wickramasinghe, during their remarks and presentations, stated that if Sri Lanka could capture not 1% of Vietnamese travellers but only 0.5% of the travellers to Sri Lanka, it would translate to 50,000.

Vietnam is amongst the fastest-growing economies not only in Asia but in the entire world with a large middle-income population, who are eager to travel out of the country either for vacation or business. Vietnam is a nation with a population of over 100 million and has immense and increasing potential for Sri Lanka to attract and woo tourists from Vietnam.