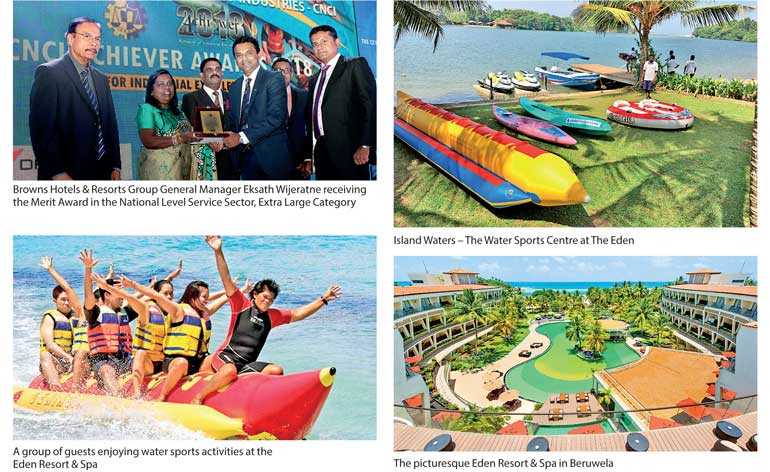 The flagship resort of Browns Hotels & Resorts, The Eden Resort & Spa was recently bestowed with the Merit Award in the National Level Service Sector, Extra Large Category at the Achiever Awards organised by the Ceylon National Chamber of Industries (CNCI). CNCI Achiever Awards 2018 was held in the presence of more than 400 participants and with Prime Minister Ranil Wickremesinghe gracing the occasion as the Chief Guest.

Achiever Awards is a mega annual event which is designed to promote the industrial growth in the country by recognising and rewarding those industrialists who have excelled in their business processes which include quality standards, productivity, employee benefits, labour relations, environmental and social obligations.

Speaking about the achievement of the Eden Resort & Spa at the CNCI Achiever Awards 2018, Browns Hotels & Resorts Group General Manager Eksath Wijeratne said, "We are delighted that our hard work and passion for excellence has been recognised yet again. Eden has steadily grown over the years to become one of the most sought after luxury hotels in Sri Lanka. Today, the hotel enjoys a very high occupancy rate throughout the year and one of the keys to success is the ability to adapt to the needs of the various types of discerning travellers who visit us from across the globe. I wish to thank each and every member of our team for their outstanding dedication and professionalism which has made this award possible."

The Eden Resort & Spa is located on the iconic 'Golden Mile', a pristine stretch of beach in Beruwela. With the recent refurbishment, the Resort has experienced a rapid increase in occupancy levels. Over the recent years, the hotel has been recognised locally as well as internationally for its outstanding service standards. The Eden Resort & Spa which operates under Browns Hotels & Resorts offers 158 elegantly furnished rooms, suites and penthouses, and an exclusive spa.

Eden's latest addition which is its water sports centre, named 'Island Waters' offers unparalleled water sports experiences to its guests, ranging from Jet scooter, banana boat rides, canoeing, water skiing to jet boat rides. These activities are offered by a highly experienced and friendly staff at affordable rates.

The hotel was awarded with the prestigious ISO 22000:2005 certification for food safety and food quality standards. The Resort was crowned as the Gold award winner in the Hospitality and Tourism Sector category for three years in a row at the National Business Excellence Awards (NBEA). Backed by these phenomenal credentials, the Eden Resort & Spa continues with its commitment to providing world class hospitality by exceeding the expectations of its guests, and continually upgrading its range of offerings.

Browns Hotels & Resorts is a subsidiary of the Browns Group which is one of the largest conglomerates in Sri Lanka. The Company has exciting plans to launch many new properties in Sri Lanka including the Turtle Beach Resort in Kosgoda and the Riverina Resort in Beruwela along with many expansions in the Maldives.