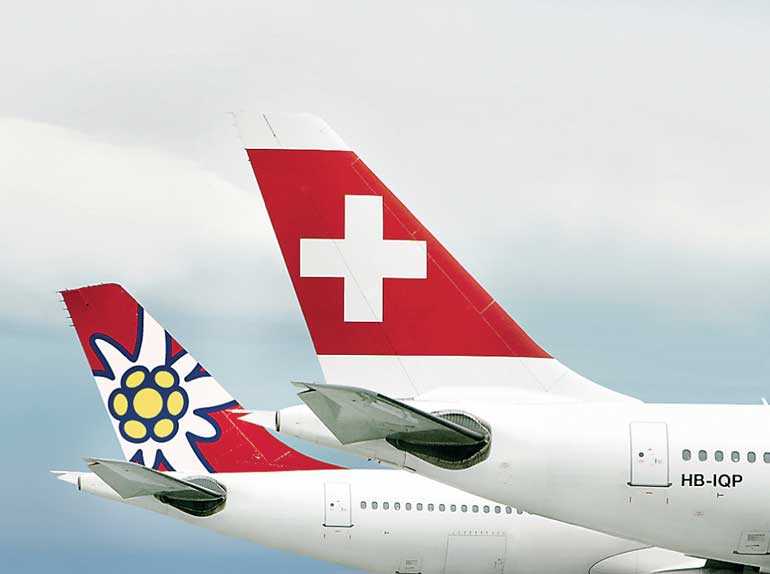 SWISS codeshare with Edelweiss Air will commence direct nonstop flights from Sri Lanka to Switzerland with effect from Sunday 4 November. It will be a twice weekly operation on Fridays and Sundays from Colombo to Zurich with Airbus A340 that accommodate 314 passengers.

Switzerland being one of the smaller countries in Europe outshines many of its neighbours with its internationally positive reputation. The world knows Switzerland – amongst other things – for the famous and multifunctional pocket knife, ski resorts, cheese, chocolate and watches. Switzerland has a reputation of offering nationwide high quality and premium services and products to its visitors emphasizing the Swiss lifestyle and values, known as 'SWISSness'. And therefore, 'Made in Switzerland' has become a label for quality and durability in the country as well as outside of its borders.

Swiss International Air Lines – the airline of Switzerland – and the leading leisure travel airline and sister company Edelweiss, are living up to these high standards and provide their customers full premium services and high quality products on and off ground.
Zurich as gateway to Europe
Both airlines are in constant contact with their customers, listening to their demands, improving flight routes and networks to offer the highest connectivity and quality for all passengers.

Together, Swiss International Air Lines and Edelweiss, offer 1.473 weekly flights to 108 destinations in 32 countries in Europe alone.

Beyond Europe's borders SWISS and Edelweiss fly to 47 additional destinations, offering high premium transport to 24 different countries outside of Europe. In total, SWISS and Edelweiss offer 1,805 weekly flights to 155 destinations in 56 countries around the globe.
SWISS' premium products on the new C Series
The refurbished A340s are just the peak of the modern fleet of SWISS and Edelweiss. Constantly optimising, SWISS is currently going through the greatest fleet modernisation of the company's history. The investment in modern, efficient and innovative aircraft provides passengers comfort for an enjoyable journey.

While offering high quality products on their long-haul flagship aircraft Boeing 777-300ER, of which SWISS invested in 10 aircraft so far, the fleet of SWISS consists currently of 90 aircraft. Edelweiss provides ten aircraft to the network. SWISS is also the launching customer and first operator of the newly developed C Series, redefining short-haul flights in Europe. The airline ordered 20 Bombardier CS300 and ten CS100. These state-of-the-art aircraft focus on the passenger but also on the environment and are currently the most innovative aero planes on the market. The cabin interior features easy-to-store hand baggage compartments as well as large and closely-spaced windows that let in more daylight and give the cabin a very spacious feel. Moreover, the aircraft offers a state-of-the-art cockpit and improved working space thanks to a redesigned galley and on-board kitchen, making it more ergonomically and functional for flight attendants.
SWISS lounge experience
Passengers are pampered on every flight to any destination operated by SWISS and Edelweiss. But as a journey for passengers starts already before the initial take-off, SWISS implemented high quality products, comfort and efficacy also on ground. The award-winning lounges offer relaxation before and after a flight and provide customers highest quality services during the whole travel experience.

The lounges, the on-ground services, the innovative and modern fleet and the overall network offering connectivity and flexibility throughout every journey are shining examples of the SWISSness that made this small, mountainous country in Europe to be respected and relied on beyond its borders.

SWISS and Edelweiss are part of the Lufthansa Group. For further information please visit www.swiss.com/ and www.flyedelweiss.com/ or contact Baurs Air Services Ltd., Sri Lanka on +94 -11-2435403-5.