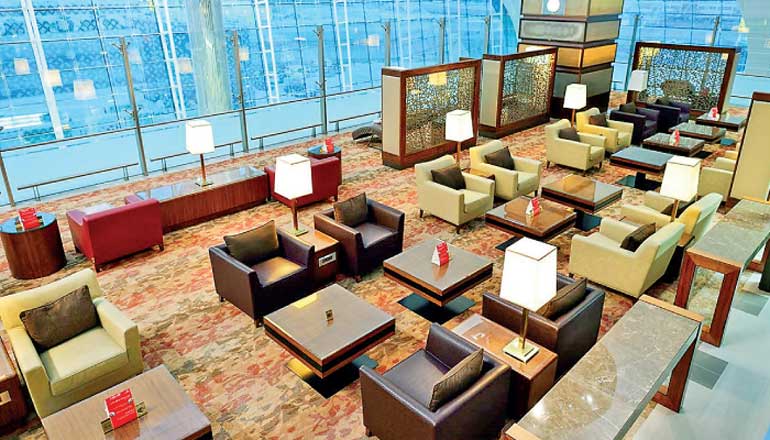 The key to more than 800 airport lounges around the world is now with holders of World Mastercard credit cards issued by the Commercial Bank of Ceylon, following the launch of LoungeKey in Sri Lanka by Mastercard from 1 September.

No enrolment is required for this exclusive travel privilege, as complimentary LoungeKey membership comes with the credit card, and a simple swipe of the card provides access to global airport lounges in over 120 countries, the Bank said.

Complimentary LoungeKey membership includes paid access to overseas lounges for the Combank World Mastercard holder or guests at $ 27 per person with complimentary refreshments and snacks and access to business facilities, internet, phones, fax machines and conference space.

"Our World Mastercard credit card holders in the premium segment are frequent flyers to whom lounge access is essential," said Commercial Bank Deputy General Manager – Marketing Hasrath Munasinghe. "They can now access airport lounges faster and simpler, regardless of the airline they are flying with, the class of travel or the airline loyalty program they belong to."

To check nearest lounge location, LoungeKey members can use mobile apps available for IOS and Android phones and devices.

Users can create their account by visiting the website and downloading the mobile app or by visiting the webpage to operate the account, which will make utilising the facility more convenient.

The Mastercard South Asia LoungeKey Airport Lounge Program is an airport lounge access program offered by Lounge Gateway Limited.

Commercial Bank cards are the fastest growing cards in Sri Lanka and enjoy market leadership in Credit and Debit Card cumulative point-of-sale usage. The bank offers a variety of credit cards in the Silver, Gold and Platinum tiers and World Mastercard in the premium segment. The cards are equipped with 'Tap & Go' NFC technology and are backed by a strong NFC Point-of-Sale (POS) network. Commercial Bank 'Max Loyalty Rewards' scheme is the only loyalty scheme that offers loyalty rewards points on both Credit and Debit cards.