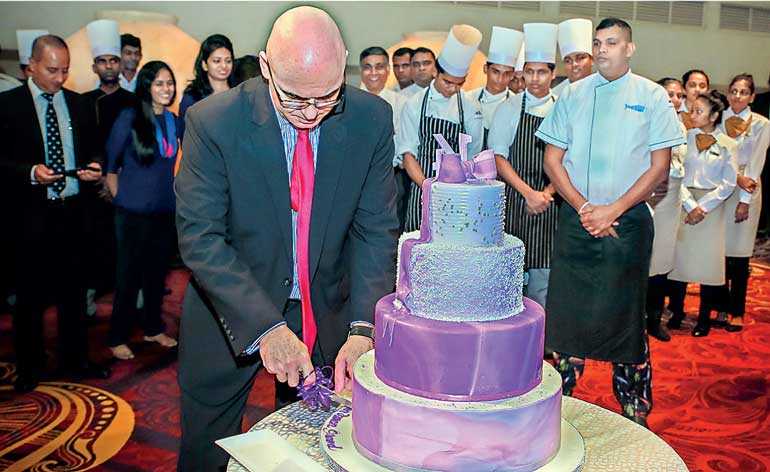 General Manager Dermot Gale cutting the birthday cake

General Manager Dermot Gale, John Keells Holdings Executive Vice President and Cinnamon City Hotels Sector Head Mikael Svennson and members of the management and staff at the pirith ceremony held at the Oak Room

General Manager Dermot Gale, John Keells Holdings - Leisure Group President Jit Gunaratne, John Keells Holdings Executive Vice President and Cinnamon City Hotels Sector Head Mikael Svennson and members of the management and staff at the religious ceremony held at the Atrium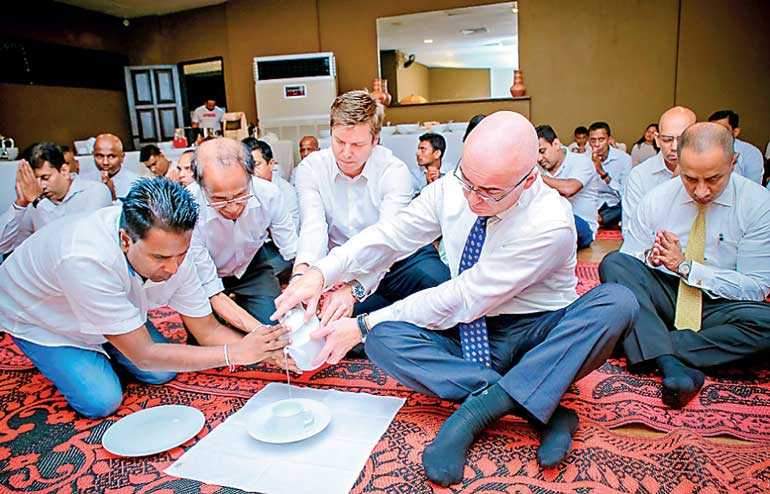 General Manager Dermot Gale, John Keells Holdings Executive Vice President and Cinnamon City Hotels Sector Head Mikael Svennson and members of the management and staff taking part in the 'Heel Daane' at Nuga Gama
---
The Cinnamon Grand marked its 14th anniversary on 26 November. To commemorate this milestone, a religious ceremony with priests representing all four of the country's major religions were invited to the hotel to invoke blessings on the management and Cinnamon Grand Associates.


All religious leaders commended the Grand team for their dedication and effort over the last 14 years to make the hotel a leading hospitality brand in the city. They said that despite the tragedy of the Easter Sunday terror attacks, the team has been resilient in moving forward. Special prayers from all four faiths were said to give thanks and invoke blessings upon the Grand team while calling for courageous leadership in the years to come.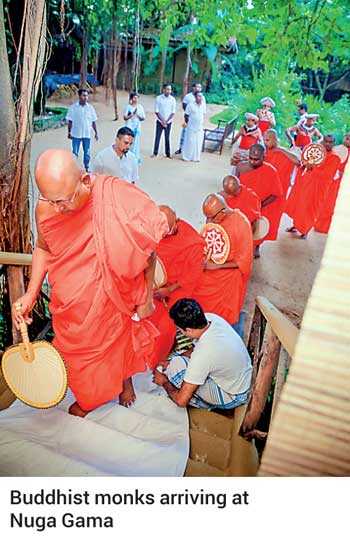 Over 300 Associates, led by General Manager Dermot Gale, President John Keells Holdings - Leisure Group Jit Gunaratne and Executive Vice President John Keells Holdings and Sector Head, Cinnamon City Hotels Mikael Svennson, were joined by Vice President John Keells Holdings, Head of Food and Beverage/Culinary - Cinnamon Hotels and Resorts and General Manager Cinnamon Lakeside Colombo Rohan Fernandopulle as well as Cinnamon Red Colombo General Manager Terrence Fernando.

Thereafter, the Cinnamon Grand's 14th birthday cake was cut and enjoyed by all.

Leading up to the main ceremony, an overnight Pirith Ceremony was held on 24 November, followed by a 'Heel Daane' held at Nuga Gama, the Village in the City, where monks invoked blessings on the management and staff of Cinnamon Grand Colombo.

A series of activities have also been organised to motivate and encourage staff while celebrating the Grand's journey.

For more information visit facebook.com/CinnamonGrandC or instagram.com/cinnamongrandcolombo.