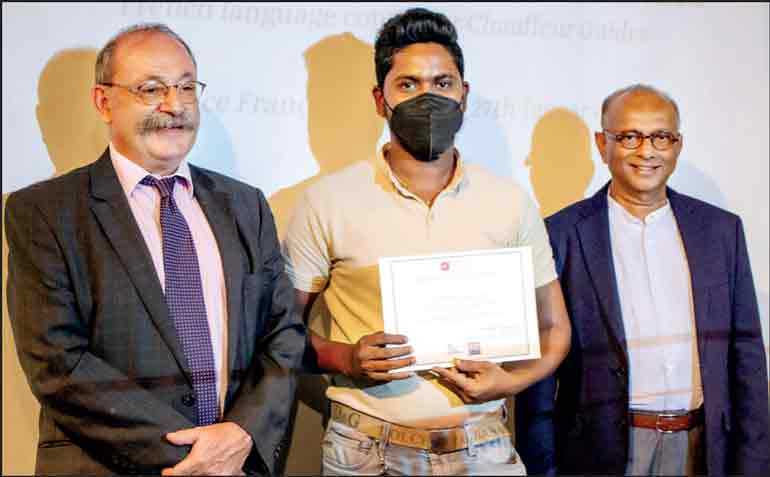 A participant recieving his certificate from Ambassador of France Eric Lavertu and Connaissance De Ceylan Chairman Chandra Wickramasinghe
---
Started in September of 2020 as the tourism industry was facing its longest halt in history in the wake of the COVID-19 pandemic, the French course conducted by the Alliance Française and sponsored entirely by Connaissance De Ceylan has just been completed.

With the impact of the pandemic at its height, Chandra Wickramasinghe and the team at Connaissance initiated this program to boost the skills of the local chauffeur guides to help them better sustain their livelihood when international French tourism thrives again.

As a pioneer of French tourism, Connaissance de Ceylan has always looked to be an advocate of the French language and skill building of its employees and the industry. In this spirit, Connaissance opened up participation to other SLAITO (Sri Lanka Association of Inbound Tour-Operators) member DMCs (Destination Management Companies). Of the total 31 chauffeurs selected, 16 were from competing DMCs with the other 15 from Connaissance de Ceylan. The course was unfortunately delayed due to the restrictions of the second lockdown but 21 of the 31 chauffeurs completed it with many passing with high honours.

The course was taught at the Alliance Française de Kotte which is the only French language centre in the Colombo district recognised by France and the only authorised centre in Colombo to prepare and deliver the international diplomas of DELF, DALF and the evaluation examinations such as TEF and TCF for migrating. The aim of the program was to provide the participants with an exposure to practical French language with basic language skills focused on tour guiding. The course was done with a mix of oral and written with exams being conducted in the two disciplines to award the certificates of completion to the participants.

The award ceremony for the course was held on 27 January at the Alliance Française premises in Keppetipola Mawatha and was graced by the Chief Guest, Ambassador of France Eric Lavertu, Alliance Française de Colombo-Kotte Director Bruno Duparc, French Embassy Cultural Counsellor Bernard Lelarge, Alliance Française de Colombo-Kotte President Sujeeve Samaraweera, and Connaissance De Ceylan and Theme Resorts Chairman/Alliance Française de Colombo-Kotte founder President Chandra Wickramasinghe.

Chauffuer guides with the Chief Guests
---