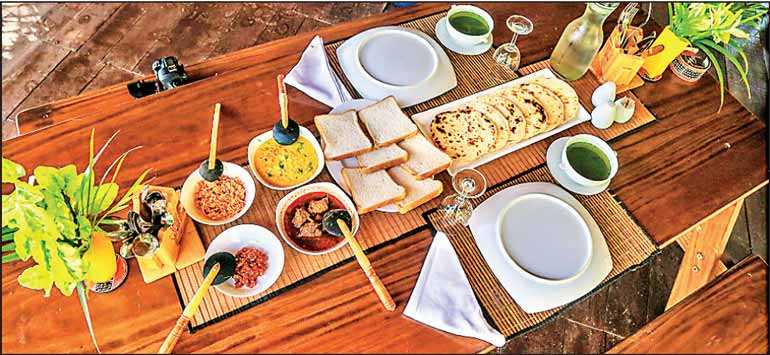 ---
Sri Lanka's award-winning Camp Leopard – Yala Safari Glamping is offering a host of exciting and unbeatable deals for Sri Lankans and resident visa holders for the upcoming Avurudu season.

Complemented with four exclusive air-conditioned tents and ensuite bathrooms, Camp Leopard located inside the renowned Yala National Park is synonymous for offering its guests serenity and luxury amidst the wilderness along with a truly authentic one of a kind Sri Lankan experience.

Located just 2.5 hours away from Colombo via the Southern Expressway, Camp Leopard is offering a variety of full board overnight deals from one-night to two-night packages exclusively for Sri Lankan citizens, resident visa holders, Sri Lankans living overseas as well as tourists who have been in Sri Lanka since March 2020 due to COVID-19.

A one-night package starts at just Rs. 9,900 per person on a full board basis with a half day guided safari, delicious Sri Lankan meals, Alfresco dinner complemented with campfire and AC tent accommodation, bird watching and bush walk.

The two-night package priced at Rs. 19,800 per person, is on full board basis with Sri Lankan meals, Alfresco dinner complemented with campfire, as well as full-day leopard tacking safari, AC tent accommodation, bird watching and bush walk.

Camp Leopard also offers two-night guided photographic safari expeditions for private groups at Rs. 23,800 for two nights. At Camp Leopard, guests are also provided with professional safari rangers throughout their stay in addition to the jeep drivers.

An advantage for guests when they stay at Camp Leopard is the warm and intimate experience they get to enjoy amidst the tranquilly, in a park with over 40 species of mammal, over 200 species of birds and is recognised as the best park in the world to see Leopards outside of Africa.

Camp Leopard Founder/Chief Executive Pramudith Thenabadu said that the last year was extremely challenging for the hospitality industry with small-time businesses taking the biggest hit following the lockdown and other travel restrictions due to the pandemic.

According to him, what makes Camp Leopard different from the rest is its authentic experience. "We offer serenity and comfort and most importantly a stress-free holiday for our guests, away from large crowds which guarantees their safety especially amidst COVID-19 fears," Thenabadu said.

While Camp Leopard may not be able to offer its guests crowded and extensive buffets or swimming pools, they do offer them delicious home cooked Sri Lankan food made by a local villager with lots of love, and instead of a pool, guests can swim in a beautiful natural river complemented with a delicious picnic lunch.

"At Camp Leopard, we will keep the lanterns and the campfire lit up for you with a promise for an unforgettable and personalised stay which will remain etched in your memory forever," Thenabadu said while also assuring that Camp Leopard is strictly following all COVID-19 guidelines.

Camp Leopard has received many international awards including being adjudged as one of the best glamping sites in Sri Lanka by Culture Trip and is a recipient of the Travel & Hospitality Award. Camp Leopard is ranked No. 1 in Kataragama and has received back-to-back certificates of excellence from TripAdvisor as well as the TripAdvisor Travellers Choice Award 2020.