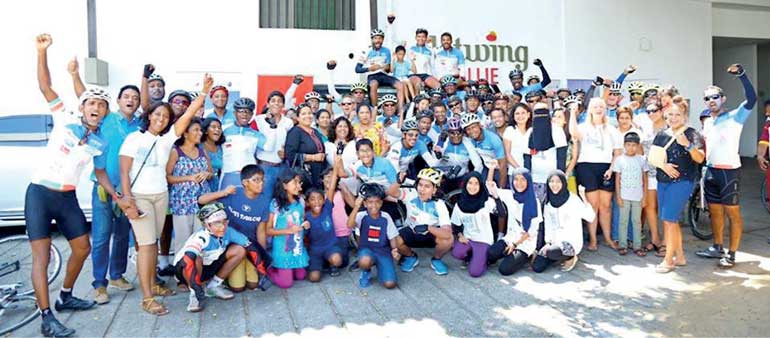 'Around the Pearl' is an annual cycling challenge happening over 10 days covering 1,400km around the beautiful coastal belt of Sri Lanka with an aim to raise funds for wheelchairs for children affected by cerebral palsy.

This time around, the challenge will be organised by premier activity and experience planner Jetwing Adventures, with the support of Jetwing Hotels.

Cerebral Palsy is one of Sri Lanka's most common permanent childhood disabilities, which are in the form of neurological disorders permanently affecting bodily movement and muscle coordination. In Sri Lanka, there are an estimated number of 10,000 children with Cerebral Palsy, while many cases remain undetected.

All proceeds from the 'Around the Pearl' initiative will be donated to the Cerebral Palsy Lanka Foundation (CPLF). Cerebral Palsy Lanka Foundation (CPLF) is the first and the only organization for children with Cerebral Palsy in Sri Lanka. It was started with an objective to provide educational and therapeutic services for children with Cerebral Palsy and associated movement disorders.

'Around the Pearl' is an initiative by 'Wheels for Wheels' which is conducted in partnership with the Cerebral Palsy Lanka Foundation (CPLF), and WrooM a cycling community – with the ambitious goal of donating 10,000 wheelchairs to children suffering from the disability.

The challenge is open to riders both local and international, and will see them cycle the entire perimeter of the island, taking them from Colombo, Galle, Weligama, Kataragama, Passikudah, Arugam Bay, Pottuvil Point, Nilaveli, Jaffna, and Negombo.

The cyclists will visit Sunrise by Jetwing in Passikudah, which provides easy access to an East coast adventure. Located in the beautiful Bay of Passikudah, Sunrise by Jetwing houses rooms with private balconies overlooking the Indian Ocean, and is also home to many other indulging features including soothing spa time and the longest pool in the area.

Cycling on to the northern peninsula the riders will base camp at Jetwing Jaffna on 19 April. Jetwing Jaffna is a 55-room star class hotel, which stands tall in the heart of the city on the 'Clock Tower Road' designed in a culturally contemporary style.

Jetwing Jaffna already has gained prominence for its exceptional service, and offers a host of Asian, Western and Mediterranean meals in the 100-seat restaurant along with a spectacular rooftop bar. It is the ideal venue for the adventurous traveller to relax and regain energy to explore further.

The next stop at a Jetwing property will be on 21 April, as the riders will head to Jetwing Blue to experience the warm and luxurious service the beach hotel has in store for them. This simple and minimalistic designed hotel will no doubt contribute to the rejuvenation of the mind, body, and soul. From the deep blue cooling waters in the pool to the warm pristine sea, the riders will indulge in everything blue and exotic at this venue.

"It's been an absolute pleasure and honour to organise the 2018 Around the Pearl, especially as we're fast becoming known as a premier adventure organiser," said Prateeque George, Head of Operations for Jetwing Adventures.

"We would love to have as many riders as possible, provided you're fit enough to meet the challenge – particularly as we're working towards a cause that will benefit thousands of children in Sri Lanka. If you'd like to participate, please visit www.aroundthepearl.lk," he continued.

Family-owned and in the tourism industry for the past 45 years, Jetwing Hotels has surpassed expectation at every aspect. Building on their foundation of being passionate, as well as the experience of true, traditional Sri Lankan hospitality, constantly pioneering discoveries captures the essence of the brand.

Such a strong statement and direction have enabled Jetwing Hotels to imagine, create and manage marvels and masterpieces, where distinctive design and elegant comfort complement each other and the environment.

In line with the Jetwing Hotels Sustainable Strategy, across all properties sustainable and responsible practices are given precedence with resource efficiency, community upliftment and education, and awareness being some of its key focus areas.