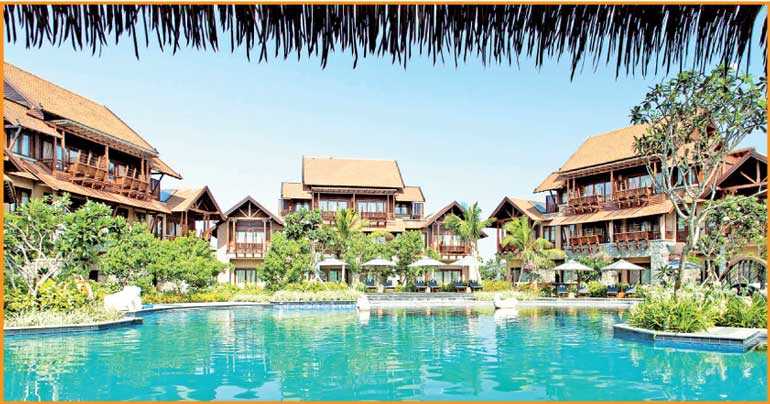 Anantaya Resort and Spa, Passikudah, recently celebrated its 7th year anniversary with religious activities held at the resort premises.

This milestone event marked 7 years of excellence in providing outstanding hospitality and unforgettable experiences to guests from around the world.

Nestled alongside the pristine waters of the East Coast, Anantaya Passikudah is renowned for its luxurious offerings. Anantaya Passikudah presents an elegant haven for travellers with its luxurious ambiance, surrounded by lush tropical gardens and ocean views, this exclusive retreat promises world-class service, elegant guest rooms, and a diverse range of dining options. The resort boasts 51 exquisitely designed rooms, catering to the discerning tastes of both local and international travellers. From the elegant Superior and Deluxe rooms to the opulent Pool Suites and water villas every accommodation option at Anantaya is a testament to luxury and indulgence.

Commenting on this special occasion LAUGFS Leisure Ltd. Group General Manager Sharmen Perera said: "We are immensely proud to celebrate our 7th year anniversary, marking yet another milestone in our journey. Throughout our journey, we have remained committed to offering our guests a truly luxurious experience that showcases the natural beauty and cultural heritage of this enchanting destination. We extend our deepest gratitude to all our partners, and staff members for their unwavering support and dedication."

Anantaya Resorts and Spas are owned and operated by LAUGFS Leisure, a subsidiary of LAUGFS Holdings Ltd. Since its establishment in 2016, Anantaya Passikudah has continued to captivate guests with its exceptional amenities and services. Anantaya has been conferred with many different accolades, celebrating the brand's unique hospitality and luxurious offerings including TripAdvisor Traveller's Choice Awards 2023.

As Anantaya Resorts and Spa, Passikudah embarks on its seventh year of operations, it remains steadfast in its commitment to delivering exceptional service, surpassing guest expectations, and contributing to the local tourism industry. Anantaya Resorts looks forward to welcoming guests from all corners of the globe to experience the epitome of luxury and serenity as it enters the next chapter of its journey.