Anantaya Resort & Spa Chilaw, the luxury resort specialising in destination weddings, recently unveiled the latest addition to its extravagant portfolio, four romantic water villas that offer seclusion amidst sumptuous amenities. The resort commenced operations in 2014 as the first of a chain of resorts run by LAUGFS Leisure, a subsidiary of LAUGFS Gas PLC. Tucked away in between the azure hues of the Indian Ocean and Bangadeniya lagoon, Anantaya Resort & Spa Chilaw is a truly romantic and picturesque getaway for couples.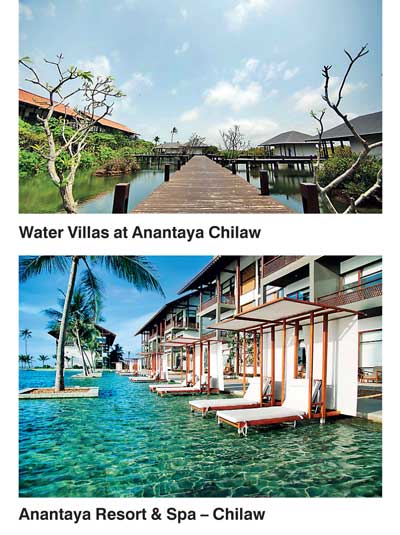 The water villas built near the beautiful lagoon will be available for booking from mid-October this year. The unique setting of the villa will provide an unsurpassable experience to both local and foreign clientele.

Anantaya Resort & Spa is located merely 66 kilometres away from the Bandaranaike International Airport and approximately 100 kilometres away from Colombo. The resort comprises 87 star-class spacious rooms and four villas.

"We designed and built the Water Villas with romantic couples in mind. The Villas provide complete privacy in a beautiful setting. Our well-trained and professional staff provides discreet yet friendly services. Guests can easily avail themselves of the other amenities that we offer and enjoy each other's company surrounded by luxury. The unparalleled beauty of the surrounding environment of the Villas will let both local and foreign guests create wonderful memories," commented LAUGFS Leisure Ltd. Head of Sales and Marketing Musthaq Ahamed.

Built on a quintessentially beautiful property flanked by the turquoise depths of the vast sea and a lagoon, the villas offer modern opulence and luxury within its beautiful bounds.

The resort's Balinese Spa is located a few metres away from the water villas allowing guests to experience spa facilities with ease. LAUGFS Leisure's Chilaw resort will comprise four luxurious romantic water villas, four suites inclusive of butler services as well as premium and deluxe rooms. Guests can choose the spa treatment that they prefer from the variety of choices available. Room service is available for guests while the property's fine dining restaurant is an ideal place for candle-lit romantic dinners. Guests can also avail themselves of the two large pools while the resort is well-equipped to facilitate kayaking, boat rides and horse riding.

LAUGFS is one of the largest diversified business conglomerates and a trusted name in Sri Lanka. Founded in 1995, LAUGFS today has expanded across 20 industries in Sri Lanka and overseas, establishing a strong presence as a leader and pioneer in the power and energy, retail, industrial, services, leisure, logistics and real estate sectors. With over 4,000 employees and an annual turnover exceeding Rs. 28 billion, LAUGFS continues to expand and empower millions as a trusted Sri Lankan brand.