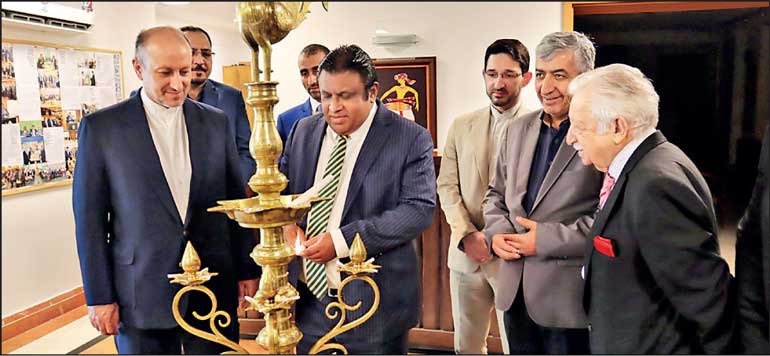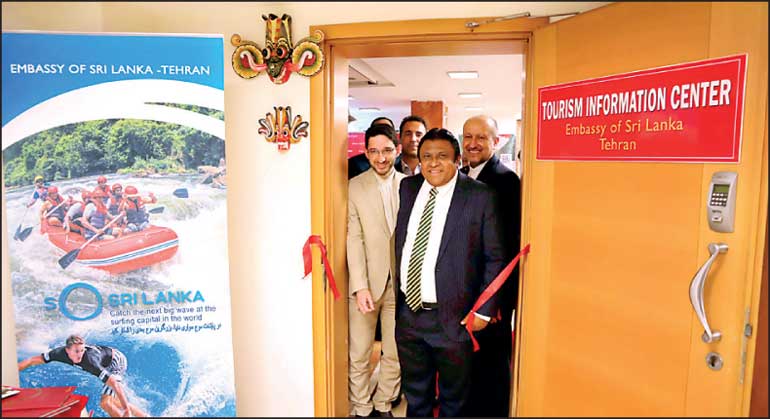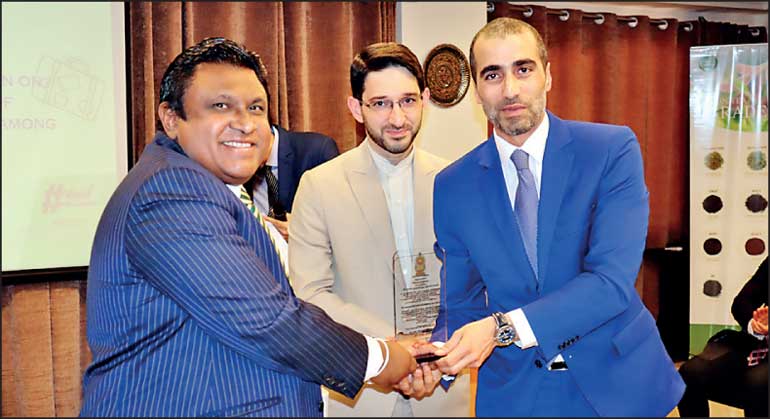 Ambassador Wishwanath Aponsu conveys to Tehran based media that "Iran is among the top 10 tourism source markets in March 2023 in Sri Lanka Tourism"; presents awards for top tourism stakeholders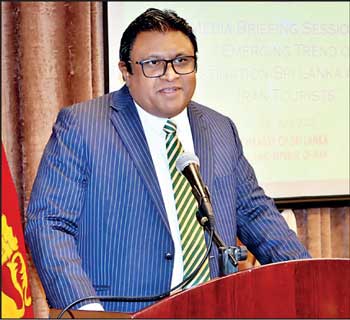 The Embassy of Sri Lanka in Iran, in collaboration with the Sri Lanka Tourism Promotion Bureau and the Association of Air Transport and Tourist Agencies in Iran, organised a media briefing session on 'Emerging Trend of Destination Sri Lanka among Iran Tourists' at the Embassy premises in Tehran on 26 April.

The interactive media briefing event was attended by over 65 representatives from Iran Tourism Ministry, Ministry of Foreign Affairs of Iran, travel associations, travel and tour operators, airlines, bloggers, TV and radio channels, travel and tourism media personnel.

Objective of the media briefing was to demonstrate the recent developments in Sri Lanka's tourism industry and to recognise the efforts made by tourism stakeholders in Iran specially travel agencies, tour operators, airlines and media activists in achieving the recent tourism growth between the two countries. The media event was one of the embassy's key activities in 2023 to expand the two-way tourism floor between Sri Lanka and Iran with the aim of enhancing people-to-people contact.

Welcoming the special guests and tourism stakeholders to the event, Ambassador of Sri Lanka to Iran G.M.V. Wishwanath Aponsu emphasised the importance of the tourism industry for Sri Lanka's present economy and underlined that this industry was the first key sector to recover in the country after an unprecedented economic crisis post impact of the COVID-19 pandemic. Highlighting more than 77% growth of tourist arrivals from Iran to Sri Lanka during the period of January to March 2023 than in 2022, the Sri Lankan envoy stressed that Iran was among the top 10 tourism source markets in the month of March 2023 in Sri Lanka tourism.

In his speech, Asian Mayors Forum (AMF) Secretary General Dr. Hamid Reza Gholamzadeh thanked Ambassador Wishwanath Aponsu for the invitation and expressed that his organisation could create an interactive network and active, effective and structured cooperation among the AMF member cities in urban tourism. He further spoke of the role tourism plays in strengthening ties among different nations and urged media to engage more in tourism activities. Association of Air Transport and Tourist Agencies of Iran Chairman Hussein Rafiei appreciated Ambassador Aponsu's uninterrupted effort for boosting tourism between the two countries and underscored that everyone should work collectively to expand the two-way tourism floor for the benefit of both nations.

The Embassy in its comprehensive detailed presentation showcased the multidimensional features of Sri Lanka as a must visit destination in the world, with a focus on areas of special interest especially to Iran travelers. Highlighting the most popular tourist locations in Sri Lanka and its unique features, an attractive tourism video clip with latest information on Sri Lanka tourism was also screened.

During the media briefing, Ambassador Wishwanath Aponsu presented awards for 15 selected top tourism stakeholders who facilitated to send highest number of tourists from Iran to Sri Lanka during the first quarter of 2023 as well as their contributions to promote the Sri Lanka tourism in Iran. While recalling the Embassy's tourism promotion initiatives since 2021, he stated that the Embassy of Sri Lanka in Tehran expects the continued cooperation of all tourism stakeholders in Iran to further expand the existing relations in the field of tourism between the two countries. In the presence of all participants, AMF Secretary General Dr. Hamidreza Gholamzadeh and Ambassador Wishwanath Aponsu together with special guests including Iran Foreign Ministry Expert Mohammad Deldari, Ministry of Cultural Heritage, Tourism and Handicrafts of Iran Head (Foreign Tourism) Hamid Eghbali and Association of Air Transport and Tourist Agencies Chairman Hussein Rafiei opened a Sri Lanka Tourism Information Centre in the Embassy.

The first-ever Tourism Information Centre of the Embassy provides visitors more information on Sri Lanka tourism with brochures, maps and travel guides and updates of Sri Lanka tourism. The guests were treated to a reception with a serving of Ceylon Tea.