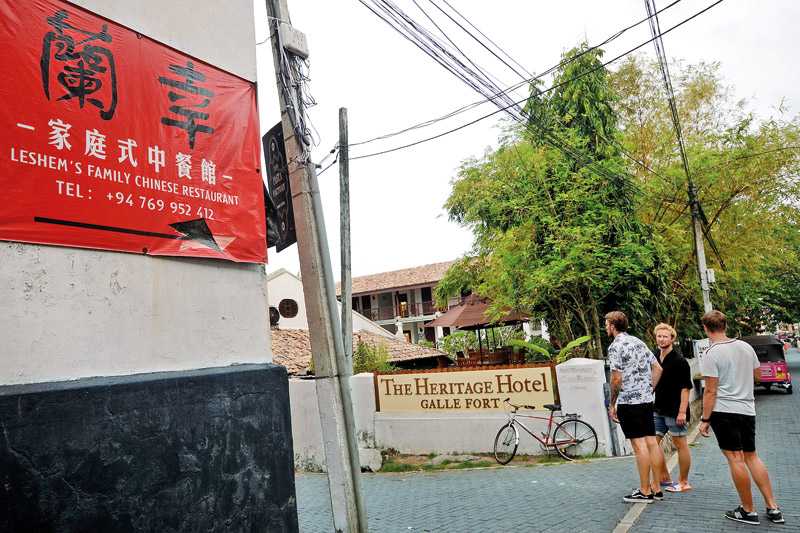 The Galle Fort is one of the hottest tourist attractions in the country – Pic by Shehan Gunasekara
---
Stax proposes key changes to boost our chances on the global stage
---
With tourism taking a nosedive due to the COVID-19 pandemic, globally the industry and its dependents are hard-pressed to up-keep facilities and provide welfare for staff and families of those connected. Following the double impacts of the Easter attack and COVID-19, Sri Lankans have begun to appreciate the real reach of the tourism value chain, and its impact on thousands of livelihoods islandwide. 

Sri Lanka for decades – and even recently – won global acclaim as a preferred destination for tourists. Despite this, the country has never come close to reeling in the revenues as some of its regional counterparts does including Maldives, Malaysia, Thailand and even Bhutan. We have on multiple occasions discussed diverse strategies to enhance our tourism position, but these efforts have fallen by the wayside for numerous reasons. 

In this current milieu, the global travel and tourism trade will likely need another year – if not two – to return to some semblance of normalcy. Whilst this spells distress for the industry, it also provides a window of opportunity to review and revive our national tourism product and policies, in order to secure larger and longer-term growth. 

A leading global strategy consultancy, Stax, has identified a number of high-focus areas that require a rethink to reposition our tourism product, taking into account developments and trends amongst travellers and destinations. They are centred around regulations, infrastructure and processes. The company adds that whilst implementing changes could result in some costs to the government in the near-term, it would result in greater revenues and returns for the nation over the longer-term. 


Regulatory changes needed

Stax finds Sri Lanka must revisit industry regulations in a number of spheres, including the re-evaluation of criteria used to confer 'grade' status for tourist facilities by the Tourism Development Authority (SLTDA), as some of the criteria are no longer relevant as per modern requirements. 

The SLTDA should also revamp and simplify its registration process to encourage industry players to register and increase revenue. 

The company adds that Sri Lanka must consider reducing its Embarkation Tax at the airport, as destinations like Singapore and Malaysia with high-quality innovative facilities charge $ 35 compared to our $ 50. 


Upgrade infrastructure 

With the Galle Fort remaining one of the hottest tourist attractions in the country, Stax recommends policymakers consider pedestrianising the location alongside other similar sites to increase footfall and manage congestion within the premises. 

The industry together with Government must provide necessary infrastructure, marketing and tax incentives to attract experiential franchises to the country, plus, focus on niche areas like adventure. 

Stax too underscores the importance of encouraging self-check-in counters, and enhancing budget and domestic airline operations from Ratmalana and Mattala. Global surveys show that younger age groups will be the first to travel once COVID-19 restrictions are lifted, so boosting facilities and routes for budget airlines into the country is a must. 

Online ticketing for buses and railways, clean toilet facilities and Wi-Fi zones are the – otherwise basic but lacking – facilities Stax identifies as those the country must invest in. 


From old to new 

Technology must take over licensing taking into account domestic considerations, in order to streamline licensing processes and remove unwarranted barriers to operations. Most developed and even developing markets have made technology a significant part of operating processes and delivered significant value to operators and tourists alike. 

Stax says the Government must also strictly codify and enforce beach zoning laws, dedicating specific areas for private and tourist activities. There is also need for the State to hire competent more personnel for Tourist Police to provide relevant resources and combat rising issues with harassment, which would in turn boost employment opportunities in the market. 

Certification and minimum standards must be made mandatory for tourism-related facilities and activities. Government officers must be given continuous training on updated laws and regulations via e-based learning platforms in addition to improving coordination amongst Central and Local Government bodies dealing with tour operators, Stax adds.

New developments globally include beach clubs that are conceptualised in innovative ways to attract chic travellers and Sri Lanka needs to showcase more of these to compete with the likes of Bali and Phuket. 

The main idea behind these is luxury – reflected in proximity to the beach, fine dining and high-quality entertainment. With Sri Lanka's beaches dotted with cabana offerings, it is difficult for tourists to gauge quality when many of them are not even registered or rated. The truly luxurious beachfront businesses in Sri Lanka that can compete with the best establishments in the region should receive the 'A Grade' rating from the SLTDA.


The visa-free solution

Tourism contributes immensely to revenues and livelihoods; it is the third largest contributor of foreign earnings for the country. Given the need to attract more travellers to the country, Stax finds merit in granting visa-free entry to some countries with which Sri Lanka has longstanding relations. 

Countries with high numbers of tourist to Sri Lanka each year should also be considered in the visa-waiver list along with nations that belong to organisations such as SAARC, ASEAN or EU, it adds. 

In a 2019 analysis, The World Travel & Tourism Council estimated the average impact of visa-free travel was 16.6% growth in travel demand. Indonesia's 2015 move to grant a 30-day visa waiver for 169 countries led to a 24% uplift in inbound travel and the creation of an estimated 400,000 jobs in tourism by 2018, while India's introduction of the eVisa for over 40 countries in 2014–2015 increased tourist arrivals by 21% and created 800,000 jobs.

The above form merely a clutch of the recommendations drawn up by Stax as part of an extensive study on the local tourism sector, with a view to grow and enhance our product offering on the global stage. As alluded to above, there is opportunity in this time of downturn to review and restructure our tourism position as a whole, and be ready to take on the post-COVID milieu with added vigour. Sri Lanka should invest now and capitalise on future growth.