Glistening shimmers of molten gold bouncing off snowy clouds floating through a sea of velvet blue lulled by the cool breeze wafting from the neighbouring mountain range gently caressing the lush vegetation…nature truly outdoes itself at Aarunya. Set on a mountain top amidst seven acres of spice and tea gardens in the suburbs of the ancient hill capital of Kandy, Aarunya is indulgence reborn as a collection of nine extravagant villas overlooking the panoramic views of the Knuckles Mountain Range.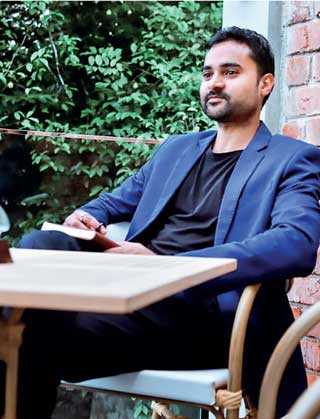 Architect Nath Rankothge
Meaning 'first rays of the sun' in Sanskrit, Aarunya is the brainchild of Nath Rankothge. Sri Lankan by birth and a global citizen who has worked and lived in Colombo, Sydney, London, New York, Shanghai and Chengdu, Nath is an international architect with projects like the Four Seasons Hotel and Residences at 10 Trinity Square, London under his belt. And it was this international way of life that inspired him to renovate Sri Lankan hospitality by introducing the island's first truly boutique high end international hospitality brand.

Offering global hospitality with a local touch, Aarunya which started as a family project by Owner Nath Rankothge, Managing Director Lal Rankothge and Business Tycoon Chairman Wijesundara has today, almost two years later, emerged a truly spectacular hospitality brand geared to take Sri Lanka to the world.

Giving an insight into their journey, Nath explained, "We aimed to develop a seven-acre tea and mixed plantation estate we had acquired with a vision to transform it into a luxury boutique resort and spa. Since day one we were overwhelmed by how well the resort was received by our guests, and we have even picked up major international awards."

Welcoming guests from every corner of the world Aarunya today commands a premium international brand and pricing position. Embodying nature-inspired luxury, the property embraces an approach in harmony with the environment, and the rich architectural heritage of Kandyan pavilions and 'Ambalamas' meaning rest pavilions for travellers.

Within one year of successful operations Aarunya recently embarked on Stage 2, the uber-luxury Sky Suites, which opened under-budget and on-time in mid-December 2019. Offering a mix of luxury glamping and close to nature minimalist luxury, these new villas cater to the most discerning travellers, experience legendary Sri Lankan hospitality tied together with truly anticipatory service in a marvellous mountain setting.

With its footprint firmly on the global map, the path is set and the mission is clear for Aarunya – to create beautiful, sustainable, nature themed hotels and resorts, to be a leading force in the international boutique hotels and resorts market, and reach a billion dollar valuation through developing, owning and operating a portfolio of over 20 exceptional international properties. "Our eyes are firmly set on growing the brand, with a unique offering consisting of timeless Sri Lankan hospitality fused with local destination inspirations, beautiful properties, international standards, creative design, and life changing experiences. "We aim to be the first truly Sri Lankan boutique high end international hospitality brand, and we are interested in tying up with the right partners," says Nath.

Already working on his second property in the Southern Coast of Sri Lanka, the architect is keen to explore the concept of nature in diverse terrains. His vision spans beyond Sri Lankan shores, such as a desert-meets-the-sea resort concept in Africa, a retreat for city dwellers on the Hawkesbury River outside Sydney where he grew up, another in the mountains of Chengdu, and even an oasis city hotel in New York City, where Nath once worked for the esteemed Architecture firm SOM.

Aarunya's rays are glowing stronger with every sunrise. Whether it is to take a dip in its temperature controlled plunge pools, pamper yourself on a private sun-deck, indulge in its food journeys, or take your next viral Insta-pic, Aarunya's calling is tailor-made to each guest; it truly is a tranquil oasis where world class luxury, legendary Sri Lankan warmth, and an unparalleled mountain setting combine to redefine hospitality.