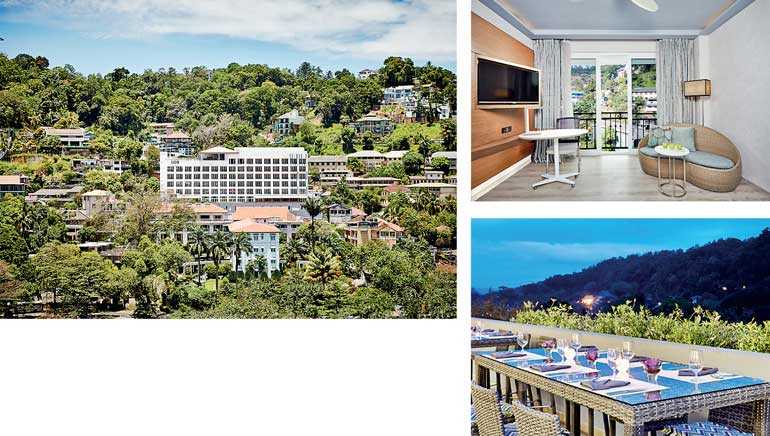 Situated at the heart of the country's central capital, OZO Kandy achieves the perfect balance of sophistication, charm and comfort, uniquely designed to allow each guest to rediscover the magnificent city of Kandy, as they experience the grandeur of a famed ancient kingdom, venture into a time gone by and explore a bustling, vibrant hill station teeming with life.

For guests who visit this enthralling city, OZO Kandy is undeniably the place to be. Practical yet stylish, this city hotel is the perfect solution for the guest who is always on the go, delivering tranquil, restful nights, as they awaken to a new dawn filled with endless possibilities. With over 120 rooms and many offering direct lake views, OZO Kandy offers a truly remarkable proposition: Something for everyone, catering to eager explorers, fascinated tourists and leisure seekers alike.

From the moment guests enter the hotel premises, eager, efficient team members are there to help, their smiling features bringing the essence of Sri Lankan hospitality to life. According to OZO Kandy Manager Monty Ariyaratne, "Our first objective at OZO Kandy is to give the best of Sri Lankan hospitality and service to our guests. We truly believe that every time you visit the hill capital of Sri Lanka, you are able to discover a new hidden treasure or adventure waiting to immerse you in the charm of Kandy."

No visit would be complete without discovering the city's abundance of ancient splendour, and guests can explore its sacred heritage, sheltered by a unique brand of regal hospitality. Centrally situated, within reach of notable tourist hotspots, including the Royal Palace, the Millennium Elephant Foundation, the Temple of the Tooth Relic and the Commonwealth War Memorial, the city's public transport stations are easily accessible from the hotel, enabling freedom and mobility to the more adventurous traveller.

The clear, pristine waters of OZO Kandy's very own rooftop swimming pool, aptly named Splash, allows guests to dip their feet and become immersed in the purest azure, with a summer cocktail in hand. Guests can look as good as they feel at OZO Kandy, engaging in intense workout sessions at Tone, the hotel's Fitness Centre.

The hotel's all-day dining restaurant Eat provides a mouth-watering experience, complemented by international menus with a local twist to suit every palate. Lake Edge, the hotel's events facility, with a capacity of 200 guests, is the ideal location for medium- and small-scale events for corporate functions, school gatherings, and even barbecue nights.

Before calling it a day, guests can indulge in international cocktails served with a local twist at Bommu, OZO Kandy's Rooftop Bar and Lounge. Frequent theme nights add a little zest to the evening, creating an atmosphere of fun and togetherness – the perfect mix of ingredients to make an evening truly memorable.

Following a busy day in the sacred city, guests can bask in quintessential comfort, as they lay back and fall into the deep slumber that only true peace of mind can bring. The accommodation at OZO Kandy comes in four distinctive categories: Sleep, Dream, Dream Lake and a one-of-a-kind suite. Every room is furnished with OZO's signature bedding designed to secure a restful night, bringing a sense of well-being, warmth and happiness to the weary guest – helping them awaken refreshed and replenished, ready to start a new day.