Working Committee decides to contest general elections alone
PM given authority to appoint Nominations Board
Resolution passed to demand removal of no-confidence motions from P'ment order book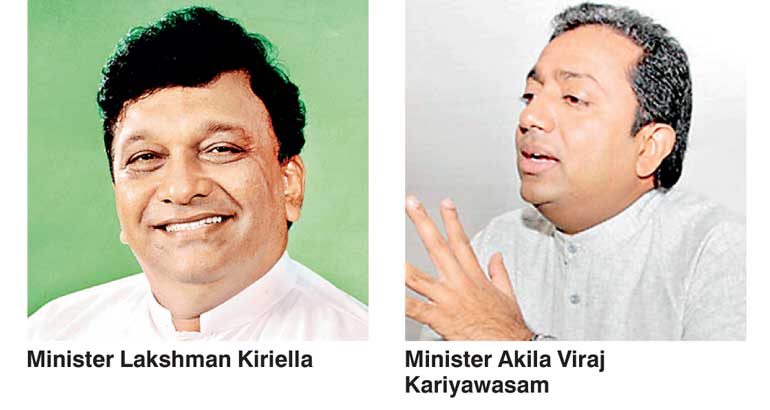 By Uditha Jayasinghe

Increasingly cornered by a majority Opposition presence in Parliament, the United National Party (UNP) yesterday decided to contest the upcoming polls alone and passed a resolution demanding pending no-confidence motions against the Prime Minister and Finance Minister be removed.

The Working Committee of the UNP, which met at the party headquarters Sirikotha on Friday morning, decided the party would contest the upcoming general election alone, senior party officials told reporters.

"Prime Minister Ranil Wickremesinghe has been notified of the decision and the Working Committee has also empowered him to take decisions regarding the election," Plantation Minister Lakshman Kiriella said.

The Working Committee has also decided to give the authority to Party Leader Prime Minister Ranil Wickremesinghe to make appointments to the Nominations Board.

Addressing a press conference after the Working Committee meeting, UNP Media Spokesman and Education Minister Akila Viraj Kariyawasam confirmed statements by Kiriella and outlined plans by the party to hold a convention in Colombo after Parliament is dissolved.

The Minister also expressed confidence that the no-confidence motions brought against the Prime Minister and the Finance Minister Ravi Karunanayake would be withdrawn within the next few days. The UNP had previously maintained President Maithripala Sirisena had pledged to block attempts to debate the no-confidence motions in Parliament.

However, Opposition Leader Nimal Siripala de Silva has since gone on record pledging to push forward the no-confidence motion of Prime Minister Wickremesinghe to be debated in mid-July.

A party leaders' meeting this week agreed to table the no-confidence motion against Finance Minister Ravi Karunanayake on 6 July. Given the high number of Parliament seats held by the Sri Lanka Freedom Party (SLFP) and the United People's Freedom Alliance (UPFA), top UNP members have expressed trepidation over the no-confidence motions allowed to go forward.

Last week the UNP decided to formally request President Sirisena to dissolve Parliament in writing. The UNP, which is the main Government party, is also steadfast in its stance not to allow the increase of seats beyond the existing 225 in Parliament, putting it at odds with the SLFP that is promoting 237 seats in the crucial 20th Amendment reforms. Disapproval of the gazette 20th Amendment by minority parties could also further delay consensus on the proposed reforms.

Nonetheless, Cabinet on Wednesday agreed the next round of Parliamentary elections would be held under the current proportional representation system.