Sri Lanka has been categorised among six high leverage risk countries by Moody's along with China, Japan, Mongolia, Hong Kong and Macao as high public, private sector leverage poses credit risks across the Asia Pacific region.

With regard to Sri Lanka, Moody's said Sri Lanka has a very high debt burden compared to its rating peers. General government debt stood at around 76.0% of GDP in 2015, up from 71.6% five years earlier, and well above the 48.6% median for B-rated sovereigns. Interest payments consume nearly a third of government revenues – much higher than rating peers.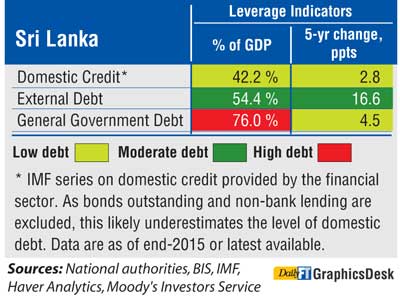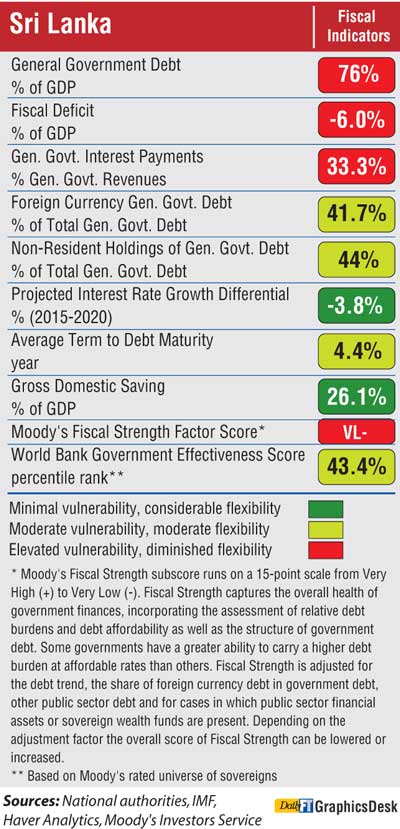 More than 40% of Government debt is denominated in foreign currency. This exposes the Government to a larger repayment burden in the event of a depreciation in the local currency, as happened in late 2015.

Reliance on bilateral and multilateral lenders reduces but doesn't eliminate vulnerability to international market volatility, as financing strains posed by falls in capital inflows in recent months have shown.

Moody's said the authorities are negotiating a financial assistance program with the IMF, which should partly cover the country's external financing needs over the next three years. The Government also plans to raise currently very low revenues, and has announced some increases in tax rates. However, slower growth and uncertainty about the efficiency of efforts to improve tax collection imply that Government debt is unlikely to fall in the near future.

With regard to State-owned enterprise contingent liabilities, Moody's said in Sri Lanka, contingent liabilities pose a risk to the Government's balance sheet. In January 2015, the country's Finance Minister indicated that such liabilities were worth around Rs. 1.4 trillion ($10.0 billion, 13.8% of GDP), taking into account Treasury guarantees and outstanding domestic and external SOE borrowing. However, a recent audit of SOE finances has revealed an additional Rs. 1.1 trillion of liabilities.

Some of the SOEs, including SriLankan Airlines (unrated), have been running operating losses for several years.

"Crystallisation of a portion of SOE-related contingent liabilities could significantly worsen the Government's fiscal metrics," Moody's added.