Commonwealth Secretariat engaged in developing initial concept work, to continue technical assistance
Budget earmarked Rs. 50 m as seed capital from Government to EXIM Bank
Initial capital of Rs. 25 b, subscribed jointly by State and industry
By Charumini de Silva

In a bid to rev up exports, the Commonwealth Secretariat is presently engaged in enhancing export finance opportunities and developing the initial concept work for setting up an EXIM Bank for Sri Lanka, a top official said yesterday.

"Commonwealth Offices in London have given the first EXIM Bank concept paper to the Government of Sri Lanka and we are now ready to give technical assistance to set it up," Commonwealth Secretariat Head of Trade Competitiveness Dr. Rashmi Banga said in Colombo.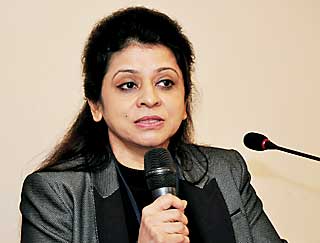 Banga was addressing the inaugural session of the three-day conference on 'Boosting Trade Competitiveness around Emerging New Issues in Multilateral Trade Agreements' organised by the Commonwealth Secretariat with the Department of Commerce of Sri Lanka, and partnered by the Institute of Policy Studies (IPS) and the International Institute for Sustainable Development (IISD).
Noting that their relationship with the Government of Sri Lanka had remained strong, Dr. Banga asserted the Secretariat would help formulate the proposed EXIM Bank of Sri Lanka during the sessions in Colombo.

"Sri Lankan exporters need better export financing. As a result of not having sufficient working capital, they seek bank overdrafts which most banks are reluctant to issue. Hence, the proposed EXIM Bank would be a great solution to enhance exports in the country as Sri Lanka Export Credit Insurance (SLECI) will guarantee the order and EXIM Bank can finance it based on the guarantee," she noted.

In addition Dr. Banga pointed out that the Secretariat welcomed any country specific request for technical assistance in the areas of undertaking detailed legal and economic analysis of the provisions and the implications of Free Trade Agreements (FTAs) at country level, based on the assessment of their existing domestic laws and regulations.

However, she noted that only a very few requests had been received from member states including Sri Lanka on an overall assessment of joining or not joining trade deals.

The formation of an EXIM Bank was initially mooted by the Government last year when former Investment Promotion Deputy Minister Eran Wickramaratne proposed its establishment. He suggested $ 150 m as the capital outlay but stopped short of putting it under the Government.

In the subsequent Budget presented in November 2015, Finance Minister Ravi Karunanayake formally proposed the establishment of an EXIM Bank.

"Sri Lanka must now graduate from an inward-looking strategy to an outward-looking strategy. Our local industries, ranging from banking to construction to education, have the capacity to reach out into new markets beyond the boundaries of the country.

"Therefore, I propose to set up an Export Import Bank (EXIM Bank) to facilitate tapping of such opportunities, with an initial capital of Rs. 25 billion, subscribed jointly by the Government and the industry. As such I propose to allocate Rs. 50 million as seed capital being the contribution of the Government EXIM Bank which will be operational from 1 April 2016. It is also envisaged to list this company in the CSE," he told Parliament.

Many stakeholders have welcomed the move through the industry has proposed it be backed solely by the Government rather than exporters.

An EXIM bank is a specialised financial institution commonly found in countries that provide financing for the export sector. It helps address the low risk appetite of exporters and banks by assuming the payment delay and default risks associated with international transactions that the private sector is generally unwilling or unable to take.

"The bank, being a specialised institute, has expertise that is not available in the commercial banking sector about exports, markets and associated risks. Therefore, in addition to providing financing, an EXIM bank, unlike private commercial banks, is able to provide information, training and guidance to exporters, in addition to financing," said the report by Verité Research broadly supporting the effort.
---
Developing countries need space in global trade deals
Sri Lanka remains highly concerned over the extremely slow progress of the Doha Development Agenda (DDA) spearheaded by the World Trade Organization (WTO), a top Minister said yesterday.
"There is very little hope in WTO-led multilateral trade negotiations as it has kept the developing and Least Developed Countries (LDCs) disappointed," Industry and Commerce Minister Rishad Bathiudeen said at the three-day Colombo session on 'Boosting Trade Competitiveness Around Emerging New Issues in Multilateral Trade Agreements' organised by the Commonwealth Secretariat with the Department of Commerce of Sri Lanka, and partnered by Institute of Policy Studies (IPS) and the International Institute for Sustainable Development (IISD).

He said the three-day conference was set for an in-depth look at the way forward on global multilateral trade play, especially of the developing countries, in light of recent major developments as the Trans Pacific Partnership (TPP) and Transatlantic Trade and Investment Partnership (TTIP) and disappointing WTO outcomes since Doha and Nairobi rounds.

Bathiudeen pointed out that due to this delay all the countries had been resorting to bilateral and Regional Trade Agreements (RTAs) for trade creation.

However RTAs are a temporary and narrow alternative to liberalisation of trade under the multilateral trading system; some of the modern RTAs have become complex in their content, leaving most of the developing countries and the LDCs in doubt about entering partnerships.

"It is not very easy for many of our countries as manufacturing and service industries are facing numerous capacity constrains; it has come to a point where we are trying figure out whether some of the RTAs are actually good or bad," he stressed.

Further the Minister said that they were hopeful that the Bali Ministerial meeting which took place in 2013 would deliver tangible benefits for the developing nations, however the only significant achievement the WTO made in Bali was the Trade Facilitation Agreement.

"The Ministers could not reach any agreement on several areas such as food security, export subsidies and some more critical issues to many of our economies. Although we agreed to work expeditiously and find solutions to these issues on priority basis, the post-Bali progress has been far more disappointing. Therefore it was obvious that the Nairobi Ministerial could not deliver anything significant," he added.

However, Bathiudeen stressed that during the Nairobi Declaration, trade ministers repeatedly stated the WTO would remain the main forum to negotiate multilateral trade rules.

"The TPP has already become a reality. More and more countries have begun to look at these mega FTAs or similar agreements with growing interest since there is very little hope in WTO-led multilateral trade agreements," he noted.

Institute of Policy Studies (IPS) Executive Director Dr. Saman Kelegama said the Doha Development Agenda (DDA) initiated in 2001 was still struggling to maintain its relevance as many of the issues faced by developing countries remained unaddressed.

Even though some countries hail the Nairobi package as a historic and successful initiative in delivering commitments with respect to the poorest member states, the failure of the Ministerial to reaffirm the Doha mandate was seen as an opportunity for new issues to be brought within the ambit of the multilateral negotiations.

Dr. Kelegama highlighted that mega regional trading arrangements such as the Trans Pacific Partnership (TPP) and TTIP had not only consolidated trade ties, but appeared to reshape international trade rules with the introduction of new issues related to environment, labour rights, rules of investment and rules of State-Owned Enterprises (SOEs).

"Significance of boosting trade competitiveness has become even more pronounced with the ever-growing importance of global value chains and production networks in developing countries," he added.

"Trade competitiveness is no longer about viewing export and import performance in isolation. It is the result of strong interdependencies between imports and exports as well as international clauses of capital investment and knowhow," he stressed.