Reuters: Finance Minister Ravi Karunanayake said on Tuesday the rupee currency, which is under downward pressure, will recover and be steady next year with expected foreign inflows.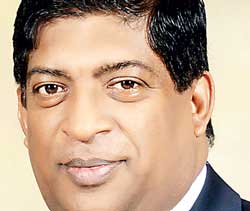 The rupee, which has fallen 3% this year after a nearly 10% loss in 2015, is under pressure because of higher imports and foreign outflows from government securities even though the Central Bank has raised key policy rates by 100 basis points since February.
The strengthening of the US currency globally after the Federal Reserve's rate increase last week, and a lack of exporter dollar conversions, have also hurt the rupee, dealers say.

"I am quite sure that we will see a reversal trend," Karunanayake told Reuters in an interview at his office, citing expected strong foreign investment in 2017.

He did not elaborate on the expected foreign inflows next year.

"This year was for things to get done because we have got such a perilous economy. People had lost confidence."

Karunanayake, however, said a steady rupee could come at the cost of higher interest rates, though the efforts to ensure strong macroeconomic fundamentals could help to keep borrowing costs in check.

"You can't have it all. You can't have the rupee strengthening and interest rates coming down," he said, adding that the Government would make a steady rupee a priority while economic policy would have its own impact on interest rates.

Since President Maithripala Sirisena's new government came to power in January last year, the economy has faced a balance-of-payments and debt crisis, partly due to heavy, expensive borrowing under the previous Government.

The rupee reversed its downward trend after the International Monetary Fund (IMF) approved a $ 1.5 billion loan in June, but optimism soon evaporated due to lack of foreign inflows.

Under the IMF loan, Sri Lanka has committed to carrying out strong reforms for fiscal consolidation through higher tax revenues and minimising losses at state-owned enterprises.

The island nation is aiming for a budget deficit of 5.4% of gross domestic product (GDP) this year from last year's 7.4%. It has targeted a deficit of 4.6% of GDP next year. Among options given to those who accepted payment under the compulsory purchase offer made by CCF were such persons will be given the option to purchase their previous shareholding in TFI from CCF at the same price of Rs. 28 per share. Furthermore, any persons who do not exercise their option to so purchase and/or have failed to deposit the purchase consideration by the due date specified shall be deemed to have voluntarily sold and transferred their shares in TFI to CCF and cease to have any right, interest or entitlement in such shares. CCF shall be the lawful owner of such shares.

Those who have not accepted payment under the compulsory purchase offer made by CCF and had not encashed the cheques,
---
BoC sale of Seylan stake cancelled
​
The Colombo Stock Exchange (CSE) yesterday cancelled the trade involving the sale of Bank of Ceylon's 7.5% stake in Seylan Bank to a foreign buyer.

No announcement was made but the reversal or cancellation was reflected in the foreign shareholding of Seylan Bank.

As of yesterday the foreign holding of Seylan was 10.25 million shares of the issued quantity of 175.98 million shares. On Friday when the sale took place foreign holding was 23.45 million shares.


On Friday BoC sold 13 million Seylan Bank shares at Rs. 100 each in a deal worth Rs. 1.3 billion to a Japanese buyer.

The unprecedented cancellation follows the broker for both the buyer and seller informing the same to the Colombo Stock Exchange after the Government cried foul over alleged lack of Board approval on the part of BoC for selling a "state asset" and triggering multiple probes in to the transaction including by the Criminal Investigation Department.

Aghast analysts have warned the reversal or cancellation would be a setback to the reputation of the BoC and global investor confidence on Lankan capital market but others said the move would ensure proper governance and accountability.