PM to seek advice from Commonwealth regarding SC's order preventing arrest of Former Defence Secy.
Says he got to know of SC order only via media; suggests onus on SC to keep Cabinet informed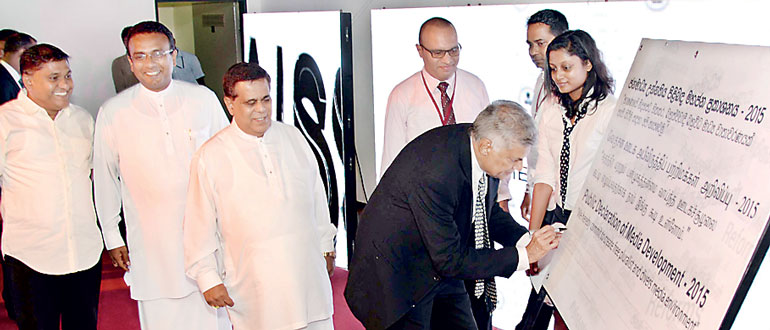 Prime Minister Ranil Wickremesinghe and Opposition Leader Nimal Siripala de Silva attending the National Summit on Media Reforms, held yesterday at the Foundation Institute in Colombo - Pic by Shantha Ratnayake
By Jayashika Padmasiri

Prime Minister Ranil Wickremesinghe, reacting to the news that former Defence Secretary Gotabaya Rajapaksa obtained an interim order from the Supreme Court yesterday, said that he could not comment on the case until October and the only thing left to do was seek the advice of the Commonwealth.


Wickremesinghe made these remarks at the National Summit on Media Reforms held in Colombo yesterday. He also explained that he was made a respondent in Rajapaksa's case, which will only be taken up in October.


"Since President Sirisena is the Commonwealth Chairman now, the only solution left is to seek the advice of the Commonwealth Judges' Union, lawyers and other relevant people of the Commonwealth regarding this situation. By no means am I questioning Gotabaya's right to file a Fundamental Rights case, but I'm only questioning the fact that neither I nor the Cabinet can answer regarding this situation until October," Wickremesinghe pointed out.


The Prime Minister also noted that ideally the Supreme Court should inform the Cabinet, instead, he only found out about its decision through yesterday's newspapers.


He also stated that if he had been given notice by the Court then he could have at least come forward and explained his side of the story since in the petition Rajapaksa had stated that they were conducting a political witch hunt against him.


"The problem that I have is that I cannot speak about this case till October. And the President is saying that by September there will be a new Government with new Cabinet members after the forthcoming general election. My issue is how can that Cabinet be responsible for the 2015 Cabinet? I hope that my seeking help from the Commonwealth will not be interpreted as foreign interference in the country," Wickremesinghe said.