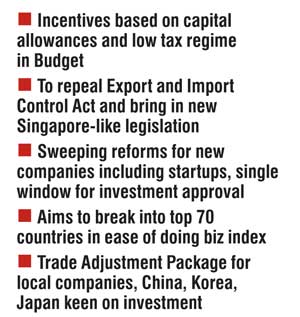 Prime Minister Ranil Wickremesinghe yesterday delivered the long awaited economic policy statement to Parliament outlining the way ahead for Sri Lanka to double per capita income and dramatically improve investment centred on clearing hurdles for the private sector and promising to limit the scope of Government in the economy.

Delivering his crucial policy statement, Prime Minister Ranil Wickremesinghe outlined ambitious reforms to improve the business environment to enable Sri Lanka to leapfrog to the top 70 nations in the Doing Business Index rated by the World Bank by 2020. In the latest rankings released on Wednesday, Sri Lanka largely stagnated at 110 despite implementing two reforms in 2015 as competitive countries continued to move faster in implementing reforms.

"We are now ready to enter the next and the most important phase of economic activity, that of creating new and productive jobs and livelihood for the young people. The creation of one million jobs will empower the youth and enhance their standard of living," he told Parliament.

Referring to his first policy statement ahead of Budget 2016, Wickremesinghe sought to build on the previous pledges and insisted that stronger pro-business polices would be trotted out when Budget 2017 was presented on 10 November.

"The Government plans to create a positive investment climate that will generate jobs. Hurdles that stand in the way of achieving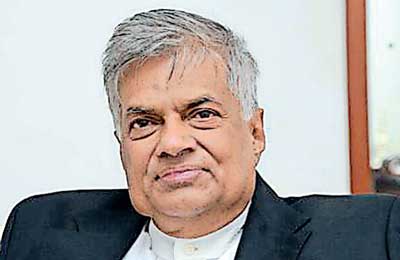 growth for business start-ups will be removed. The processes of starting a business, getting construction permits, electricity connections and bank credit, registering property, protecting minority investors, the payment of taxes, trading across borders, the enforcement of contracts, the resolution of insolvency and regulations governing the labour market will be efficient mechanisms that will facilitate business growth."

"Additionally, the Government will also prepare legislation to establish a single window for investment approval. Further, we will hold discussions with trade unions and relevant stakeholders. The targeted outcome is to bring Sri Lanka within the top 70 nations of the Doing Business Index by 2020," he said.

Wickremesinghe also noted that the Government aims to initiate plans for a logistical and business centre in the Indian Ocean. With this in mind, Sri Lanka has started developmental work on three international ports and airports, providing efficient connectivity within the region.

"A new set of investment incentives based on Capital Allowances and a low tax regime will be introduced; the details will be announced in the Budget. We plan to repeal The Export and Import Control Act and bring in new legislation on the lines of Singapore's (a) Regulation of Imports and Exports Act and (b) Strategic Goods Control Act," he added.

The Prime Minister went on to say the current domestic market enterprises also have a greater role to strengthen the economy, in addition to expected direct investments of local and foreign origin. Local companies can also add to export volume and to this end the Government will assist them to connect to global value chains by introducing a trade adjustment package which will include capital allowance for new equipment.

"Concurrently, we are reviewing the growing interest of local and foreign business concerns towards solving the twin problems of low private investment and the accumulation of vast debts by the Government. Towards creating newer markets for our exports, we are also negotiating three trade agreements - ETCA with India and two FTAs with China and Singapore."

"These are significant developments even as these two large economic regions struggle to maintain economic momentum in their domestic markets, which have been traditional export destinations for our businesses."

The Prime Minister also reiterated the Government's plans to sign debt-equity swaps with Chinese companies to take over debt of the Hambantota port and Mattala airport, which would also open up investment for the investment zones already earmarked in that region. He pointed out that investors from China, Korea and Japan have already expressed interest in utilising these zones along with others in the Western Province

"They plan to create an export market focused on Europe, China, Japan and the US and the crescent of markets around the Indian Ocean. Between the Middle East, Iran, Afghanistan, Pakistan, India, Bangladesh, Myanmar, Thailand, Malaysia, Singapore and Indonesia there exists a fast-growing population currently of over 2 billion people. This combined market has the potential of 3 billion consumers by 2050."

"Going forward, our development strategy will be aimed at capturing trading opportunities within these identified Indian Ocean markets via pursuing trade liberalisation agreements with their governments. Concurrently, we are focusing on defining the two development corridors across the country – this will be a focal area for investment by the public and the private sector."

The development corridors would mostly focus on the Megapolis project and the Financial City currently being built by a Chinese company off Galle Face. These would be a connected sub-corridor that would link plantations in the hill country. Subsequently, the Prime Minister launched into a sector- specific breakdown of Government plans that is carried in full in the inside pages.