Alleges no media freedom under MS govt.
Accuses of censoring his comments
Says he never ordered media heads on what and not to publish
Confesses he had no involvement in ITN fiasco
PRECIFAC recommences public sittings
Says President could appoint High Court judges for other duties under the Constitution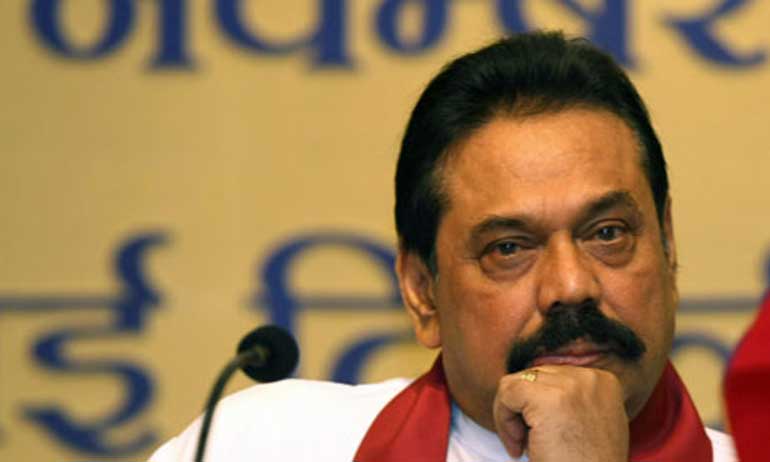 Former President Mahinda Rajapaksa
By Shanika Sriyananda

While there was freedom of speech, there was no absolute media freedom under the present government, Former President Mahinda Rajapaksa said yesterday, while refusing to comment on certain queries raised by journalists.

The former president made these comments following a hearing of the Presidential Commission of Inquiry to Investigate and Inquire into Serious Acts of Fraud, Corruption and Abuse of Power, State Resources and Privileges (PRECIFAC). Rajapaksa criticised the government for allegedly having some media censor his comments.

"The media freedom that was there during my tenure is not there today," he said, responding to a question from a journalist.

He further said that he never called media heads over to Temple Trees to instruct them on what they ought to publish in their respective media.

"I never ordered them to publish this or that. You should ask about the media censorship under this government from your bosses," he said, adding that he wanted to avoid making some comments as certain media would not be publish them.

"This will make your job as well as your bosses' jobs easier," Rajapaksa said.

The former president also said that even though he was called in by PRECIFAC, he had no involvement in the ITN (Independent Television Network) fiasco as he was engaged in a tough political campaign that required him to travel around the country as presidential candidate and had no time to look into his media campaign. The public hearing of the PRECIFAC came to an abrupt end on Thursday when Rajapaksa's lawyers, including his son MP Namal Rajapaksa, led by President's Counsel Gamini Marapana questioned the validity of the Commission, which has four sitting High Court judges.

However, it was recommenced yesterday, with PRECIFAC Chairman High Court Judge Preethi Padman Surasena answering the objections and announcing that the Commission could proceed with its sittings.

He said that under Article 110 of the Sri Lankan Constitution, which explains the performance or discharge of other duties or functions by judges, the President could appoint High Court judges for other duties and there is no mention in the Constitution that High Court judges couldn't be appointed to the Commission.



High Court Judge Surasena said that the Commission was not biased, on its part, and that sittings could proceed.

Commenting on summoning the former president to the public hearing, he said that the evidence didn't disclose a connection to him and that the Commission had only issued a notice to him to be present at the proceedings.

Minister of Science, Research and Technology and former UPFA Secretary General Susil Premajayantha was called first to testify before the five member PRECIFAC commissioners – namely, High Court Judges Padman Surasena, Amendra Seneviratna, Vikum Kaluarachchi, Gihan Kulatunga and former Auditor General B.A. Premathilake.

Answering questions by Senior State Counsel Janaka Bandara, Premajayantha said that Mahinda Rajapaksa, as the UPFA candidate for the 2015 presidential elections, had no involvement in his media campaign as the task had been given to a committee that handled all advertising for Rajapaksa.

"Former minister Dullas Alahapperuma, who is a veteran in the media field, handled the media campaign. When a presidential candidate is in a tough election campaign, he can't handle his media campaign. I have experience of working in three major elections in the past. In all those elections, we gave the responsibility of handling the media to a committee and other people who can be responsible of handling such campaigns effectively," he said.

Premajayantha said he was not aware of the two media advertising agencies – Media Factory and Special Solutions- which had handled Rajapaksa's advertisements but came to know about it when he was giving evidence at the PRECIFAC inquiry.

He also said that the payment was done between the broadcaster ITN and the media agencies and had nothing to do with anyone else.

According to PRECIFAC sources, the Commission is probing into financial irregularities worth over Rs. 200 million, recorded at ITN during the last Presidential campaign. The previous Government had failed to settle a bill of Rs. 115 million it owed to ITN for advertisements used in the campaign of Former President Rajapaksa.

The PRECIFAC is also investigating another complaint regarding the return of Rs. 89 million to President Maithripala Sirisena as ITN had not carried his advertisements during the Presidential Election campaign.

Meanwhile, a statement issued by Rajapaksa's media unit says that all matters relating to campaign advertisements are handled by the political party or alliance of the candidate.

"These matters are not the responsibility of the candidate but of the relevant political party or alliance. When it was proposed within the SLFP that President Mahinda Rajapaksa should contest for the presidency for the third time, it was the Present Chairman of the party who seconded that proposal," the statement states.

Former Media Minister Keheliya Rambukkwella, UPFA parliamentarian Dullas Alahapperuma, former ITN Chairman Anura Siriwardena were also summoned to the public hearing over the ITN inquiry.

The matter will be taken up again at the PRECIFAC public hearing to be held on 29 and 30 October at the BMICH.