Says fresh legislation will broad base and simplify the tax system for an investor-friendly atmosphere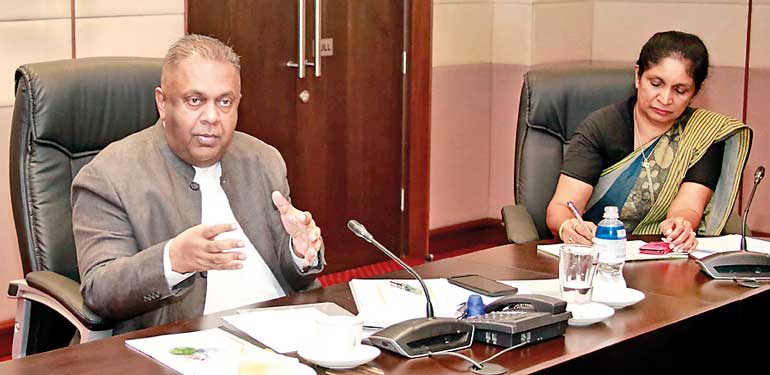 Minister of Finance and Mass Media Mangala Samaraweera during the discussion
Minister of Finance and Mass Media Mangala Samaraweera, during a discussion with representatives of the trade unions of the Inland Revenue Department (IRD), stated that the main objective of the new Inland Revenue Bill was to simplify the tax system in the country in order to create an investor friendly environment which would attract more foreign direct investments in the near future.

The Minister said that the present tax system was complicated and that investors found it difficult to understand. Therefore, he said that the new Inland Revenue Bill would broad-base the tax system and incorporate globally accepted new tax principles to deal with international cross-border relations.
Minister Samara-weera met representatives of the trade unions of the Inland Revenue Department at the Ministry of Finance on Monday (10) and held discussions on matters relating to functional activities that come under the purview of the IRD.
The Minister invited the employees of the IRD to submit their proposals and to discuss any other issues faced by them. Samaraweera further stated that he was prepared to consider the trade unions' concerns in order to enhance the tax revenue of the Government.
The trade union representatives briefed Minister Samaraweera on certain administrative and technical issues within the department. The representatives cited the lack of local and foreign training opportunities for officers of the Inland Revenue Department and apprised the Minister on issues faced by them with regard to the payment of incentives. They also stressed the need for a new building for the head office of the Department of Inland Revenue.
Although tax revenue has decreased since 2011, the Government has been able to increase national revenue via increased tax collection to reach an all-time high in the recent past due to the new policies adopted by the Government.

Deputy Secretaries to the Treasury, G.D.C. Ekanayake and S.R. Attygalle, Director General of Fiscal Policy A.K. Senevirathne, Director General of the Inland Revenue Department Ivan Dissanayake along with officials from the Ministry of Finance and the Inland Revenue Department were also present.