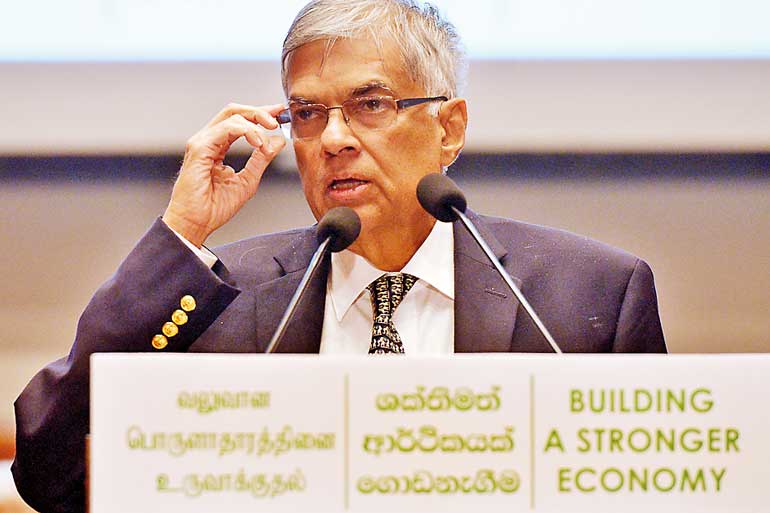 By Uditha Jayasinghe

An agreement on the Mattala airport would be inked before December assured Prime Minister Ranil Wickremesinghe yesterday as the Government readies to sign the port deal and open doors to more investment.

Wickremesinghe giving a rare media briefing on Friday praised the fiscal consolidation process, which the Government has undertaken in partnership with the International Monetary Fund (IMF) and insisted it laid the foundation for greater investment to tackle debt. The IMF released the second tranche of its $1.5 billion three-year Extended Fund Facility (EFF) earlier this month and acknowledged Sri Lanka's fiscal and deficit targets remain on track despite a slower than expected reform process.

The Parliamentary debate on the Hambantota agreement failed to take place on Friday after Joint Opposition (JO) members disrupted House proceedings forcing it to be adjourned. However, Wickremesinghe insisted the debate was proposed in good faith and disrupting it was a loss for the JO.

"We are signing tomorrow the agreement on the Hambantota harbour. We gave the Opposition a debate today but they disrupted the adjournment because they could not oppose it. This deal is better than the one they had signed and there will be enough investments to make it into another world class port. There is a new joint venture companies between China Merchant and SLPA but that is only for commercial navigational shipping operations. Security is in our hands, the land is in our hands. The details will be given tomorrow."

Revenue from the deal would strengthen reserves and assist to manage foreign exchange volatility, he added.

"The $1.1 billion that we will receive this year and next year will reduce our debt. This money we can hold onto and there is another $300m in additional investment that will be made. Compare this to the Rs. 46.7 billion that we have spent since 2011 on the Port. We could have given 2.5 million of our poorest people healthcare, or increased the education budget by 60%. Instead, we stuck it into a hole. The other thing that has been a white elephant is Mattala. By the end of the year we will have an agreement on Mattala. So you will have a functioning harbour, functioning airport and the industrialisation of that area.

"But I have to say we have some bad news. We can't find any takers for the Suriyawewa cricket stadium. So all of us will have to pay from our taxes for the stadium. That is the only bad news I have for you at the moment," he noted.

The Prime Minister was also optimistic of Sri Lanka's capacity for attracting foreign investment, which has been hitherto lacklustre.

"This is the beginning of the investment. We have plans for liquefied natural gas (LNG) plants with India and Japan. We are working on an industrial zone. We will have development in the Megapolis, Galle, Matara, Monaragala, Kandy and other regions. I'm going to Batticaloa today to look at the tourism and commercial potential of the area. We have had discussions on restoring the war affected Jaffna economy. So we have good news."

A debilitating drought and floods that hit Sri Lanka at the start of the year would not dent growth significantly, Wickremesinghe pointed out. He expressed confidence the country would grow between 4.5% and 5%, which is above the 4.4% growth in 2016. He also remarked he "prays" growth will hit 5%.The Central Bank projections quoted by Wickremesinghe are also in line with expectations by the IMF.

"The floods and drought should have had a negative impact on the economy. Already our agriculture has suffered and our growth should have come down from the 4.4% we had in 2016. This is not the case. We have stablised, despite all these issues. I would like to say the IMF itself has said 'macroeconomic and financial conditions have been stable, despite severe weather events and global market volatility.' But we will all have to get ready if this climate pattern continues for economic changes which will have to emanate from climate change. So we have to watch this year and next year what the climate is going to be. Therefore, the IMF has released the second tranche," he said.

The Prime Minister went onto say the country has been placed on the "right track" and reiterated it would contract the deficit to 3.5% of GDP by 2020.

"We are accumulating reserves to create non-debt inflows, particularly through exports and FDI. We are entering into bilateral economic partnerships. GSP+ means 6,000 goods that can enter into the EU market. We have done this because we took the strong decisions early to reduce fiscal deficit, to rebuild foreign reserves, and introduce a more equitable tax system to restore macroeconomic stability. Fiscal consolidation has been the key macro-concern for all of us. We have done this through our tax reforms and prudent public finance management."

"We are now navigating a period of transformation amidst global turbulence. Our country has enormous potential. We need not be a country raising commercial debt to pay for infrastructure when we can attract direct private investment, expand exports and become the hub of the Indian Ocean. The US also has potential for greater exports, especially for apparel and footwear."

He advocated that Sri Lanka should also look to manufacture additional export goods including transport gear such as suitcases. New free trade deals with India, China, and Singapore would not be allowed to undermine local industries, he assured.

"This will not destroy local industries. We want everyone to be competitive. We will expand and like Korea become exporters. When I was young, Sri Lanka was well off, while Korea was a poor country. So if you had any shanties we called [that area] 'Korea.' Now I suppose if there are shanties in Korea it might be called 'Lanka.' That is what we have become and what we have to get out of. As a National Government we can take decisions to move ahead.

"We have elected to transform the country. We have made the Parliament partners in the administration. We have vision, a stronger leadership and determination to build a stronger economy for all of you," he said.
---
Port deal greatest since Mahaweli: Mangala
Time for SL to catch up with other countries on 40th anniversary of open economy (strap)

Finance Minister Mangala Samaraweera yesterday said the time has come for Sri Lanka to make more of its open economic policies and catch up to other leading economies in the region while hailing the Hambantota port agreement as the start of a major developmental leap.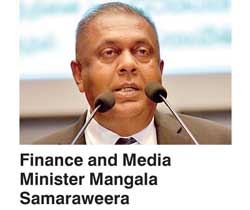 The former Foreign Minister was also adamant that even though Sri Lanka is celebrating the 40th anniversary of an open market policy introduced by former President J. R. Jayawardene, the country failed to capitalise on liberalising its economy before many key players such as India and China.

"Dozens of countries that opened their economies after Sri Lanka are enjoying benefits. It was the open market that enabled the creation of tens of thousands of new jobs. The chance to taste an apple and buy a computer. These are advantages that should not be taken lightly. Unfortunately, due to shortsighted decisions taken, particularly during the time of former President Mahinda Rajapaksa, these gains were undermined. Our exports and investment have diminished, and this Government is working to turn things around. All patriotic people should support this," Samaraweera said.

He pointed out that by 2019 Sri Lanka would have to repay Rs. 3.2 trillion in debt, of which 82% was accumulated during the time of former President Mahinda Rajapaksa, largely for major infrastructure projects that have failed to make substantial returns. He recalled how public revenue systematically declined under the previous administration, eventually ending up at 10.1% of GDP by 2014, which the present administration increased to 14.2% of GDP by 2016.

"We already have a medium term policy framework with many reforms ready for implementation. The Hambantota Port signing ceremony will herald the most significant development project launched in this country since the Mahaweli project. These are projects where investment is open to anyone, not just Chinese companies. We are well aware that many countries are keen to invest in Sri Lanka and we are currently putting in place FDI policies that will streamline investment," he added.

Samaraweera also acknowledged Sri Lanka has to adapt itself to a challenging global environment that is seeing wage stagnation and reducing employment opportunities due to technological leaps in artificial intelligence. International projections have shown that only 42% of the world's population has the skills to survive in professions that will be deeply affected by technology.

"We have to retool and re-skill our people to be competent in such a challenging environment," he said.