One of the leading investors in healthcare globally TPG expands footprint in Sri Lanka to benefit from growing healthcare demand
Entry of new shareholder will give Asiri access to TPG's global network and experience making significant investments in healthcare
Asiri Group with 30% private sector and expanding to focus on regional growth and enhanced customer offerings
Seller Actis says will continue to look at investing in and partnering with high quality businesses in Sri Lanka
Giving a major boost for Sri Lanka's investment profile and the healthcare industry, TPG Growth, the middle market and growth-equity investment platform of leading global private investment firm TPG, yesterday bought a 28% stake in Asiri Hospital Holdings for Rs. 7.6 billion.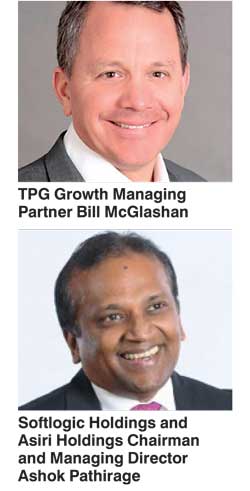 The stake, amounting to 317.08 million shares (27.87%), was done at Rs. 24 each and the seller was Actis, a leading emerging markets private equity investor. With the previous stake of 11 million shares, TPG's latest holding is 28.86% or 328.3 million shares.

The mega deal boosted the Colombo stock market's turnover to a 16-month high of Rs. 8.08 billion.

Asiri is the largest multi-speciality private healthcare business in Sri Lanka, which is controlled by the dynamic Softlogic group led by Ashok Pathirage.

Asiri Group commands 570 beds or 30% of the country's private sector capacity with significant expansion underway.

"TPG is one of the leading investors in healthcare globally, with an accomplished team of investment

professionals, operators and technical experts who identify and execute on great opportunities in

the sector," TPG Growth Managing Partner Bill McGlashan said in a statement following the acquisition.

"This network of experts, combined with the deep local relationships and experience of TPG Growth's regional team, allows us to approach companies and challenges in a truly unique way and unlock unprecedented opportunities for growth," he added.

"We've seen significant growth opportunities in healthcare across the globe, and particularly in Asia,

as individuals increasingly choose private medical treatment for the quality of care offered by these

institutions," added Vishal Bali, Senior Healthcare Advisor for TPG Growth in Asia, who will be joining

the board of Asiri.
"Asiri's management team is addressing this demand in Sri Lanka in a very meaningful way. We look forward to partnering with the Company to support their growth and help them continue this momentum," he added.

"Actis has been an excellent partner for us over the last few years, and we now look forward to

partnering with TPG Growth as we look to further our market-leading position as a world class

healthcare provider in Sri Lanka," Softlogic Holdings and Asiri Holdings Chairman and Managing Director Ashok Pathirage said.

"This partnership will provide new and diverse experience to the Board as well as access to TPG's global network and experience making significant investments in healthcare. This partnership will help us continue to build our business as well as expand and upgrade operations in Sri Lanka and, perhaps, in other regions in Asia," Pathirage added.

Asiri early this week expressed interest to buy the controlling stake held by Government entities in Lanka Hospital PLC, if and when the 2016 Budget announced divestiture exercise takes place.

Actis Partner Asanka Rodrigo said since October of 2012 when Actis invested in Asiri, the Company has grown considerably and expanded its operations.

"We are delighted with what Asiri has achieved over the last few years. It has continued to consolidate its position as the clear and trusted leader in private healthcare in the country due to its best-in-class doctors, staff and infrastructure. Asiri is well-positioned to continue its growth and play a major role in the development of private sector healthcare in Sri Lanka," he added.

Actis has been a prominent private equity investor in Sri Lanka, with previous investments in South

Asia Gateway terminals and Ceylon Oxygen, and it will continue to look at investing in and

partnering with high quality businesses in Sri Lanka.

Established in 1980, Asiri has a network of four hospitals. It also pioneered the pathology diagnostics services network model in Sri Lanka and is the market leader with a nationwide network, including a central lab in Colombo, five satellite labs across the country, and more than 450 collection centers. Asiri employs more than 800 consultant doctors across numerous specialities and has achieved a dominant position in key specialities such as neurology, cardiology and urology.