42 of 48 approved Cabinet members take oaths
New committee to be set up for appointment of heads to State enterprises
President Sirisena tells members not to be dishonest even in secret
Insists appointees have capacity to deliver development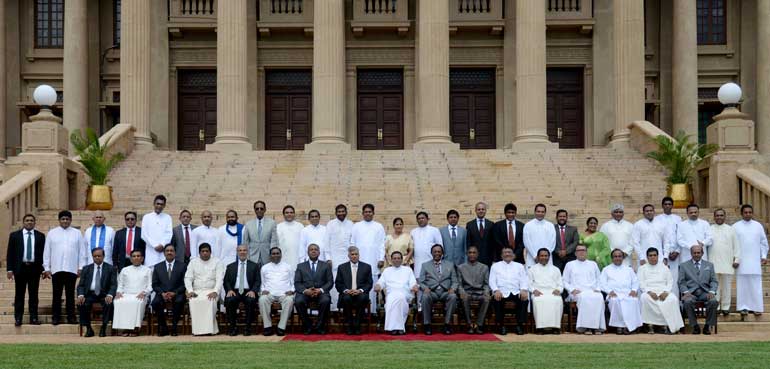 By Uditha Jayasinghe

President Maithripala Sirisena stuck to his forthright demeanour yesterday, telling the 42 ministers from the Parliament-approved 48 who were sworn into the Cabinet that they had to take forward good governance for the next five years.


As a first step towards ensuring better governance and transparency, President Sirisena also announced the formation of an independent commission to appoint the heads of State enterprises. Turning around the tradition of ministers making appointments, usually of loyalists, Sirisena insisted they could only make recommendations to be vetted by the committee under the new system.

Appointments made post-January were done by ministers because it was a Government formed with the priority of implementing the 100-day plan following the presidential election, Sirisena explained.


Laying out what was at stake before his Cabinet, Sirisena also drew a parallel from Buddhism with a note of humour to drive home his desire for a clean Government.

"We say that the Buddha did not even sin in secret. Now you must be sure not to commit corruption even in secret because whether it is done out in the open or in secret, at the end of the day the people will find out, they will know. You have been entrusted with the task of implementing 'Yahapalanaya' and democracy. You must now meet this high expectation," he told the gathering.

Drawing from his long years in politics, Sirisena recalled that even when one party formed a Government in the past, deciding Cabinet portfolios was a difficult task. He asked the freshly sworn-in members to understand the difficult challenge faced by himself and Prime Minister Ranil Wickremesinghe in the past week to equitably divide positions between parties belonging to the National Government.


He thanked Wickremesinghe for his cooperation in resolving differences when problems cropped up and reminded members "happiness is the greatest wealth; the hardest achievement is this kind of wealth".

"However, I am confident that we have tackled this difficulty effectively. I tell those who are not part of this group that they will have other opportunities to serve the country. We plan to appoint Parliament oversight committees, district committees and decentralised funds to develop the country. Parliament members will be appointed to these as well," he added.


President Sirisena expressed his faith in the Cabinet, retracing the journey taken since January to roll back the controversial 18th Amendment, pass a Budget and slash prices of essential goods for the benefit of consumers.


"I believe in the Cabinet. They have the experience, knowledge and dedication to deliver the people's expectations. This Cabinet will have a full five-year tenure but within the next two years we hope to focus on national needs and imperatives. Once these two years are completed then we will decide the way forward."