President Sirisena issues proclamation dissolving 15th Parliament
Term of '100-day' Government officially ends two months behind schedule
UNP hails dissolution; says will ensure political stability and improve investor confidence.
Analysts query did top secret meeting between SLFP top guns lead to dissolution?
By Dharisha Bastians

Ending months of uncertainty and political deadlock, President Maithripala Sirisena issued a proclamation dissolving Parliament last night, paving the way for fresh elections that will be a tightly-fought contest between his SLFP and the minority Government led by the UNP.

The life of Sri Lanka's 14th Parliament came to an abrupt end at midnight yesterday, after a term of five years and two months, with the presidential proclamation declaring snap elections on 17 August reaching the Government Printer last evening.

According to the Gazette Notification effective from midnight, nominations for the 2015 Parliamentary poll will be held from 6-13 July. The new Parliament will convene on 1 September, fulfilling a pledge made by President Sirisena to media personnel and international partners that a new Government would be installed by September this year.

The dissolution comes two months after President Sirisena's self-imposed deadline based on his presidential election manifesto which expired on 23 April. His 100-day Government, ushered in after the 8 January election in which he defeated President Mahinda Rajapaksa, was originally established to push through key constitutional reforms to curb presidential powers and grant the public an economic relief package. Its term was to have ended once the crucial 19th Amendment was enacted by the House.

The presidential proclamation follows a top-secret meeting between former President Rajapaksa and President Sirisena at his Wijerama Mawatha residence on Thursday night, highly placed sources told Daily FT.

The former President also met with Government Spokesman and Health Minister Dr. Rajitha Senaratne on Thursday night for a discussion that lasted an hour, the sources confirmed.

The UNP yesterday hailed the dissolution saying it would ensure political stability and improve investor confidence.

In recent weeks, dissolution dates had become a thorny political issue between the SLFP, led by President Sirisena, which favoured a later poll, and the UNP Government that has been pushing hard for swift elections to win a bigger majority in the House.

However, President Sirisena has dilly-dallied on dissolution, as he strove to consolidate his position within the SLFP, a majority of which was still rallying around former President Rajapaksa.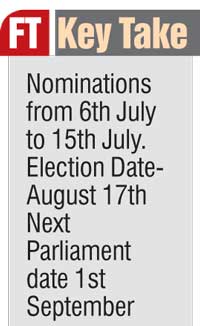 The 'Mahinda' faction has threatened to field the former President under a new party and symbol if he was not granted nominations from the SLFP. President Sirisena has been loath to dissolve Parliament and declare fresh polls, for fear his predecessor would contest as a separate front and split the SLFP.

When he won the presidential poll in January, President Sirisena's administration inherited a Parliament which was elected in April 2010. The former ruling coalition had a huge majority in the House, used to block legislation brought by the UNP minority and threaten Prime Minister Ranil Wickremesinghe with a no-confidence motion that he did not have the votes to defeat. A large faction of the UPFA also remained loyal to President Rajapaksa and antagonistic towards the Sirisena-Wickremesinghe administration.

In recent weeks, with political tensions simmering and the minority Government facing deadlock in many areas, civil society groups and the JVP stepped up a campaign calling for dissolution.

Maduluwawe Sobitha Thero, the spiritual leader of the common candidacy movement that brought President Sirisena to power, has also issued a call for early dissolution.

Highly-placed sources said the meeting between Minister Senaratne and the former President had been fruitful, paving the way for the dissolution of Parliament last night. President Rajapaksa had vowed only to contest as a candidate from the SLFP, and expressed a desire to ensure the party remained united through the polls, the sources added.