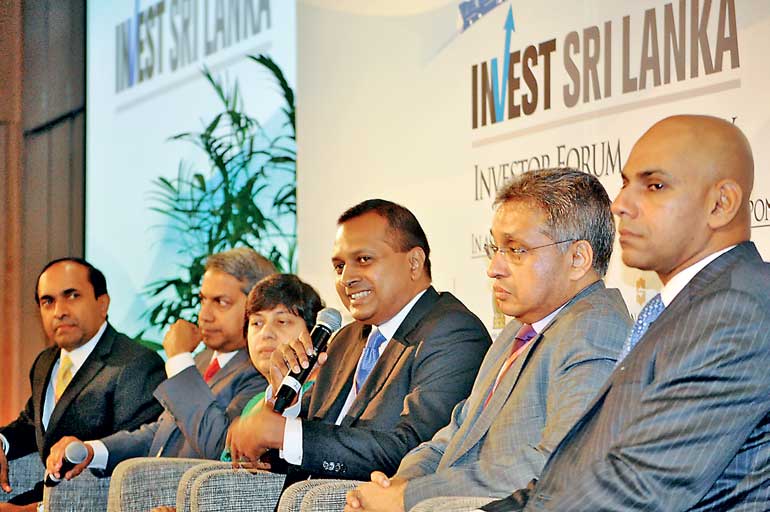 National Policies and Economic Affairs State Minister Niroshan Perera (right) answers a question during the Invest Sri Lanka forum held at Sydney's Shangri-La Hotel yesterday. Others from left: CSE CEO Rajeeva Bandaranaike, Fitch Ratings Lanka MD and CEO Maninda Wickramasinghe, Central Bank Director of Economic Research Dr. (Mrs.) Yuthika Indraratne, CSE Chairman Vajira Kulatilaka and SEC Director General Vajira Wijegunerwardane
Participants urged to recognise 'promise and potential' of new SL
Capital market policies to improve transparency
Over 150 Australian citizens and companies, other firms as well as diaspora attend forum
Sri Lankans in Aussie told their investment crucial for driving country forward
By Nisthar Cassim in Sydney

Australia's most populous city Sydney was told yesterday that it was time to invest in Sri Lanka given the future upside supported by progressive policies in place or planned under a unity Government.

This message was conveyed at the 'Invest Sri Lanka' forum organised by the Colombo Stock Exchange (CSE) in partnership with several stakeholders at the Shangri-La Hotel in Sydney. Over 150 Australian citizens, companies, other firms and representatives based in Sydney as well as Sri Lankans living in Australia attended the forum.

It was the first in a series of investor promotion conferences to be carried out this week in Australia and New Zealand, a key initiative undertaken for the first time in 12 years.

Chief Guest National Policies and Economic Affairs State Minister Niroshan Perera told the Sydney forum that Sri Lanka was set to enter new territory as it was poised for a renewed drive of growth and progress.
He said the country under the unity Government had progressed in recent times as a result of the commitment to economic and social reform. "The present Government envisions a globally competitive, export-led economy driven by revolutionary thinking and bold policies. We expect to drive the nation towards achieving middle income status, while maintaining a strong focus on sustainable economic growth and good governance," he said.

"The Government has implemented a number of business friendly policies with a view to strengthening our local economic and business environment," State Minister Perera added.

Noting that ineffective regulation for the longest time had stifled the economic and business climate as well as employment growth, he said the new Government was well in the process of replacing such regulations.

The forum was told that a new set of investment incentives based on Capital Allowances and a low tax regime were introduced through the 2017 Budget aimed at broadening the scope of Lankan businesses and having a significant impact on investment sourced through domestic and international channels. He also said the targeted outcome was to bring Sri Lanka within the top 70 nations of the Ease of Doing Business Index by 2020.

The importance of Sri Lanka as an Indian Ocean hub in the realm of global logistics and commercial activities was also stressed. The State Minister said an increasing number of businesses and investors are once again looking to Sri Lanka as an investment destination. He also referred to projects such as the Western Megapolis Development and the Colombo International Finance Centre to step up foreign investments, harness Sri Lanka's strategic geographic location and achieve higher economic growth.

Focusing on capital markets, State Minister Perera said the Government was keen on maintaining integrity and quality by setting a policy framework that will lead to the operation of an open, secure and transparent marketplace.

"Through the 2017 Budget, the Government introduced a number of initiatives that, we believe, are likely to develop the capital markets in the coming years," he said.

The Sydney forum was also told about Government's announced plans to introduce a number of non-core businesses to the capital markets and these listings are likely to have a positive effect in terms of sparking market interest among investors and boosting market liquidity.

"A key priority of the present Government headed by President Maithripala Sirisena and Prime Minister Ranil Wickremesinghe is to regain the confidence of the international community. We are pleased to see a number of positive developments in this regard," Perera pointed out, highlighting the impending return of GSP Plus benefits from the European Union and rising tourist arrivals.

The State Minister also sent a strong message to the Sri Lankan Diaspora in Sydney in particular and Australia in general.

"Many Sri Lankans who left our motherland during the conflict are actively looking to improve their association with Sri Lanka. The present construction boom driven by Sri Lankans living abroad is an example of such interest and involvement," he said.

"Such progress is exactly why forums of this nature are of importance, because they play an important role in assisting the Government to reach out to our large and diverse Sri Lankan community overseas. Your ideas and your support are important to our country as we drive the future of our country forward," the State Minister told the Sydney forum.

He urged participants to recognise the enormous promise and potential of an "emerging new Sri Lanka" built on the foundation of the Government's new agenda of administrative and economic reforms and ease of doing business.

In that context Perera promised the Government's continued commitment to facilitating investments and stimulating the establishment of transparent and well-governed institutions.

The Sydney forum and Thursday's event in Melbourne are timed in the backdrop of Sri Lanka and Australia celebrating 70 years of diplomatic ties.

Sri Lanka's High Commissioner in Canberra, Australia S. Skandakumar said Australia and Sri Lanka have long shared strong historical ties, common values and interests with trust which has resulted in multiple forms of economic and social cooperation over the years.

Skandakumar said economic and social progress in Sri Lanka seen in recent times has been complemented by a renewed confidence in the country among the international community, especially in Australia. The High Commissioner invited members of the audience to visit Sri Lanka to experience first-hand, the benefits of playing a part in a resilient growth story.

CSE Chairman Vajira Kulatilaka and SEC Director General Vajira Wijegunerwardane in their presentations were also emphatic that the time was opportune to invest in Sri Lanka.

Central Bank Director of Economic Research Dr. (Mrs.) Yuthika Indraratne offered insight into the economic policy direction of the country while Fitch Ratings Lanka MD and CEO Maninda Wickramasinghe presented a macroeconomic overview.

The Sydney forum also featured several leading real estate developments in Sri Lanka contributing in the capacity of event sponsors, including the Colombo Port City (Platinum Sponsor) One Galle Face by Shangri-La Hotels & Resorts (Platinum Sponsor) and the luxury apartment development by Altair (Corporate Sponsor).

The main presentations will be followed by a panel discussion moderated by CSE CEO Rajeeva Bandaranaike and a question and answer session with the audience.

The initiative is being held in association with several organisations including the Securities and Exchange Commission (SEC), the Sri Lanka High Commission in Canberra, Australia, Consul General in Sydney Lal Wickremetunga and Melbourne Prasanna Gamage, the Sri Lanka and Australia Chamber of Commerce and the Sri Lankan New Zealand Business Council.

The last CSE-led investor promotion was held in Australia in 2005. Post-war, the CSE has conducted road shows in New York, London, Singapore, Dubai and Mumbai.

On Wednesday two events will be held in Melbourne at the International Chamber House Melbourne and at the Novotel Melbourne Glen Waverley while another will be staged at the Fickling Convention Centre in Auckland, New Zealand on Saturday.