Govt. to commission new environmental evaluation at PM behest
Report to be perused by ministerial secretaries with aim of resuming construction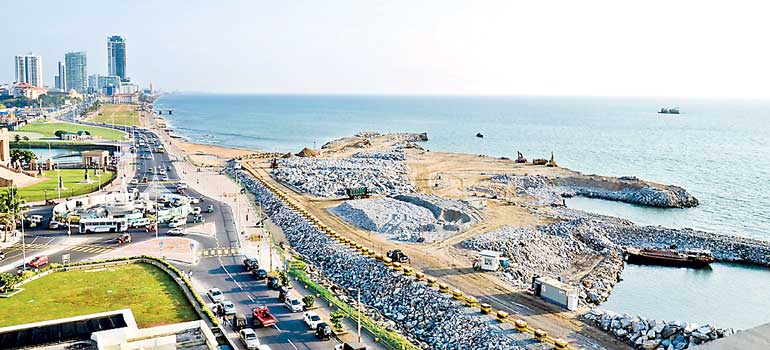 A static Port City waits for fresh environmental assessment – Pic by Daminda Harsha Perera
By Uditha Jayasinghe

Cabinet approval has been given to a proposal made by Prime Minister Ranil Wickremesinghe to commission an environmental assessment report to evaluate the controversial $ 1.5 billion Port City project with the aim of allowing construction to resume.

Under the new decision the Central Environmental Authority (CEA) will be instructed to start a complete Environment Impact Assessment (EIA) with the assistance of relevant institutions, a Cabinet paper released yesterday said.

Once the EIA is completed the Cabinet Sub-committee and panel of ministerial secretaries appointed to oversee the project will reconsider the Port City's merits and possibility of recommencing construction activities.

"The proposal made by the Prime Minister to assign the activities of the above project to the Urban Development Authority (UDA) was recommended by the Cabinet Sub-committee and panel of ministerial secretaries," the Cabinet paper noted.

Multinational China Communications Construction Company (CCCC) subsidiary China Harbour Engineering Company is creating the new island off Colombo's harbour, which was started during former President Mahinda Rajapaksa's decade in power.

Prime Minister Ranil Wickremesinghe appointed the Sub-committee to look into the project, after concerns were voiced that proper approvals, particularly environmental concerns, were not adequately evaluated before the Port City began.

The Cabinet Sub-committee submitted a report to the country's powerful Cabinet of Ministers outlining that relevant approvals had not been met and ordering work on the project be suspended for two weeks in March.

As a result of this suspension, CCCC estimates an initial direct loss for the company of over $ 380,000 per day. The company subsequently appealed to the Government to allow a 50m breakwater to be built as a protective barrier to prevent erosion of the partially-completed island from erosion.

However, despite the suspension period lapsing weeks ago, the company has not been allowed to return to work or have talks with Government officials, the Chinese company has charged.

President Maithripala Sirisena undertook a visit to China in late March and officials earlier stated a decision on the Port City would be taken after the tour. Subsequently the panel of ministerial secretaries was appointed to consider a way to restart the project by minimising environmental impacts.

Since the end of the three-decade war in 2009, China emerged as the country's largest loan provider with an estimated $ 5 billion in agreements, mostly for massive infrastructure projects. These include ports, an airport, highways and a $ 1.2 billion dollar coal power plant.