P'ment approval sought for Rs. 1,474 b for State expenditure from Jan. to April

Vote on Account will also seek approval to raise Rs. 721 b in loans

VoA to be debated and passed on Wednesday

Govt. plans to revise fiscal targets with Fiscal Management (Responsibility) Act amendment
By Chandani Kirinde

Finance Minister Mangala Samaraweera will seek parliamentary approval to obtain Rs. 1,474 billion for State expenditure for the first four months of 2020, for when he presents the Vote on Account to Parliament on Wednesday.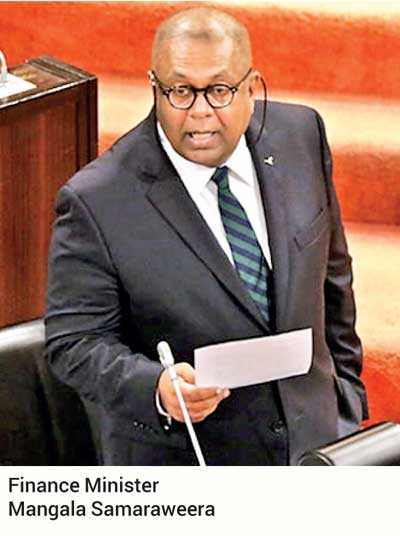 Parliamentary approval will also be sought to raise loans to a sum not exceeding Rs. 721 billion, in terms of relevant laws, in or outside Sri Lanka, for and on behalf of the Government.

The details of such loans are to be incorporated in the Final Budget Position Report, which is required to be tabled in Parliament under the Fiscal Management (Responsibility) Act.

The Vote of Account (VoA) is being presented instead of the Budget in view of the Presidential Elections, which will be held on 16 November.

Cabinet agreed to postpone the commencement of the preparation of the annual Budget for the year 2020 to enable it to be based on the new policies of the Government, and after the composition of the new Cabinet of Ministers after the elections.

Meanwhile, Cabinet gave approval this week to amend the Government Fiscal Management (Responsibility) Act No. 3 of 2003, to revise the fiscal targets indicated in the initial Act.

Finance Minister Samaraweera, in his Cabinet proposal, said that the Act was passed with a view to introducing Government Fiscal Targets as a guide to be followed, to ensure a more responsible Government fiscal management by reducing the gross Government debt up to a level of 85% by the year 2006, and up to a level of 60% by the year 2013, as a percentage of the Gross Domestic Product (GDP) with the objective of maintaining the budget deficit to a level of 5% of the GDP.

However, as a result of the various internal and global impacts the Sri Lanka economy had to face, the numerical targets could not be achieved and as such, they said targets for the year 2013 and 2016 were revised.

The Act is to be revised so that the Budget deficit and the amount of gross Government debt can be maintained at an adaptable level to the economy.