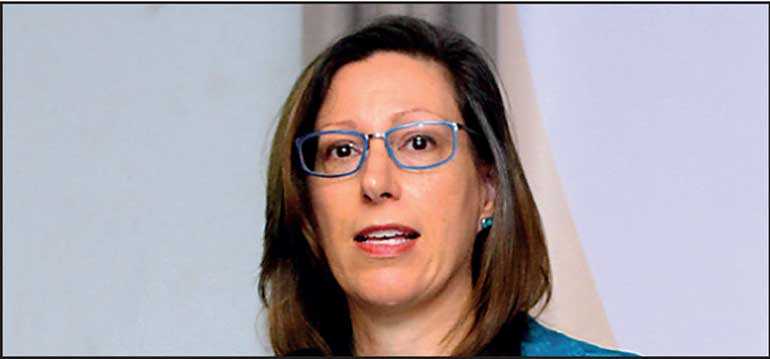 Calls on policymakers to give careful consideration to economic impact of major tax concessions outlined in proposed legislation
Warns money laundering and other illegal activities possible unless legislation watertight
Concerned over unfair competition seeping into other parts of SL via PC
Calls for Govt. to focus on reforms to put economy on sustainable footing
Suggests debt issue can be helped with support from intl. partners, including IMF
Willing to have a "larger conversation" around debt
Says import restriction "problematic", backs stronger biz environment to foster investment
---
By Uditha Jayasinghe
---
The United States yesterday called on policymakers to be vigilant of the economic impact of the proposed Port City legislation, given its sweeping tax concessions and warned it could have "unintended consequences", such as money laundering, unless proper safeguards are put in place.

US Ambassador Alaina B. Teplitz, speaking to selected journalists at a virtual media roundtable, acknowledged the importance of the $ 1.4 billion investment, but she also called on policymakers to maintain a balanced view of possible outcomes from the proposed Port City Commission Bill, which is expected to be presented to Parliament after the Sinhala and Tamil New Year.

If the Bill is passed, the Port City Commission, which will be appointed by the President, will have powers to give sweeping tax concessions for up to 40 years to project investors. They will also be exempt from a slew of taxes and selected ventures will also be allowed to operate under the same incentives in other parts of the country.

"When you look at investment and why you want it; it is to bring wealth to this country. You want to be creating wealth here and making sure the public is benefiting from this presence. The legislation on Port City has to be considered very carefully for its economic impact," she said.

The Ambassador also pointed out that the Bill has to be formulated well enough to close any gaps that might lead to illegal activities and support a stronger governance and enabled business environment.

"It (the Bill) also has to be considered for unintended consequences and of course among those is creating a haven for money launderers and other nefarious actors who want to take advantage of what was perceived as a permissive business environment for activities that would actually be illegal," she added.

"There is a lot that needs to be done. I do recognise that the Government wants to take advantage of the investment that has already been made, but the legislation really needs to reflect these challenges and what it might do to open doors to bad practices and unfair competition in the rest of the country."

Ambassador Teplitz also touched on the macroeconomic challenges facing Sri Lanka and advocated for a pandemic recovery plan that also factored in crucial reforms, including revamping State-owned enterprises, increasing public revenue, supporting SMEs and strengthening investment.

"This is a difficult time and countries are really going to have to focus and have a strong, consolidated economic vision moving ahead in order to achieve recovery. For Sri Lanka, which was labouring under enormous public debt, the situation has only become more challenging; thus, the need for a vision is important.

"That vision has to include macroeconomic fundamentals and this is where the debt management is going to be very important. There will have to be very carefully thought out economic reform measures put into place to manage the economy."

She pointed out that such improvements would put Sri Lanka's debt challenges on a more sustainable path and give the country incentives to link to global value chains. Outlining key US engagement with Sri Lanka, the ambassador also said they would be, "happy to have a larger conversation around debt".

"Debt is going to need some careful management and this really requires international partners. I'm not sure what may be the reluctance to work with the International Monetary Fund (IMF). Sri Lanka is a member of the IMF, they have a right to the resources and assistance of the IMF," the Ambassador said, adding that if the Government had any concerns over possible reforms that could be negotiated with the IMF.

"The critical need is to get the country on a smoother path moving forward, because as we have seen the credit ratings have been downgraded several times, global financial analysts have provided very critical reviews of the Sri Lankan economy and its management, which I think does not bode well for potential investors. These are all barriers that will become insurmountable, at some point, for the country and they are going to deliver lacklustre growth in the short run."

The Ambassador called on the Government to focus on open and transparent markets that support ease of doing business at a global level. Without measures to reduce red tape, increase public sector efficiency, seriously tackle corruption, improve contract commitments and establish ecosystems to take local brands global, Teplitz warned foreign investors will be find Sri Lanka's regulatory environment a "turn off".

"Economically vulnerable countries risk their sovereignty and independence. They have to look for high-cost financing, they have to end up accepting less-than-quality investment and basically they are the 'beggar' and not the 'chooser' in that old cliché."

Terming the import ban imposed by the Government as "problematic" and not conducive to an open trade environment, the Ambassador opined it will need to be rolled back eventually to support stronger public revenue as well as exports.