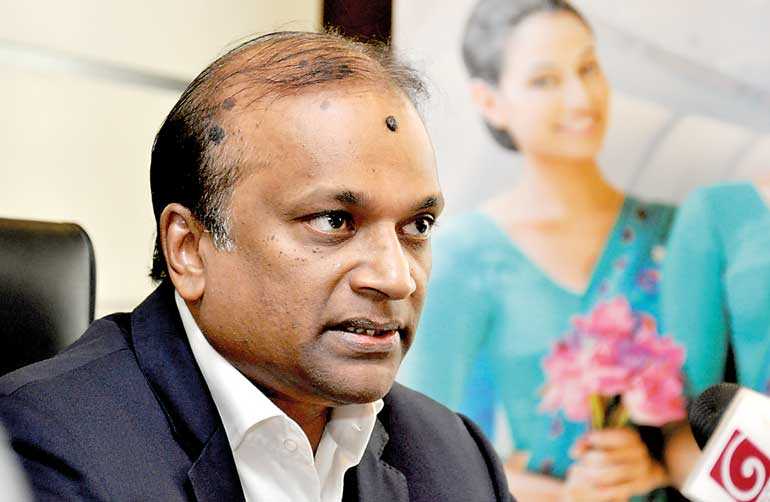 SriLankan Airlines Chairman Ashok Pathirage
---
Posts $ 130 m loss in FY20 owing to $ 70 m interest cost and $ 30 m WHT after 2019 Easter Sunday setback
$ 1 b in debt owing to BOC, PB and CPC to be restructured as approved by Cabinet prior to COVID-19
Fresh post-COVID working capital support worth $ 75 m being drawn down from two State banks
Govt. waives off WHT on national carrier giving relief by way of $ 80 m outstanding
COVID pandemic sees airline's monthly revenue slump to $ 10-20 m from average of $ 80 m previously
Expects monthly revenue to improve to $ 40 m by December and $ 70 m by March 2021 in tandem with pick-up in travel and tourism
Joint Cabinet paper with SL Tourism for destination marketing in China, India and Australia
Prior to COVID-19 services were to be launched to Sydney, Frankfurt, Seoul, Kathmandu, Vietnam
Post-COVID route network and fleet under review; due to previous arrangement fleet to be reduced by 3 aircrafts by July
---
by Nisthar Cassim
---
Despite being hit by the double whammy of the Easter Sunday terror attack and COVID-19 pandemic, SriLankan Airlines yesterday expressed confidence of a turnaround late next year with revival in travel and tourism and Government supported restructuring and other measures.

The national carrier has posted a loss of $ 130 million (over Rs. 23 billion) in the financial year ending 31 March on account of $ 70 million of interest cost (nearly Rs. 13 billion) and Withholding Tax of around $ 30-40 million as well as impact of the Easter Sunday terror attacks last year.

Its new Chairman and business leader Ashok Pathirage told journalists that in January the airline made a small yet welcome profit only to be impacted by the novel coronavirus (COVID-19) from late March onwards.

Saddled with $ 1 billion (Rs. 180 billion) in debt, the new Board of Directors prior to COVID-19 had submitted a plan to turn around the airline within a year subject to specific recommendations to the Cabinet of Ministers. This was approved though following COVID-19 pandemic and the global travel and airline industry crisis, the management is reviewing the plan taking into consideration the new normal.

The $ 1 billion debt include $ 400 million from two State banks BOC ($ 220 million) and People's Bank ($ 187 million), $ 275 million to Ceylon Petroleum Corporation (CPC) on account of fuel supplies, $ 175 million Bond carrying Government guarantee as well $ 30 million to Credit Suisse.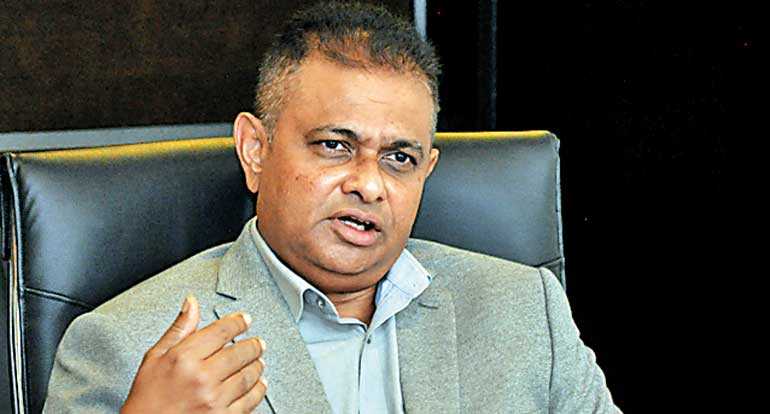 SriLankan Airlines CEO Vipula Gunatilleka
---


Noting that SriLankan Airlines hasn't defaulted on interest payments to local banks except capital unpaid, the proposals to Cabinet included a long-term restructuring of BOC, People's Bank and CPC debt with a commitment to eventually repay in tandem with improved financial performance.

"Negotiations with the two State banks and CPC are progressing and we are confident of reaching a new agreement," Pathirage said.

Separately as working capital support for COVID-impact, SriLankan has begun drawing from a $ 75 million combined loan from the two State banks as well.

The Government has also agreed to free the national carrier from the liability of Withholding Tax worth $ 80 million (accumulated).

SriLankan Airlines CEO Vipula Gunatilleka also told the media once interest payment and WHT issues are resolved the Profit and Loss Account of the airline will significantly improve.

"We are facing legacy issues over which we have asked the Government support," added Chairman Pathirage. "At its core the airline can be turned around as it has a great team. The national carrier plays a key role in the country's economy and tourism contributing $ 1 billion in revenue. The new Board is keen to ensure the airline doesn't become a burden to the Government but self-fund itself," he said.

Prior to COVID-19, the airline was averaging $ 80 million of revenue per month and with the airport closure and travel bans, it had declined to $ 10 million and thereafter gradually improved to $ 20 million last month.

"We are very eager and impatient to resume our services as early as possible," Pathirage said.

He expects that by December in tandem with the restoration of services, revenues would reach 40% and by March 2021 to about 70%. "The envisaged original turnaround is likely in FY21/22," he added.

With COVID-19 creating havoc in the airline industry, Chairman said many governments, shareholders and investors were bailing out their carriers. Singapore Airline recently secured $ 13 billion in funding to tide over COVID-19 impact.

Pathirage said proposals approved by the Cabinet included capital infusion but refused to disclose a specific figure. He said the new Government is not considering a strategic partner but both the President and Prime Minister are fully supportive of a home-grown turnaround strategy as opposed to a high-fee requiring external consultants.

According to the Chairman the catering and ground handling divisions were profitable but the airline remains a challenge hence impacted Group performance.

The airline is also renegotiating its leases to garner better terms, talking to investment banks to raise new funding via SriLankan Catering as well as reviewing the route network and the fleet.

CEO Gunatilleka said before COVID-19, plans were being firmed up to launch services to Sydney, Frankfurt, Seoul, Kathmandu, Vietnam, whilst Chairman Pathirage said post-COVID the airline is assessing future demand trends and will prioritise which routes it will serve and the frequency when the airport reopens.

SriLankan Airlines is the biggest foreigner carrier to India with 140 weekly flights and accounts for 30-40% of its revenue. However given COVID-19 pandemic in the neighbouring giant, a scaled-down operation is likely whilst China will be aggressively tapped among other select destinations.

Both SriLankan and Sri Lanka Tourism have submitted a joint Cabinet paper to undertake joint destination marketing in China, India and Australia post-airport reopening as well.

In terms of the fleet, the airline by prior arrangement has reduced it by two aircrafts (Airbus A330-200s) so far in 2020 and by July an Airbus A320 will follow, bringing the fleet to 24. "We are carefully reviewing our fleet requirement going forward," Pathirage added.

During COVID the airline had brought home 7,800 stranded Sri Lankans so far.
---
- Pix by Lasantha Kumara
---