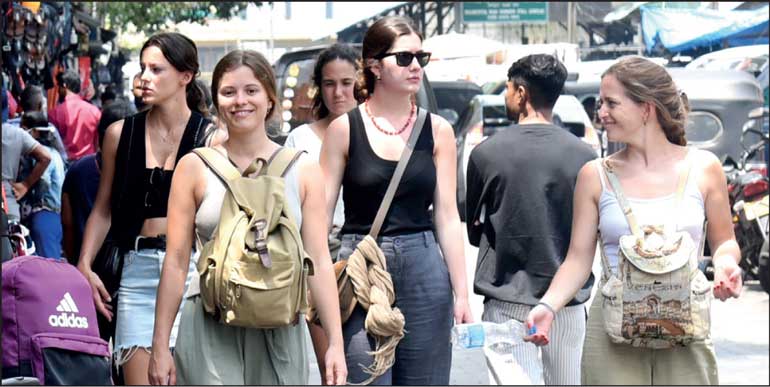 Tourists in Colombo city -Pic by Ruwan Walpola
First 26 days of March draw 105,714 tourists, pushing Q1 arrivals to 315,898
Russia leads as top market with 22,038, followed by India, UK, Germany and US
Tourism Minister Harin Fernando applauds industry stakeholders' efforts for strong comeback in 2023
By Charumini de Silva

With arrivals surpassing the 100,000 mark in the first 26 days of March, Sri Lanka's tourism industry has welcomed over 300,000 visitors in the first quarter, starting 2023 on a positive note.

This is also the first time Sri Lanka's tourism industry recorded over 100,000 tourist arrivals in three consecutive months after 2019.

Led by Russian travellers, during the first 26 days of March, a total of 105,714 tourists arrived in the country, propelling the cumulative figure to 315,898 continuing the growth momentum and boosting hopes for a good year. The growth in the first quarter (with a few days remaining) of tourist arrival is over 10.7% compared to the same period last year, but still 55% lower than the first quarter of the benchmark year 2018.

Russia leads as the top source market, reflecting 21% or 22,038 of total arrivals during the first 26 days of March followed by India with 15% or 15,695, the United Kingdom with 8% or 8,555, Germany with 8% or 8,256, and the US with 5%, provisional data released by the Sri Lanka Tourism Development Authority yesterday noted.

"Sri Lanka's tourism industry has made a strong comeback in 2023 after a series of major setbacks from 2019. The respect and tribute of it should go to all stakeholders of the industry for all their dynamic and steadfast commitment to overcoming the challenges. I salute their dedication and efforts," Tourism Minister Harin Fernando told the Daily FT.

He also said that the National Tourism Policy blueprint will also be implemented soon to set out consistent policies and standards to boost Sri Lanka's tourism industry to its next stage of growth in 2024.

"We are excited about 2023, as plans are underway to make Sri Lanka a year-round destination," the Minister added.

Tourism accounts for close to 5% of Sri Lanka's economy. The industry is hopeful of achieving 1.55 million visitors and an income of $ 2.88 billion in 2023.

With Sri Lanka Tourism not opting for a global communication blitz in 2023, however, it will focus on nine key markets identified as India, Russia, China, the UK, France, Germany, the Middle East, and Nordic countries. The MICE tourism segment is earmarked as a key segment Sri Lanka looks to explore this year to push the numbers and earnings.

Analysis opined that the continuous positive publicity at the global level was also a major factor for the boost in arrivals post-political instability just last year.