With peace and stability, industry lists destination marketing globally as immediate need of the hour

THASL Chief says over 90 hotels up for sale post-Easter Sunday setback

City Hotels Chief says entertainment options and MICE events key to overcome room oversupply crisis

6,500 more rooms coming up in the city by 2020/21 on top of existing 10,000

SLAITO and TAASL Chiefs confident new administration will boost tourism, making it great once again

New overall Minister assumes duties today; subject specific State Minister appointment likely

State agencies SLTDA, SLTPM and Conventions Bureau may come under one Chairman
By Charumini de Silva

The private sector is optimistic of a proper revival of the tourism industry under new President Gotabaya Rajapaksa, while looking forward to urgent action on key issues that have dented more robust growth, especially post the Easter Sunday setback.

The industry is united in its call for urgent aggressive destination marketing globally, a dire need that the previous regime failed to execute on time. This prevented a faster and a more emphatic revival though mere arrivals numbers were showcased to suggest the full-year impact post Easter Sunday was only around 20% as opposed to 70% soon after the 21 April tragedy.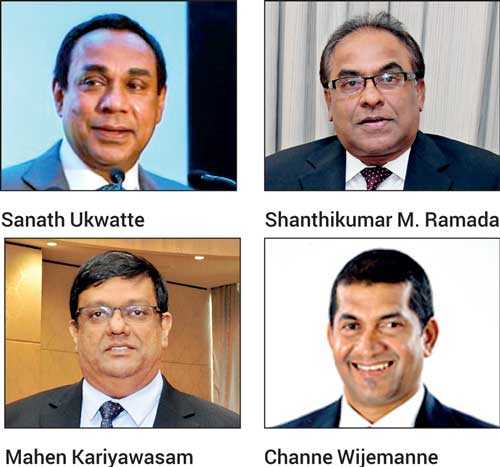 Private sector bodies The Hotels Association of Sri Lanka (THASL), Colombo City Tourist Hotels Association (CCTHA), Sri Lanka Inbound Tour Oper-ators (SLAITO) and Travel Agents Association of Sri Lanka (TAASL) have expressed confidence and optimism of revival, provided urgent action is taken on threats and challenges.

Towards this end, all have expressed willingness to extend their cooperation to help rebuild Sri Lanka's tourism industry and explore new ways together to implement collective ideas for the growth of tourism and the development of the country.

Tourism at Cabinet level will be the responsibility of new Minister Prasanna Ranatunga in addition to Industrial, Export, Investment and Aviation Services. He will assume duties today whilst a subject specific State minister is likely to be appointed today.

The new but interim administration is also exploring the idea of a common chairman for three key agencies – the Sri Lanka Tourism Development Authority (SLTDA), Sri Lankan Tourism Promotion Bureau (SLTPB) and Sri Lanka Conventions Bureau (SLCB) for swifter decision making and a separate head for the Sri Lanka Institute of Tourism and Hotel Management (SLITHM).

Last week, having congratulated President Gotabaya Rajapaksa on his election, THASL President Sanath Ukwatte put the industry's dilemma in context.

"Over 90 hotels in the country are up for sale and thousands of livelihoods are under threat as a result of lower visitors and earnings. After the tragedy of the Easter Sunday attacks, our industry has been virtually crippled," he said in a statement.

"Our main objective now is to regain the trust of our foreign visitors, re-establish Sri Lanka as a safe and desirable destination and maintain the livelihoods of our staff and their dependents," he stressed.

THASL said it looked forward to support from the new Government to grant the required relief and assistance on an urgent basis in order to revive Sri Lanka's tourism industry.

CCTHA President M. Shanthikumar welcomed the election of President Gotabaya Rajapaksa as being very positive and noted global destination marketing was the dire need of the hour. He also said that city hotels were having seriously low occupancy and the crisis could be resolved by enhancing the experience and entertainment offering for tourists.

"There is a serious oversupply of rooms in the city at present. This problem will worsen with the addition of 6,500 more rooms by 2020/21 from the current base of 10,000 in the city. Leisure and business travellers alone cannot fill this capacity so we need more Meetings, Incentives, Convention and Exhibition (MICE) tourists," Shanthikumar told Daily FT, adding that the city needed bigger conventions and exhibition venues until the planned new facilities were ready.

SLAITO President Mahen Kariyawasam expressed the belief that new President Gotabaya Rajapaksa would maintain peace and stability in the country while boosting the tourism industry.

SLAITO is looking forward to a successful, prosperous and peaceful tenure under President Rajapaksa, and believes that the President will perform the duties entrusted to him with great responsibility and commitment to advance the common objective of building a united and prosperous country.

TAASL President Channe Wijemanne said it looked forward to assisting President Rajapaksa to build a prosperous Sri Lanka and boost tourism in the country, making it great once again.

"Given that peace and security for all people is necessary for the nation, we are delighted about the assurance given by President Rajapaksa to ensure safety for all," Wijemanne said, adding that TAASL looked forward to a period of prosperity and believed that President Rajapaksa would fulfil the duties entrusted to him.

Tourism has generated billions of dollars in investment and created over 500,000 jobs throughout the country. By the end of 2018, over two million people were dependent on tourism for their livelihood and the industry contributed nearly $ 4.5 billion towards GDP, accounting for 6%. Tourist arrivals for 2019 is forecast to be around 1.8 to 1.9 million, down from 2.3 million last year.